Don't deprive yourself of this Easter favourite.
Year after year, the social media posts decrying how early the hot cross buns have landed in supermarkets leave me feeling deprived. That ends this year! While I didn't initially set out to create a vegan bun, I found they were the best of the bunch by happy coincidence. Using water and oil allows the spices to shine and keeps the buns moist for days.
Lactose free
Free from high-starch flours
Gum free
Egg free
Vegan
Fodmap friendly
Gluten free
Makes 8 to 9 buns
Prep 20 mins
Proofing time overnight + 1 hour 
Cook 30 minutes 
60 ml (¼ cup) FODMAP-friendly plant-based milk of choice, warm
1 teaspoon sugar (any type)
7.5 g (1 sachet) dried yeast
160 g (1 cup) fine brown rice flour
120 g (¾ cup) buckwheat flour
1 ½ tablespoons ground cinnamon
1 tablespoon ground nutmeg
150 g light or dark brown sugar
20 g psyllium husk
Finely grated zest of 1 orange
125 ml (½ cup) olive or vegetable oil
500 ml (2 cups) water
FOR THE ADD-INS:
2 tablespoons good quality dried peel
2 tablespoons dairy-free chocolate chips
few sprigs of finely chopped rosemary (optional)
FOR THE CROSSES:
1 tablespoon tapioca flour
2 teaspoons buckwheat flour
½ teaspoon oil of choice
Water, as needed to form a thick but flowing paste
FOR THE GLAZE:
Pure maple syrup, or marmalade, melted
THE NIGHT BEFORE:
      1. Place the warm milk and sugar in a small bowl and whisk to combine. Sprinkle over the yeast and set aside for 10 minutes, until the mixture is bubbling and foamy. If you have no action after 10 minutes, start again with new yeast.

      2. Place flours, spices, brown sugar, psyllium and orange zest in a large bowl and whisk to combine. Add the activated yeast mixture, oil and water, whisking until smooth. Don't panic at how wet the dough looks – the psyllium husk will firm it up overnight. Cover and refrigerate overnight.

THE NEXT MORNING:
     3. After the fridge rest, the dough should look spongy and be borderline wet. Stir in your add-in ingredients. Using oiled hands, divide mixture into 8 or 9 portions and quickly roll into balls. Place buns in a 20 x 30 cm baking dish, lightly greased or lined, or on a lined baking tray. Buns baked on a tray will lose more shape, but still taste delicious. Cover and leave to proof in a warm draught-free place for 1 hour, or until they have tangibly risen and feel light and puffy to the touch.
    4. Preheat oven to 180°C. To make the crosses, combine flours and oil in a small bowl. Add enough water to make a thick but flowing paste. Transfer mixture to a piping bag. Pipe crosses onto the buns using even pressure and motion. I go for the 'homemade' look, as you can tell.
    5. Bake buns for 25–30 minutes, or until lightly browned and baked through. Remove from oven and glaze with maple syrup or marmalade while still hot. Allow to cool for 10–15 minutes before eating.
Hungry for more recipes? Sign up to our foodie email here
---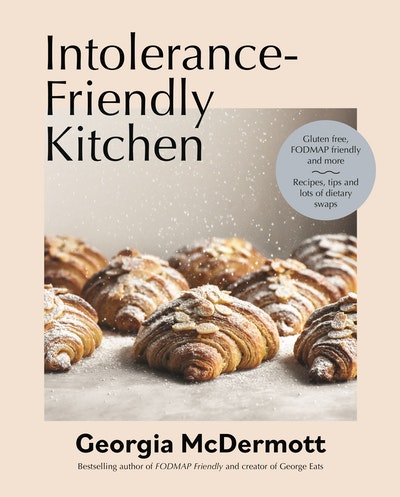 Dependable, delicious recipes that make great food accessible for a range of intolerances: gluten free, FODMAP friendly and more.
Buy now
Buy now
---