A perfect dish to post to Instagram.
Cacio e pepe and brown butter sage sauce: catnip for the millennial with a food Instagram. Clichés aside, this is one of my favourite savoury recipes in the book.
Paired with a homemade lactose-free ricotta, this ravioli is a bit of a faff to make but somewhat therapeutic and thoroughly delicious all at the same time.
Low lactose
Fodmap friendly
Gluten free
Free from high-starch flours
Serves 6 to 8
Prep 1 hr 30 mins
Cook 15 mins
For the ricotta filling
450-500g lactose-free ricotta
200g vegetarian parmesan cheese (yes, it exists!) finely grated (I use my blender)
½-1 tablespoon freshly cracked pepper
For the pasta dough
320g (2 cups) fine white or brown rice flour
60 g (½ cup) tapioca flour, plus extra to dust
1 teaspoon xanthan gum
4 extra-large eggs
Water as needed to bring dough together
For the brown butter
100g butter
1-2 small bunches fresh sage, leaves picked 
1. To make the ricotta filling, combine ricotta, parmesan and pepper in a medium bowl. Taste and adjust seasoning according to your preferences. Place in the fridge while you make your pasta.
2. To make the pasta dough, combine flours and xanthan gum in a large bowl.
3. Add the eggs to the flour and use a fork to break them up. Mix the eggs into the flour, using the fork and then your hands. Add water only as necessary to bring the mixture together into a stiff but smooth ball of pasta dough. There shouldn't be flour left over in the bowl.
4. Once dough is smooth, tear off about a quarter and cover remaining pasta with a slightly dampened tea towel or place in a ziplock bag. Lightly flour the bench with tapioca flour. Roll out dough thin enough to get through the thickest setting of your pasta machine. After getting it through the thickest setting (mine is a 7) run it through the machine again. Continue rolling it through on decreasing settings until desired thickness, noting that it swells during cooking (so go a little thinner than you think). I like to get mine through smoothly at setting 2 or 3 on my machine. The thinner the better, to avoid chewiness.
5. Once you have 2 long, thin sheets of even-width pasta, place scant teaspoons of ricotta mixture evenly across one sheet of pasta, leaving a couple of centimetres between them. Use a finger or pastry brush to lightly brush the pasta around the ricotta with water. Lay the second sheet of pasta on top. Working around slowly, seal the top pasta sheet onto the bottom around each individual ravioli, pushing all the air out as you go. If you leave air in the ravioli it will float as it cooks and is more likely to pop open. Repeat steps 4 and 5 until you run out of dough or filling.
6. Trim ravioli into squares or use a scone cutter to make circular ravioli. If you have any leftover pasta dough, you can make it into fettuccine and freeze it for later.
7. Bring a large saucepan of well-salted water to the boil. Meanwhile, to make the brown butter, place the butter in a large frying pan or saucepan over a medium–low heat. Cook, stirring occasionally, until the butter is deep brown in colour and smells nutty. Add the sage leaves and cook for 1 minute, or until crisp. Remove from heat.
8. Working in batches, gently lower ravioli into the boiling water and cook for 2–3 minutes or until pasta floats and is soft and almost translucent. Transfer to serving plates with a slotted spoon. Drizzle with the brown butter and top with crisp sage leaves. Serve immediately.
NOTES: You can replace the tapioca flour with equal weight of a wholegrain flour (such as sorghum or buckwheat) to make this pasta free from high-starch flours. It will be a stiffer dough to work with, but should still be easy enough to roll out.
Hungry for more recipes? Sign up to our foodie email here
---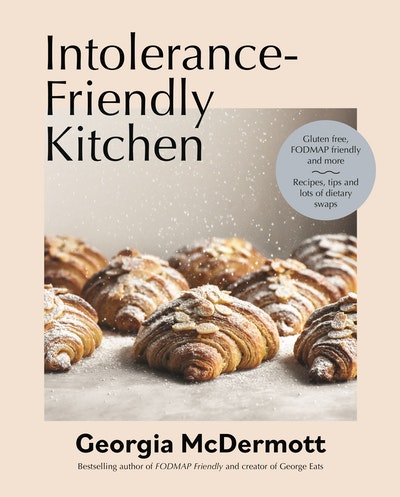 Dependable, delicious recipes that make great food accessible for a range of intolerances: gluten free, FODMAP friendly and more.
Buy now
Buy now
---