A spicy noodle soup that will satisfy all your dietary requirements.
Laksa is a spicy noodle soup that hails from South-East Asia. Traditionally, it uses prawn stock as a base, garlic and onion in the spice paste and wheat noodles to finish. This version is vegan, FODMAP friendly and gluten free courtesy of a few simple substitutions.
Lactose free
Gum Free
Egg-free option
Vegan option
Fodmap friendly
Gluten free 
Serves 4
Prep 30 mins
Cook 20 mins
For the laksa paste:
5-6 birds eye chillies, (depending on your taste for heat), seeds removed, chopped
3 sticks lemongrass, trimmed, finely grated
50g (1 small-medium piece) galangal, peeled, finely grated 
50g (1 small-medium piece) ginger, peeled, finely grated 
20g (1 small piece) fresh tumeric, peeled, finely grated
2 teaspoons sweet paprika (optional, for colour)
2 tablespoons vegetable oil
For the broth:
2 tablespoons vegetable oil
5-6 spring onions, green parts only, chopped
20-30 fresh curry leaves, stalks removed
60ml (¼ cup) vegan fish sauce
1 tablespoon light brown sugar 
1 tablespoon tamarind paste 
1 tablespoon gluten-free tamari or dark soy 
1.5 litres (6 cups) water or vegan stock
400ml can coconut milk
400g gluten-free tofu puffs or cubed, pan-fried tofu 
To finish:
½ quantity (200 g) gluten-free Chinese egg noodles
100g vermicelli noodles
1 bunch Vietnamese mint, leaves picked, to serve 
Trimmed bean sprouts, to serve
1 long red chilli, deseeded, sliced, to serve 
1. To make the laksa paste, use a mortar and pestle or food processor to grind the chilli, lemongrass, galangal, ginger and turmeric until smooth. Add the paprika and oil and mix to combine.
2. For the broth, heat the oil in a large saucepan over a medium heat. Cook the spring onion greens and curry leaves, stirring, for 2 minutes or until fragrant and softened. Add the laksa paste and cook, stirring, for 2–3 minutes or until fragrant. Add a splash of water if it sticks at any point. Add the vegan fish sauce, sugar, tamarind paste and tamari and stir to combine. Stir in the water or stock and coconut milk. Add the tofu, then reduce heat to low and simmer, uncovered, for 10 minutes to allow flavours to infuse.
3. Meanwhile, par-cook the Chinese egg noodles (1–2 minutes instead of 2–3) following instructions on page 251. Pour boiling water over the vermicelli in a heatproof bowl and leave to soften for about 2–3 minutes. Drain and set aside.
4. Taste and adjust broth according to your preferences. Add a little extra stock or water if necessary.
5. To serve, divide noodles between serving bowls. Ladle over the hot broth and finish with the Vietnamese mint, bean sprouts and chilli.
Hungry for more recipes? Sign up to our foodie email here
---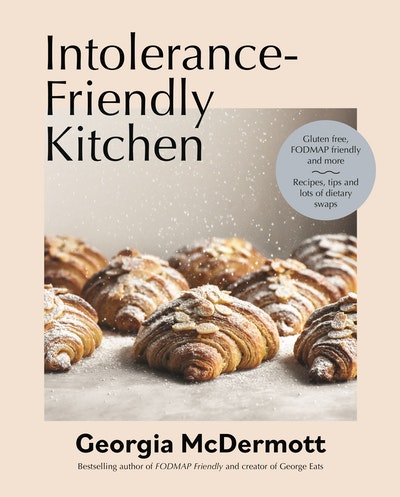 Dependable, delicious recipes that make great food accessible for a range of intolerances: gluten free, FODMAP friendly and more.
Buy now
Buy now
---