If you're into TimTams, this recipe is for you.
Also known as: if you're into TimTams, you're into these chocolate sandwich biscuits. I've tried the biscuits using fine white rice flour, brown rice flour and buckwheat flour, all to success. Use the same amount (120 g) of any flour you substitute with.
Low lactose
Free from high-starch flours
Gum free
Fodmap friendly
Gluten free 
Makes 10-11 biscuit sandwiches
Prep 1 hr
For the chocolate biscuits:
100g butter, softened 
110g (½ cup) caster sugar
35 g (⅓ cup) Dutch processed cocoa powder, plus extra to dust
120g sorghum flour
1 teaspoon gluten-free baking poweder
1-2 teaspoons FODMAP-friendly milk of choice
For the filling:
100g butter, softened
125g pure icing sugar
2 tablespoons Dutch processed cocoa powder 
Pinch of fine salt 
For the chocolate coating:
200g 70% cocoa solids dark chocolate 
1-2 tablespoons coconut oil 
1. Preheat oven to 160°C. To make the biscuits, combine butter and sugar in a large bowl or bowl of your stand mixer. Using electric beaters or stand mixer with paddle attachment, beat on medium–high speed until light and fluffy. This can take anywhere from 3–15 minutes, butter temperature and season dependent.
2. Place cocoa, flour and baking powder in a small bowl and whisk to combine. With the motor running on low speed, add cocoa mixture to butter and sugar until well combined, scraping down sides of bowl as necessary. The mixture should become a reasonably stiff dough. Add just enough milk to form a smooth dough that doesn't crack as you roll it.
3. Dust a large sheet of baking paper with extra cocoa powder. Place dough on prepared paper and top with another equal sized sheet. Using your rolling pin, roll dough out to a thin rectangle, about 5 mm thick. The biscuits puff up during baking so they can be rolled a little thinner than you'd like them to end up. The biscuits are also served as a sandwich so you don't want to make them too thick.
4. Using a pizza wheel and/or a ruler and knife, gently cut sheet of dough into 10 cm×3 cm rectangles. Aim for 20–22, which will make 10–11 biscuit sandwiches.
5. Place the sheet of cut biscuits on a large baking tray. Bake for 30 minutes or until completely cooked through. Set aside to cool completely on tray before gently snapping into individual biscuits.
6. Meanwhile, to make filling, place butter and sugar in a small bowl or bowl of your stand mixer. Using electric beaters or stand mixer with paddle attachment, beat until light and fluffy. Add the cocoa and a pinch of salt and beat until smooth and light brown in colour.
7. Sort biscuits into even-sized pairs. Add a decent smear of the buttercream and sandwich biscuits together. If your smear oozes out, you've used a little too much. Place sandwiched biscuits on a baking tray and place in fridge to set.
8. Meanwhile, place the chocolate and oil in a heatproof bowl over a saucepan of simmering water, ensuring base of bowl does not touch the water. Cook, stirring, until chocolate has melted and is smooth. Remove from heat.
9. Lightly grease a sheet of baking paper or some cooling racks. Using 2 forks, dip each biscuit sandwich into the chocolate mixture and turn to coat. Allow each biscuit to drain well or the last few will be chocolate deprived. Transfer to the greased sheet or rack and repeat with remaining sandwiches.
10. Transfer biscuits to fridge to set. After chocolate is set, they're ready to eat.
NOTES: Biscuits keep well in an airtight container for up to 1 week, but they will absolutely disappear before then.
Hungry for more recipes? Sign up to our foodie email here
---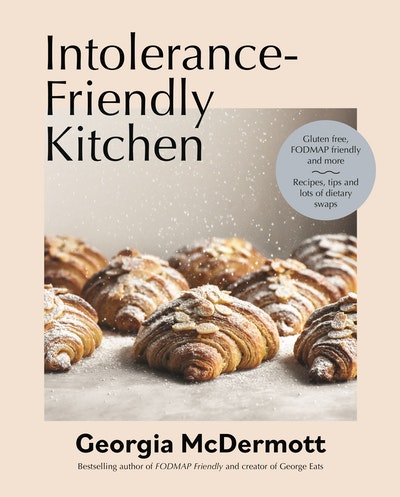 Dependable, delicious recipes that make great food accessible for a range of intolerances: gluten free, FODMAP friendly and more.
Buy now
Buy now
---