As seen in Made by Morgan.
Gnocchi transforms the humble spud into amazingly light and fluffy pillows of joy. My recipe is a one-pan style where the gnocchi are cooked in the sauce, giving them more flavour.
Total prep time: 30 minutes
Total cook time: 15 minutes
Serves: 4
Difficulty: 2/3 stars
For the gnocchi
1 kilogram (7–8 medium) potatoes
3 teaspoons sea salt
1 free-range egg
1 2/3 cups (250g) plain flour
For the sauce
6 rashers streaky bacon, finely chopped
1 tablespoon extra-virgin olive oil
1 onion, peeled and finely chopped
1 clove garlic, peeled and crushed
1 chicken breast, finely chopped
1/2 cup (125ml) chicken stock
1/2 cup (125ml) thickened cream
Sea salt and freshly ground black pepper, to taste
1/2 cup (40g) grated parmesan
1/2 cup (40g) grated mozzarella
1 large handful spinach leaves
Grated parmesan, extra, to serve
Special equipment
To make the gnocchi
Place the potatoes (unpeeled) in a large saucepan and add enough cold water to cover the potatoes, then half of the sea salt. Place the saucepan over high heat and bring the water to boil, then reduce the heat to medium, and cook for 10–15 minutes or until you can just poke a fork through the potatoes.
Remove the potatoes from the water and leave them to cool, then peel them. Pass the potatoes through a potato ricer or push through a fine sieve into a large bowl. Add the egg, flour and remaining salt, and stir with a wooden spoon until combined.
Divide the gnocchi dough into 4 equal portions. Using your hands, form 1 portion into a log 2 centimetres in diameter and 30 centimetres long, and place it on a clean, dry surface. Use a lightly floured knife to cut the log into 2-centimetre pieces. Repeat with the remaining dough portions.
Lightly flour yourhands, and roll each piece of dough into a ball. Use your thumb to roll each ball over a floured fork. Place your gnocchi on a lightly floured tray while you prepare the sauce.
To make the sauce
Heat a fry pan over medium heat. Add half the bacon, and cook until crispy, then remove from the pan and set aside. In the same pan, add the extra-virgin olive oil and then the onion and farlic, and cook for 2 minutes. Add the remaining bacon and the chicken, and cook for 3–4 minutes or until golden brown. Add the chicken stock, cream and the gnocchi, then reduce the heat to medium-low and cook for 3–5 minutes or until the sauce thickens and the gnocchi floats to the surface. Remove from the heat, season with salt and pepper, then add the cheeses and spinach and stir to combine. Top with the crispy bacon and grated paremesan to serve.
Hungry for more recipes? Sign up to our foodie email here
---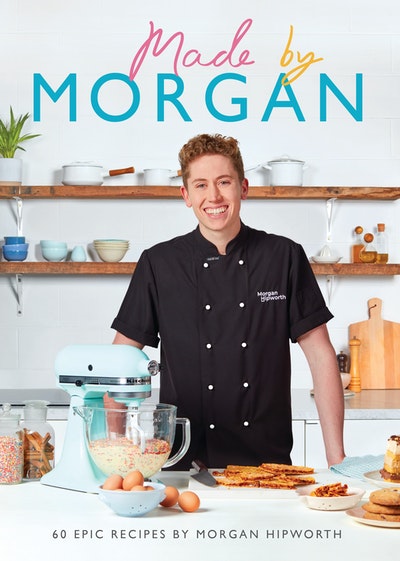 Combining global culinary influences with a pure love for sharing food and laughter, rising culinary star and TikTok supremo Morgan Hipworth takes you into his world of food, fun and inspiration.
Buy now
Buy now
---