Soak up memories of eating way too many Jaffas with this increds brownie recipe.
Brownies and orange-flavoured chocolate each have a reputation for being simultaneously awesome and indulgent, and, to be fair, a little old school, too. I remember orange chocolate being one of those things that would blow my little fucken mind as a kid, while pumping my lolly bag at the cinema full of enough Jaffas to frighten most parents. I have vivid memories of thinking that every time I ate chocolate with orange in it, those were probably some of the best times of my fucken life. So, let's make memories and blow minds with the best fucken brownie in town. (PS If you don't like orange chocolate, just don't put the orange in the brownie, lol.)
SERVES: 6–8 solid doses
COOKING TIME: a bit over an hour
HECTOMETER: 4/10
INGREDIENTS
1 large (or 2 small) oranges, zest only
200 g butter
100 g dark chocolate, go as dark or as less dark as you like, 70%+ seems to go pretty good, broken into pieces
1 cup plain flour
1/3 cup cocoa powder
½ teaspoon baking powder
pinch of salt
1 cup caster sugar
1 cup brown sugar
4 eggs, lightly beaten
2 teaspoons vanilla bean paste or vanilla extract
METHOD
Nobody move . . . until the oven is turned to 150ºC fan-forced (170ºC conventional).
You're going to need an 18 cm x 28 cm baking tray/slice pan thingy. Line it with baking paper, leaving any excess hanging tough over the edge.
Now, before we kick this straight between the posts, let's talk chocolate: don't buy shit dark chocolate. Get something with a label on it that looks like it drives some kind of old Fiat. Okay, talk over.
If you have a precious microplane (not a small aircraft) or grater, grab it, and on the finest setting zest the orange/s into a bowl.
Grab a little pot or pan and melt the butter and chocolate over a LOW heat. We don't want to boil it, Satan, cause that will be a fucken shit show.
Speaking of shit shows, I saw written on a toilet wall somewhere at a truck stop once 'patience is a virtue' and here we get to put those dunny rules into action. Keep stirring it, emphasis on the words 'keep' and 'stirring'. Don't stop but gently Bentley, remembering easy does it as we calmly melt butter and sugar together.
When that serene moment has arrived where these two ingredients are getting along just fine, in with the orange zest and then set aside to cool off amid a possible calming breeze, and if you have a compact disc with a whale song playing in the background, that may also help.
Sift your flour, cocoa and baking powder into a bowl with a cheeky pinch of sodium chloride (when I was a kid I thought I was a fucken scientist after I worked out that sodium chloride just meant salt). Add in the sugars and give it a good mix together please and thank you. I don't know how many recipe books you've read that thank you for doing the shit in them, but this one does.
Make a hole in the middle of all that powdered shit and add ya bum nuts (eggs), buttery–chocolate concoction and vanilla paste and give all that a good mix. Jules likes to whisk the vanilla into the eggs first, because it's an easy way to tell that it's properly mixed through.
Now we are off to the races, groover. Tip all that radness gently into the tray, spread it out even Stephen and bung in the oven for 45 minutes or until just set in the centre. A good way to tell is to give it a gentle shake – ultimate brownie consistency is completely set on the edges, with a slight liddle jiggle in the middle.
Now listen here, my lovely friend, we really need to exercise some fucken restraint in this next part. Once our amazing creation is baked to perfection you must and I repeat fucken MUST let it chill. Put that whale song CD back on, eat the rest of that fucken orange? Look at a picture of a meadow or some shit, but pretty please let the brownie completely cool down. The reason I say this is because this mix loves a rest, and the thing's residual heat keeps cooking it for a hot sec too. Plus, if you jump the gun then it won't work out the way it should. (But tbh, it will still taste increds, so do whatever ya want.)
Serve with fucken nothing or even some cream and a light dusting of cinnamon if you like. Doesn't need it but hey, you might be feeling a little extra today.
Soak up the memories of eating way too many Jaffas and love yourself sick.
---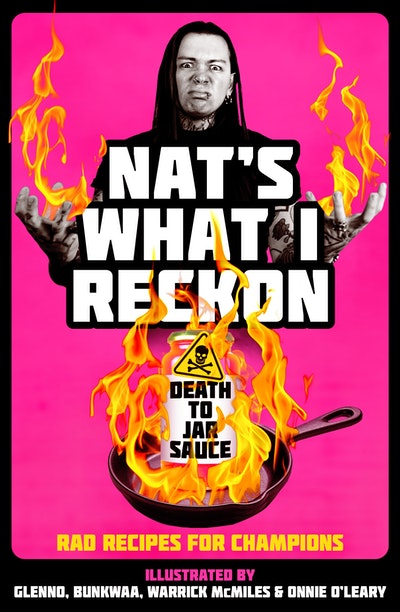 SHORTLISTED FOR ABIA ILLUSTRATED BOOK OF THE YEAR 2022 Our favourite sweary, anti-jar-sauce warrior is back . . . and he's actually written a whole cookbook this time.
Buy now
Buy now
---