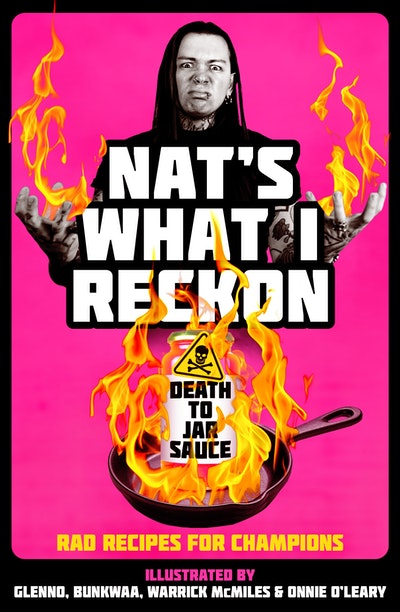 Published:

16 November 2021

ISBN:

9781761045820

Imprint:

Ebury Australia

Format:

Trade Paperback

Pages:

336

RRP:

$34.99
Death to Jar Sauce
Rad Recipes for Champions
---
---
---
SHORTLISTED FOR ABIA ILLUSTRATED BOOK OF THE YEAR 2022
Our favourite sweary anti-jar-sauce warrior is back . . . and he's actually written a whole cookbook this time.
'Sweary, direct and oddly helpful . . . a uniquely Australian cult hit.' The Guardian
'The hero of the hour . . . he clearly has chops in the kitchen and he does it without fuss.' The Australian
—
The world's a confusing and chaotic place. We thought lockdown was over . . . it wasn't. We hoped life would go back to normal . . . it hasn't.
But Nat's What I Reckon knows one thing is definitely still true: jar sauce can get f*cked.
So, to help champions keep levelling up their cooking skills and making ripper feeds from scratch at home, Nat has created this collection of 25 sh*t hot recipes that will get you out of a jam. This is stuff that's simple, easy to follow and tastes delicious, like Honey B*stard Chicken, Get F*cked Roast Potatoes and Frownie Reversal Orange Chocolate Brownie.
There are no questionable ingredients here: purely Nat's trademark humour, a big dash of cheekiness and some genuinely handy culinary tips to boot. Death to Jar Sauce will see you through the good times and the tough times, hopefully with a few solid laughs and some awesome food on your plate.
Recipes illustrated by Sydney artists Bunkwaa, Glenno, Warrick McMiles and Onnie O'Leary.
—'Like milk in your bolognese, Nat is the (anti)hero ingredient that the cooking world never knew was missing.' Alice Zaslavsky, author of In Praise of Veg
'While Nat may be swearing at you to "f**k off over to the stove", he does so with sincere encouragement that truly makes people feel capable of their abilities.' Rage, ABC
Published:

16 November 2021

ISBN:

9781761045820

Imprint:

Ebury Australia

Format:

Trade Paperback

Pages:

336

RRP:

$34.99
Praise for Death to Jar Sauce
Like milk in your bolognese, Nat is the (anti)hero ingredient that the cooking world never knew was missing.

Alice Zaslavsky, author of In Praise of Veg
The hero of the hour . . . he clearly has chops in the kitchen and he does it without fuss.

The Australian
Sweary, direct and oddly helpful . . . a uniquely Australian cult hit. Our love for Nat is the perfect metaphor for that wild period of 2020 – a connection forged over video, seeking comfort in food, mild self-improvement and a desire for human connection.

Guardian
While Nat may be swearing at you to "f**k off over to the stove", he does so with sincere encouragement that truly makes people feel capable of their abilities.

ABC Rage
Australian Book Design Awards
Longlisted • 2022 • Best Designed Series Covers