Don't eat s*** pies. Eat this one instead.
There are few people on earth that love a pie more than Jules' dad, John. He takes this pie business very bloody seriously, and so he should. God knows we have all suffered many a shitty maggot bag from time to time, but if we are lucky enough we've also had the great fortune to experience a truly awesome pie that makes us reconsider all our previous servo dining moments.
When I discovered how fucking awesome it is to stew beef in Guinness, the words 'let's eat another pie' left my lips on multiple occasions, and I made a zillion of these fucken things until I got a heartburn so bad I just about burned down the house. Good news, though: I came good and now I'm ready to make the pie world proud with my own meaty frisbee full of all the flavour a mouth can hang with. Let's eat like we mean it and not like we're filling up with E10.
SERVES: 6–8
COOKING TIME: a few hours
HECTOMETER: 7/10
INGREDIENTS
1.5 kg stewing beef (chuck, blade, brisket)
2 tablespoons olive oil or vegetable oil, plus extra if needed
1 leek
1 carrot, peeled
2 onions, peeled
all the garlic in the world (at least 1 whole garlic bulb), peeled
salt & pepper
2 tablespoons chopped rosemary leaves
2 bay leaves
¼ cup tomato paste
1 tablespoon brown sugar
440 ml can Guinness or stout
2 cups beef stock
2 tablespoons Worcestershire sauce
¼ cup plain flour
1 tablespoon butter
2 sheets shortcrust pastry
1 egg, lightly beaten, for egg wash
2 sheets butter-puff pastry
GEAR YA NEED
METHOD
Preheation to 150ºC fan-forced (170ºC conventional)! I realise 'preheation' is not a word, but if it were, it would mean 'to preheat'.
Oi, so this depends what kind of beef vibe you went with here, but if you went big pieces of beef let's cut them into bits of meat that are a touch more pie-appropriate, so to speak (3cm-ish pieces). Getcha self a large ovenproof casserole dish/deep saucepan that looks like it can party with a stew, crank the heat to pretty hot (aka medium–high) and with a sick tablespoon of oil, brown that beef off until it's become . . . browned. You shouldn't crowded house the pan, so maybe do it in two batches, hey. Remove the browned meat from the pan and set aside.
Let's kick it off with your veggies, legend. Slice your leek lengthways down the middle and wash the fucken stupid dirt shit out of its fronds . . . fronds? That's like a Friends meme, I'm sure. Anyway, slice it, then dice the carrot along with your peeled onions and 'throwwet' (another made-up word) into a bowl. In ANOTHER bowl that you magically have suddenly out of nowhere goes a shitload of peeled garlic, chopped up however matters to your pedantic/don't-care-about-garlic thing you might have going on.
Add another tablespoon of oil to the casserole and reduce the heat to medium, then add your leek, onions and carrot, season with salt and pepper and cook for around 4–5 minutes. Once that's all softened, in goes the specially chopped garlic that no one cares how you cut up, along with the rosemary and bay leaves (which are still a mystery to us all what they actually do), and cook that lot of hoo-ha for another 2 minutes.
Launch that tomato paste, brown sugar, can of Guinness, beef stock, worschestishirehjhgdjhdsf sauce and the beef with all its resting juices back into the pan with a pinch of salt. Bring to a simmer, ya winner, and then banga lid on and either bung in the oven for 2ish hours, or reduce the stove to the lowest setting and veryyyyy lightly simmer it for 2–2½ hours until the meat is so tender it's giving off a vibe that it reads Sufi poetry to kittens.
After the poetry reading, remove the lid and if necessary cook the remaining liquid down to a thicker consistency on the stove's high heat for another 10–15 minutes. The big pie-dea here is that you want enough liquid to surround the fucken meat, hey, 'cause if it doesn't then it's gonna end up a fucken beer stir fry wearing a pastry hat.
All good, as I have a solution for that. Let's make this pie sick as and thick as: once you've reduced the liquid a bit, ladle half the cooking liquid into a bowl and whisk in the flour to make a smooth paste, then fang it back into the pie mix and cook for another 4 minutes till nice and fucken thick.
The oven needs to complete a further 'preheation' moment to 180ºC fan-forced (200ºC conventional), just so you know, so jump on that shit.
I never own the right shaped shit to make a circular pie and don't give a huge fuck either, so I always make it in a baking/roasting dish – good for me and now good for you. (By all means if you wanna use a pie dish, fancy pants, then go for it.) Grease a 2-litre baking dish with butter and line the base with shortcrust pastry. I used to do this bit with puff but it would end up looking more like pair of fucken Reebok Pumps than a pie, so this shortcrust game works better to chill the base out. You will likely need to do some patchwork and use an eggwash (eggs that have had a lovely bath. . . not really; just an egg beaten together) to connect any bits and ensure the base is completely covered by pastry. No one really ever looks at the base of a pie or cares, so don't sweat it too much if it's not totally perfect, hey? If some arsehole inspects your pie that much, maybe they would be better off being given directions to the nearest servo for dinner in future. Just saying.
Make sure the pastry comes up the sides of the baking dish 'cause we wanna join it to the lid soon. Now bake that fucken shortcrust-only tray for 15 till a little cooked and then remove from the oven. Fill with the righteous meat filling and flatten it down to make evenly spread across the tray. Lay over a puff pastry lid this time, champion, and like before don't give yourself too much of a hard time about it all being super perfect. As long as it's crimped or squashed to the sides of the shortcrust shit to connect the two pastries, then ya sweet. Brush the lid with more egg wash and gently stab a couple of holes in the pastry top to let steam escape.
Well fuck me that was a lot, wasn't it? Good thing all we have to do now is bung it back in the oven for another 30 minutes or until the pastry is golden and it inspires you to never want to settle for a petrol station maggot bag again.
Remove from the oven and let it rest for a few minutes, then cut portions and spatula serve it clumsily cause it's a fucken tray pie and that's the way they are supposed to be served – a little messy but with a lot of heart, occasionally with some mash and veg, and sometimes even a little tomato sauce.
I hope you don't get heartburn from eating it too often, but instead just feel a sense of accomplishment and joy.
Do as John does and don't eat shit pies. Eat this one instead.
---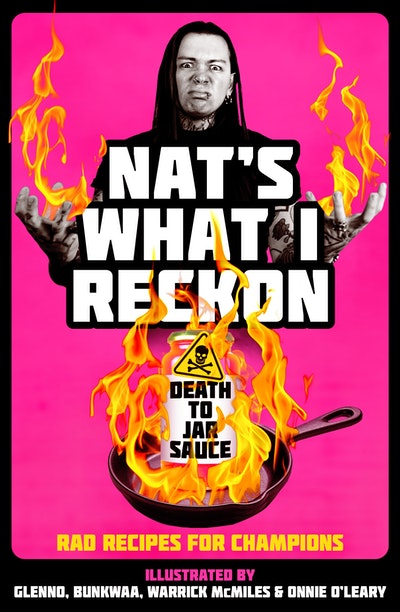 SHORTLISTED FOR ABIA ILLUSTRATED BOOK OF THE YEAR 2022 Our favourite sweary, anti-jar-sauce warrior is back . . . and he's actually written a whole cookbook this time.
Buy now
Buy now
---