If you have any awareness of or give a f**k about calories, you may want to put your welding helmet on and take a deep breath for this doozy, champion.
Food like this is so entirely ridiculous and f****d up – true food debauchery with an almost total disregard for healthy eating, but also pretty amazing.
Also . . .being 'healthy' can mean a lot of things depending on where you're standing in the room; joy is healthy too, just saying. This dish was requested on my social media so often it would be rude not to have a crack at this smash-hits calorific tidal wave.
So dust off the Bolton back catalogue, s**t is about get cheesy.
Serves: 4–6
Cooking time: 1–1.5 hours
Hectometer rating: 5/10
Key: Comfort Food, Kiddo Friendly, Side Mission, Vego
Ingredients
500 g macaroni pasta (or any s**t except maybe long pasta like spaghetti, linguini etc)
3 – 4 tablespoons butter, plus more for greasing
150 g cheddar cheese
150 g mozzarella
1 brown onion, peeled
whole bulb of garlic, peeled and diced
1 litre full-cream milk
2 tablespoons plain flour
100 g shaved parmesan
2 heaped teaspoons mustard powder/Dijon mustard
salt and pepper
1 teaspoon paprika (optional)
1/3 – 1 cup panko breadcrumbs
pinch chopped parsley
½ teaspoon dried thyme
Method
Let's have a meltdown, shall we?
Pre-heat the oven to 200ºC fan-forced (220ºC conventional).
Boil some water in a large pot on the stove, bang in some salt and HALF-WAY cook your pasta. Drain it, return to the pan and stir through a tablespoon of butter and set aside.
Grate the respective cheeses into separate bowls.
As finely as you can be bothered, slice the onion and bung in a bowl, followed by your diced garlic.
Pour a litre of milk into a small pot and gently warm it up (NOT BOIL) on the stove.
Punt your health kick over the back fence and melt 2 – 3 tablespoons of butter in another pan over medium heat. Into this pan go the onion and garlic. Cook them slowly until they have softened but not browned (about 5 minutes).
Add your flour to the onions and garlic, and cook into a paste for a minute or two. Then, a cup at a time, start adding your warm milk to the mixture and stir till thickened, and repeat till all the milk is in. Now it's time to really turn the health down to zero by adding in all the cheeses (but save a handful of parmesan for later).
Stir through your mustard powder or mustard with a good crack of salt and pepper to taste.
Add to the pan your half-cooked pasta and stir together.
Tip into a greased up 35 x 24 cm (approx.) ovenproof dish and f****n why not put some MORE F****N CHEESE ON TOP!! (The remaining parmesan.) Optional: sprinkle some paprika over it all.
Into the oven for 20–25 minutes until the s**t has started to turn golden on top.
Back to the stove with one more pan on a medium heat with one more tablespoon of butter till it f****n melts. In with the panko crumbs, chopped parsley and dried thyme leaves with another crack of salt, f**k it.
Once the breadcrumbs have turned golden brown, turn the heat off and rest.
Out of the oven comes an amount of 'gives zero cheese f***s' never seen by the human eye, which is then placed onto the bench in disbelief. And because being mega today just wasn't mega enough, you then ever so passionately sprinkle the butter-fried breadcrumb mixture evenly over this marvel of cholesterol.
Step back and let it rest for a few minutes.
During this time you may want to take a good long hard look at yourself in the mirror and wonder whose idea it was to make such a ridiculous dish. Then eat it with your mates as you look at each other with smirks on your faces.
You smirk because you give zero f***s! In Mac and Cheese World, there are no f***s to give, ever. Go off, ya cheese lords ;)
See the uncensored recipe in the cookbook.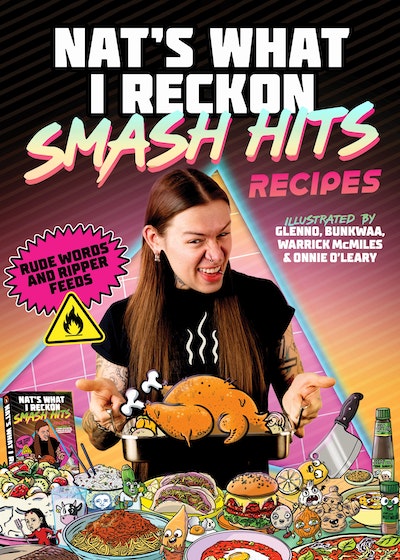 Smash Hits Recipes
Eat like an absolute legend with 45 of Nat's all-time best recipes. Filled with hits and memories plus a solid dose of good times, rest assured, this cookbook has your back!
Read more