A ripper of a tiramisu jammed with delicious calories that are every bit worth it.
If you are wondering who the flip Jim is, it's worth a dig through the back catalogue of my channel to find some of the weirdest faceswapping (and at times rubber mask) character videos I've made. Let me tell ya, those Jim videos can get pretty fucken cooked at times. I developed him as a representation of the classic old Aussie fella who likes the simple things in life, and at the same time he's a little eccentric and has a habit of getting a little carried away . . . my future, I'm sure.
If there is one thing I know about Jim, it's that he loves a coffee or forty, as well as the occasional scoop of Blue Ribbon. He has been known at times to fondly combine those two flavours in a word he pronounces with his oh-so-Australian timbre: 'tirameeezooooo'. As an homage to the great man himself, here is a ripper of a tiramisu that he would be more than happy to put away all by himself.
SERVES: 8
COOKING TIME: under an hour
(resting time: a few hours to overnight)
HECTOMETER: 6/10
INGREDIENTS
6 egg yolks
1 cup caster sugar
2 teaspoons vanilla extract
375 g mascarpone at room temperature
500 ml thickened cream
1½ cups freshly brewed, strong coffee
½ cup Marsala or other liqueur (like Frangelico)
300 g savoiardi (lady finger) biscuits
¼ cup dark cocoa powder
GEAR
METHOD
Get your whisking arm ready, muscles.
In a heatproof bowl whisk together the egg yolks and ¾ cup sugar till combined. On the stove you're gonna wanna get a pot going with a few inches of water on the boil. This said pot needs to be a convenient size that can fit the previously mentioned bowl on top of it without fucken falling into the pot or touching the water. Rest the mixing bowl carefully on top of the pot of boiling water (again making sure the water is steaming the bowl rather than actually touching the bowl), and whisk away for 6–8 minutes, until the mixture has thickened up and turned a pale colour. Then remove it from the steamy pot and set aside to chill out for a while till it cools off.
Once cool, whisk in the vanilla and mascarpone (the only cheese used to hide a horse). All that nonsense, including that shit horse joke, can continue to relax for a bit while you get on with your comedy career and the rest of the dish.
Pour the cream into a large bowl. Now comes the time to get that arm of yours ready (or quickly run out and buy an electric mixer) and whisk the absolute endless fuck out of the cream, which as I've mentioned in other parts of this book takes way longer than it should, but does – trust me – get there in the end. The cream seemingly out of nowhere will form nice thick peaks, at which time you may need a shoulder reconstruction, but it's also a great time to fold the cream into the horse joke bowl of mascarpone from earlier.
Now, some coffee is needed. However you choose to get there is up to you. I don't want to have to grow a beard and tie a top knot and get into a whole barista thing here about 'what kind of fucken coffee to use' 'cause I don't really give a special fuck. Just as long as it's 1½ cups of strong black coffee (and no, a shitty iced coffee from the servo will not do the trick, champ). Once you've navigated that journey, Magellan, add the remaining ¼ cup of sugar to it and tip the sweet coffee into a shallow bowl for cool reasons that it needs to cool off. Cool? Once it's too cool for school, stir in the Marsala or Frangelico.
You rifling through your cupboard and suddenly finding a 22-cm square dish is fantastic news for us all right now, 'cause we will use it. Spread about a third of the horse hider into the bottom of the dish, then with your hands or tongs if you have a gentle touch, dip the bickies into the coffee mixture and arrange over the mascarpone until you've created a layer. Now sift over some cocoa, cover it with half of the remaining horse hider and another layer of coffee-dipped bickies followed by more cocoa powder. Top all that with the remaining cream mixture, smooth out the top layer and again dust with more cocoa.
Here comes the hard bit: leave it in the fridge for a few hours or even better . . . overnight.
Serve it up, and possibly consider adding a solid jog the long way around the block into your week, 'cause this shit is jammed with delicious calories that are every bit worth it.
In the wise words of Jim, drive some tirameeezooooo into ya.
---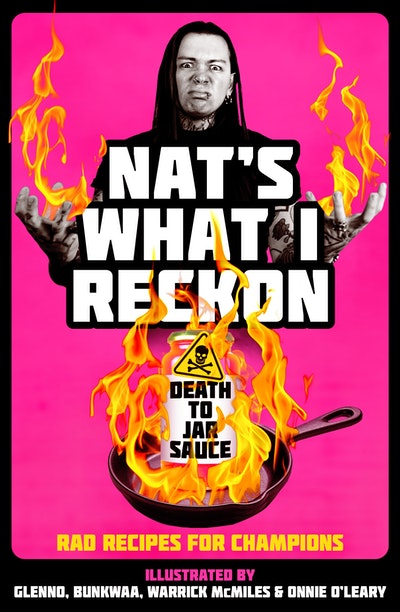 Our favourite sweary, anti-jar-sauce warrior is back . . . and he's actually written a whole cookbook this time.
Buy now
Buy now
---