A healthier, flavour-packed version of a heart-warming comfort dish, from Modern Australian Vegan.
It takes some time to assemble this dish, but the savoury flavours of roasted eggplant, tomatoes, pesto, toasted pine nuts and creamy polenta are well worth it. You won't miss the cheese or saturated fat of the classic meaty version in this flavour-packed dish.
Eggplant and Roasted Tomato Polenta Lasagne
Serves 8
Prep: 45 mins, plus cooling time
Cook: 45 mins.
Ingredients
1.2 litres water
160g coarse polenta (not instant)
1½ tsp sea salt
1 large eggplant, cut into 2.5cm cubes
350g cherry tomatoes, halved
3 cloves garlic, thinly sliced
4 tbsp extra-virgin olive oil
360ml tomato passata
240ml vegan basil pesto
6 large basil leaves, cut in thin ribbons
60g pine nuts, toasted
METHOD
Line a 23 × 23cm baking dish with baking paper and brush it with a little olive oil.
In a large saucepan over a high heat, bring the water to the boil. Stirring constantly, add the polenta in a thin stream. Add 1⁄2 teaspoon of the salt, reduce the heat to medium, and continue to stir until the polenta is fully cooked. (It will be creamy and smooth with no 'bite' when you taste it.)
Pour the polenta into the prepared baking dish and allow to cool for a bit. Cover and refrigerate for at least 2 hours or overnight or until set.
Preheat the oven to 200°C.
Sprinkle the eggplant cubes with 1⁄2 teaspoon of the salt and place in a colander to drain for 30 minutes. Rinse and gently squeeze out any remaining water.
In a large baking tray, toss the eggplant cubes and cherry tomatoes with sliced garlic and 3 tablespoons of extra-virgin olive oil. Spread evenly, and roast, stirring once or twice, for 30 minutes. Remove from the oven, and reduce the temperature to 190°C.
When the polenta has set, carefully turn it out of the dish. Cut into thirds, and slice each third horizontally into 3 equal pieces so you have 9 polenta 'lasagne sheets.' Handle carefully using a spatula, but don't worry if they break – just fit them back together in the dish.
To assemble the lasagne, brush the baking dish with the remaining extra-virgin olive oil. Spread 120ml of tomato passata over the bottom of the dish and cover with 3 pieces of polenta. Top with half of the tomato–eggplant mixture and half of the pesto, followed by another layer of polenta. Add another 120ml of tomato passata, the remaining eggplant–tomato mixture and the remaining pesto. Top with the final layer of polenta and spread the remaining tomato passata evenly over the top. Cover and bake for about 40 minutes or until hot and bubbling.
Just before serving, sprinkle basil and toasted pine nuts over the top of the lasagne. Serve hot.
---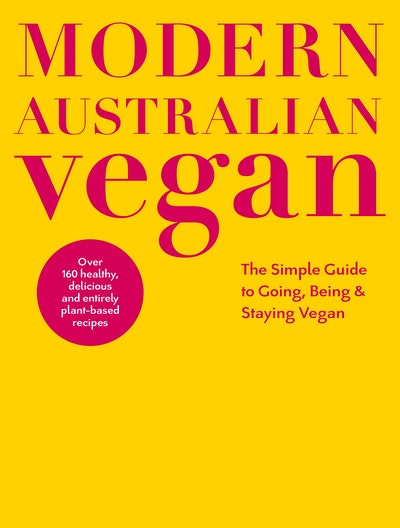 Going, being and staying vegan has never been so simple with this comprehensive cookbook of over 160 healthy, delicious and entirely plant-based recipes.
Buy now
Buy now
---