A delicious recipe for the melt-in-the-mouth Italian staple from The Art of Pasta.
To make potato gnocchi, it is important to use the right variety of potato. Floury potatoes work best, as they contain less water than new or waxy potatoes − this means that less flour is required and the gnocchi will be lighter. Desiree potatoes are the variety I suggest.
Potato gnocchi
Serves 4
INGREDIENTS
1 kg desiree potatoes, skin on
1 egg
200–250 g plain flour, plus extra for dusting
sea salt
METHOD
Place the potatoes in a saucepan of cold salted water. Bring to the boil, then turn the heat down a little and cook gently until the potatoes are soft when tested with a skewer − this should take 25−30 minutes depending on the size of the potatoes. Drain.
When they are just cool enough to handle (it is better to mash them while they are still hot), peel the potatoes and pass them through a mouli or potato ricer into a bowl. Cool completely and then add the egg. Mix it in lightly and quickly with a fork. Add 200 g of the flour, then add salt to taste and, using your hands, mix quickly to form a dough.
Flour your work surface well and place your dough on it. If it is too sticky add a little more flour, but be very careful not to make it too dry − too much flour will make the gnocchi hard and heavy. It should only take a few minutes to mix the dough into a homogenous soft ball.
Divide the dough into six. Working on a well-floured surface, use your hands to shape each piece of dough into a roll the thickness of a finger. Using a sharp knife, cut each roll into even pieces 2−4 cm long to make your gnocchi.
As you cut them, lay the gnocchi on a floured tea towel in a single layer – do not allow them to touch each other. When they are all done, roll each one over the tines of a fork (or use a special wooden gnocchi maker) to give them the classic grooves, which will hold the sauce. Or, if you prefer, press your finger into the middle of each gnoccho to give another classic shape.
The gnocchi are now ready to be cooked in plenty of boiling salted water. Place them on a plate, then tilt the plate over the boiling water and let the gnocchi slide into the water. (You may need to do this in small batches if your pan is not big enough.) As the gnocchi rise to the surface, lift them out using a slotted spoon, drain well then toss them with the sauce.
One of the best sauces to accompany gnocchi is fresh tomato sauce, finished with plenty of fresh basil and parmesan, or the four cheeses sauce on page 98. Melted butter and parmesan is a lovely quick option.
If you don't want to eat them all at once, you can freeze the uncooked gnocchi – just sprinkle them with flour first to stop them sticking together.
---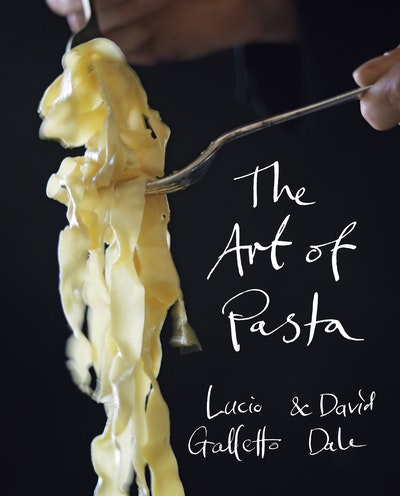 A passionate celebration of the world's favourite food - now revised and updated.
Buy now
Buy now
---