A heart-warming, cheesy dish from Rosie Mansfield's cookbook Food Hacker.
I love it when a dish looks super impressive, yet may be one of the easiest meals to create. Make this heart-warming cheesy dish on a chilly night to comfort a hungry tummy and tired mind.
Broccoli and Cheddar Pot Pie
Time: 40 minutes
Serves: 4
Nutrition factor: vegetarian/kid friendly/dinner party friendly
INGREDIENTS
1 broccoli head, florets torn off
¼ cup (60 ml) olive oil
1 red onion, chopped
2 garlic cloves, chopped
¼ cup (35 g) plain flour
1 tablespoon mustard
1½ cups (375 ml) milk of choice
2 cups (240 g) grated cheddar
2 tablespoons chopped parsley
1 generous pinch sea salt
1 generous pinch freshly ground black pepper
1 sheet frozen puff pastry, thawed
1 egg yolk, lightly beaten
1 tablespoon sesame seeds
METHOD
Preheat the oven to 200°C.
Steam broccoli florets until just tender.
Heat the olive oil in an ovenproof frying pan over medium heat. Cook the onion and garlic, stirring often, for 2–3 minutes or until tender.
Stir in the flour and mustard and cook, stirring constantly, for 1 minute. Gradually add the milk, stirring constantly until the sauce boils and thickens. Reduce heat to medium–low and simmer for 3 minutes. Stir in the cheese until melted and season with parsley, salt and pepper.
Add the broccoli and stir to combine.
Place the puff pastry over the pan and trim the pastry around the edges, leaving a 1-cm overhang. Pierce the centre of the pastry lid to let steam escape.
Brush with egg yolk and sprinkle with sesame seeds.
Bake for 15–20 minutes or until golden and puffed.
Cool slightly.
Eat.
Food Hacker tip: Hate broccoli? Grab a bag of spinach instead and throw it into the sauce to make sure you get your daily greens.
---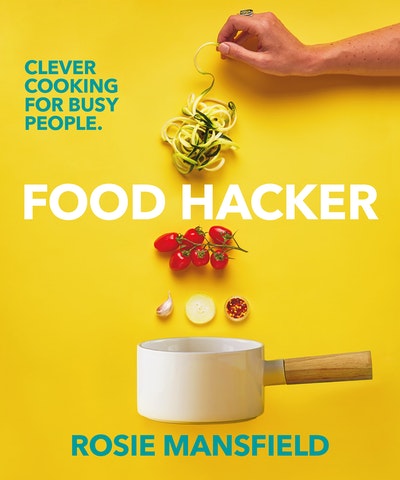 A recipe book of innovative food hacks to make preparing delicious, simple meals quick and easy.
Buy now
Buy now
---