A simple, healthy, fun and delicious meal method from Rosie Mansfield's Food Hacker.
There's nothing that irks nutritionist Rosie Mansfield more than overcomplicated, time-consuming recipes spoiling our everyday culinary experiences. So in her book Food Hacker, she's set out to redesign the way we cook and eat, so healthy meals fit easily within our existing routines.
'This book's sole (and soul) purpose is to help you find a realistic and long-term way of eating that works for your unique beautiful body,' she writes in the introduction. 'I want to inspire anyone to get in their kitchen, however small it might be, and cook real food. I have sieved out the unnecessary methods and stripped recipes to their bare essentials for anyone to whip up impressive culinary eats, using ingredients and equipment we all know and like.'
Poke (pronounced 'poh-kay') originated in Hawaii but has caught on everywhere as a nutrition-packed bowl of deliciousness. And, true to the Food Hacker philosophy, they're super easy and fun to make. Follow Mansfield's four steps below, and let creativity guide you…
STEP 1: Pick a base: white sushi rice, jasmine rice, brown rice, cauliflower rice, quinoa, farro, couscous, soba noodles, spiralised cucumber, spiralised zucchini (courgette), spiralised carrot or leafy greens. Feel free to use a carb and a veggie base here.
 
STEP 2: Pick a protein: tuna, salmon, trout, prawns, tofu, tempeh, chickpeas, lentils or beans.
 
STEP 3: Pick a dressing: ponzu, soy sauce, tamari, miso, sesame oil, rice wine vinegar, crushed garlic, grated fresh ginger, Sriracha (hot chilli sauce), lime juice or orange juice.
 
STEP 4: Pick your sprinkles: avocado, bean sprouts, pomegranate seeds, edamame, kimchi, pineapple, mango, radish, almonds, macadamias, peanuts, sesame seeds, wasabi peas, jalapeños, spring onion, red onion, pickled ginger, seaweed, shiitake mushrooms or cucumber. Use a mixture of your favourites.
 
Food Hacker tip: Make sure your base is served at room temperature to prevent wilting any of the fresh toppers.
---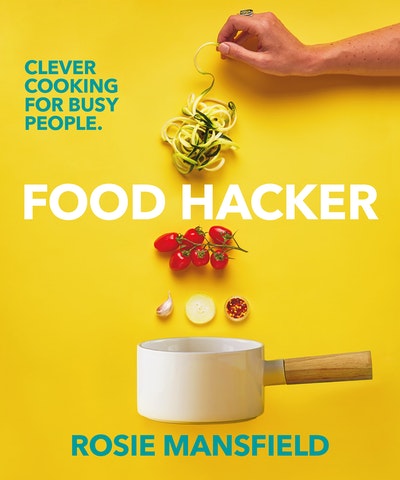 A recipe book of innovative food hacks to make preparing delicious, simple meals quick and easy.
Buy now
Buy now
---