A loaf recipe perfect for babies, toddlers, teens and grown-ups at any time of the day from Annabel Karmel's Baby-Led Weaning Recipe Book.
Who doesn't love banana bread? Packed full of grated carrots, sultanas and seeds, this is a delicious breakfast or snack and a great way to use up overripe bananas.
 
Banana, Carrot and Seed Bread
Prep time: 15 minutes
Cook time: 1–1¼ hours
Makes: 1 loaf
Freezable
INGREDIENTS
150g / 5oz softened unsalted butter
2 large eggs
200g/ 7oz ripe bananas, peeled and mashed
125g / 4½oz grated carrot
25g / 1oz sultanas
125g / 4½oz soft dark brown sugar
225g / 8oz self-raising flour
½ teaspoon ground cinnamon
1 teaspoon mixed spice
1 teaspoon ground ginger
25g / 1oz pumpkin seeds
25g / 1oz sunflower seeds
Butter, for spreading and greasing
Topping:
1 tablespoon pumpkin seeds
1 tablespoon sunflower seeds
Icing sugar, for dusting (optional)
METHOD
Preheat the oven to 170°C/340°F/Gas 3, grease a 900 g/2 lb loaf tin and line it with baking parchment.
Place all of the ingredients, except the topping, in a large mixing bowl. Whisk together with an electric hand-held whisk for 1–2 minutes until light and fluffy. Alternatively, use a stand mixer fitted with the paddle or whisk attachment.
Spoon the mixture into the tin and level out the top.
Sprinkle with the extra seeds and bake for 1–1¼ hours until golden, well risen and a skewer inserted comes out clean.
Remove from the oven and leave to cool on a wire rack, then remove from the tin. Dust with icing sugar (if using), cut into slices, spread with butter and serve.
---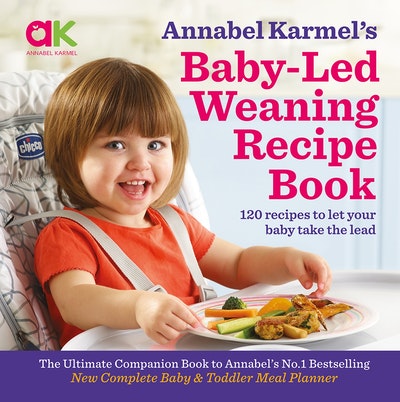 120 recipes to let your baby take the lead.
Buy now
Buy now
---