We chatted with social media star and home cook extraordinaire Nathan Anthony to learn about his favourite herbs, most-used ingredients and more.
You might know Nathan Anthony by his social media handle, Bored of Lunch. By sharing easy and quick air fryer and slow cooker recipes, the home cook has amassed over 1.3 million followers on Instagram and 655,000 on TikTok. And with two cookbooks out now, Nathan's recipes continue to delight cooks of all skill levels with their simple instructions and tasty results.
We caught up with Nathan to find out more about the person behind the Bored of Lunch brand. Read on to learn more!
What ingredient/s do you enjoy cooking with the most?
I enjoy cooking with herbs the most. Fresh flavour is so important to me and adding herbs as a garnish can elevate a dish. Using powerful fresh herbs like coriander, mint and rosemary can really transform a dish. Rosemary for your rich beef or chicken dishes and then coriander and mint for kebabs or tacos.
What is your ultimate comfort food?
Sizzling prawn pil pil! I mean what's more comforting than prawns sizzling in gorgeous olive oil with chilli and garlic, then soaking up the flavour with bread for dipping? I often make it in my air fryer and you can find my favourite prawn pil pil recipe in my air fryer cookbook!
Which utensil do you use the most?
My food processor. It not only helps save time with chopping but also makes the most incredible curry pastes and salsas.
If you could choose your last meal, what would it be?
To start, definitely lots of tapas: food like prawns, chilli squid etc. The main would be a tomahawk steak with garlic potatoes and peppered sauce. Dessert would be profiteroles or crepes with lots of chocolate and cream. May as well go out with a bang and a proper bloat!
What are five essential ingredients you always have on hand?
Cornflour to thicken a sauce, tins of coconut milk for curries, tins of chopped tomatoes, good seasoning (usually dried, to save money) and finally coriander. I could eat coriander on anything.
What is your most used ingredient?
Chicken – either the breast, thigh or wings. It's cheap and can be used in any dish you can think of. Thigh and wings are such affordable cuts of meat and can be transformed into the most flavourful food using an air fryer or slow cooker.
What is your favourite food memory?
Sitting on the living room floor watching movies with my parents while eating takeaway pizza. That is the beauty of food, it can trigger lovely memories.
What is the best way to elevate an ordinary meal?
Fresh herbs are key, as is using powerful flavours like lemon, lime and garlic.
What is the one life-changing cooking hack you were taught?
Always add less of an ingredient than you think you need, for example, stock. You can always add more, but it's a lot harder to take away than to add more if required.
What is the best and the worst cooking advice you've ever received?
The worst advice was when someone told me, 'Don't use a slow cooker because they eat electricity being on all day'. In actual fact, a slow cooker is nearly as energy efficient as a lightbulb. The best advice would be 'Don't add the garlic too soon/early'. Garlic can burn very easily, and I instantly recognise the taste of burnt garlic.
Want to try one of his recipes? Check out this garlic mac & cheese from Bored of Lunch: The Healthy Slow Cooker Book.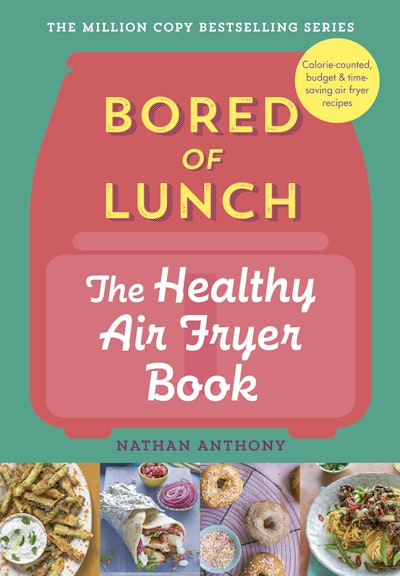 Bored of Lunch: The Healthy Air Fryer Book
The second brand-new book from hit diet food platform, Bored of Lunch. Eat well and save time and money with 80 easy, air fryer recipes. For fans of Pinch of Nom Quick and Easy (463k TCM) and Air-Fryer Cookbook (23k TCM).
Read more
Bored of Lunch: The Healthy Slow Cooker Book
The much-anticipated first book from the hit diet recipe platform, Bored of Lunch. Eat well and save money with 80 easy, healthy slow cooker recipes. For fans of Pinch of Nom Quick and Easy (463k TCM), BBC Good Food's Slow Cooker Favourites (163k TCM) and The Fitness Chef (20k TCM).
Read more