The Australian actress on the daunting task of narrating The Living Sea of Waking Dreams audiobook for Booker Prize winning author (and family friend) Richard Flanagan.
Before this project, how familiar were you with Richard Flanagan's work? You're both Tasmanians, so that must've been a good start?
I've known Richard since I was a little girl. He and my older brother, Richard, were at uni together and guides on the Franklin River together. He became a deeply loved family friend. I also played a cameo in his film The Sound of One Hand Clapping.
Did you feel daunted by the task of narrating for a Booker Prize winning author?
I did feel daunted. Particularly because his book is often written like a poem, with his rich language and chosen lack of punctuation to speak at the speed of thought. And then sometimes thought becomes dialogue. It was complex. And I didn't want to disappoint him. 
What were your first impressions of the book?
It touched me so deeply and feels of this time, it's so perfectly reflective of this world here and now. It taught me the word solastalgia, which names something I feel profoundly.
Can you tell us a bit about the process? 
I read the book, which I loved. I looked up every word that I didn't know or was uncertain of, the multiple meanings in the dictionary, and then went through the book with Flan to understand some of the phrasing in pages without commas or full stops or other punctuation. The intentions, whose point of view it was etc. I recorded in a little sound studio in Hobart without a director or producer present so if in doubt I'd call Richard (sometimes every few minutes) to discuss pacing, intensity, context, voice, tone, intention and more. Sometimes we'd play him back a section in various styles to let him choose which way to go. I was very concerned that it should be what he intended it to be. I would rather re-record it if he's not happy! Seriously. I still would.         
What were some of the biggest challenges in narrating the book?
Apart from the above, breathing.
Something that surprised you?
That so small a book could contain and touch upon so much and so many aspects of life.
What role did Richard play (if any)?
He was my 'phone a friend' whenever I was in doubt.
Any parts you struggled to get right?
Pretty much all of it!! I'm still not sure that I have.
 If you had to describe the book to a stranger, what would you say it's about?
Just read it [or listen to it]. You won't regret it.
Any favourite lines/passages?
One of my absolute favourite passages is about Francie's father kneeling on the earth and being so profoundly grateful for the earth, sky, mountains, the sea.
Chapter six, 2.   
Where did Francie go in her dreams, Anna wondered as she watched over her that night. Was she returning to her childhood stories of a fabulous past of rebel priests, magic, a world where the convicts cursed and fate answered, where sea eagles stole babies and brought them up in nests in Bass Strait islands, where priests froze adulterers to the spot by staring at them?
Brought up in poverty on a Depression era scrabbling fifty-acre farm, Francie viewed her childhood on that north western Tasmanian hill as rich beyond compare. Her father, whom she loved deeply, would each morning walk down the three back steps of their weatherboard farmhouse with its newspaper lined walls, and drop to his knees.
And there in the Melrose hills, halfway between the immensity of Bass Strait's ocean twenty miles to the north and the massif of Mount Roland an equivalent distance to the south, that tiny prostrated form let his soul fill with the glittering azure of the sea, the ultramarine of the mountain, and the bands between of ploughed volcanic earth and vibrant forest and crops rippling in the racing cloud shadow. The red! The green! The blue! If he were to make a flag, that would be his tricolour, and he would call it home, family, love. If he were to shout it to the heavens he would cry Us! We! Ours!
But he knelt.
And, kneeling there, head bowed, with the immense universe vibrating in and out and through him, that universe which he understood as him also, Francie's father would each morning thank God for such beauty that there is in this world.
The idea and the image—they were to Francie one. The insignificance and the immensity. The gift and the gratitude. The power of the man in the world, the power of the world in the man.
Francie never forgot that vision, nor did she ever escape the sense that the world and God and beauty and love could also be hers, if she just fell to her knees and let each fill her. And against the cosmic power of that image the poverty of her childhood was as nothing.
---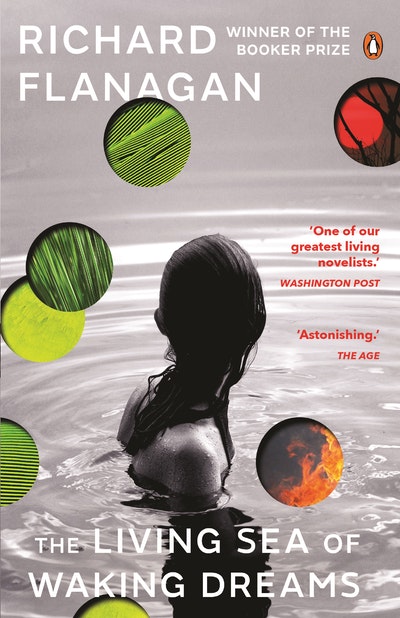 The Living Sea of Waking Dreams is an ember storm of a novel. This is Booker Prize-winning novelist Richard Flanagan at his most moving—and astonishing—best.
Buy now
Buy now
---