10 reasons to listen to Why Has Nobody Told Me This Before? by Dr Julie Smith.
Why Has Nobody told Me This Before? by Dr Julie Smith is a positive, proactive toolkit for navigating the ups and downs of life.
Whether you're an avid self-help reader or not, this one is definitely worth checking out. A #1 Sunday Times bestseller, the book has already changed lives around the world. Written as bite-sized entries, the book is easy to read while being extremely informative.
Better yet, this book is just as good – if not better – in audiobook format.
While the content remains grade-A whether you read or listen, the succinct chapters lend themselves perfectly to listening. Narrated by Dr Smith herself, Why Has Nobody Told Me This Before? is the perfect book to listen to while going on a walk or during your daily commute.
Even a few minutes of listening, and you'll be armed with the information you need to live your best life. With chapters including 'How to turn bad days into better days', 'Is stress different from anxiety?', and 'How to create a life with meaning' the book will change your life for the better.
And we're not the only ones who think so:
'Five fat, happy stars for this god-send of a book that will remain in my house on a shelf somewhere...possibly for the rest of my life.' – Goodreads user, Antigone
'I warmly recommend this book for everyone who wants to improve their mental health, and live more fulfilling lives.' – Goodreads user, Nina
'It's so engaging that it's even led me to switch off my phone for several hours so I can read it, and in this social media-obsessed age, I don't think I can give a bigger recommendation than that.' – Byrony Gordon, The Telegraph
'I'm blown away by her ability to communicate difficult ideas with ease, simplicity and practicality. Amazing. Go and buy it now!' – Jay Shetty
Still not convinced? Here are ten reasons why you should listen to the audiobook.
10 Reasons to listen to Why Has Nobody Told Me This Before? the audiobook
Dr Julie Smith is a clinical psychologist, so you can rest assured that the advice given in the book is based on years of professional experience.
It's relatable. The chapters are easy-to-understand and applicable to everyday life.
It covers a lot. Whether you need help managing stress or recovering from past trauma, you'll find some helpful advice.
You'll come back to it time and again. Even if all the chapters aren't applicable in the present, you might find the resources come in handy later on in life.
It's a great place to start if you know nothing about psychology.
The bite-sized sections make it easy to listen to in small bursts.
The tips laid out are very practical and easily applicable.
The book is a great conversation starter. You can read it with a book club or partner to open up discussion about mental health.
The book is aware that it's not an end-all-be-all solution. Dr Julie Smith goes to great lengths to highlight that this book isn't a replacement for therapy, making it a refreshingly self-aware wellness read.
The audiobook comes with a free pdf that contains diagrams and worksheets to fill out.
Wondering what to expect? Check out this simple breathing exersize from the book for a preview. 
---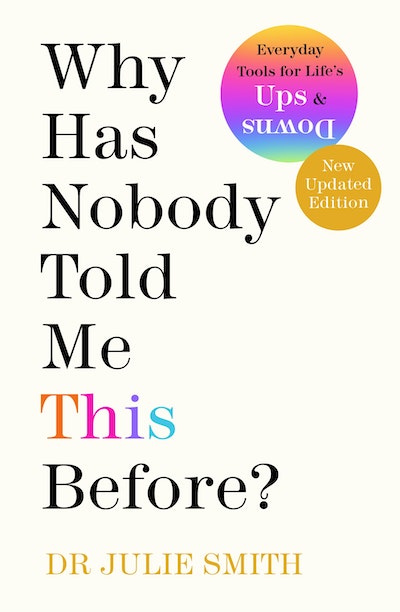 A simple, positive, practical toolkit for better mental health, from clinical psychologist and TikTok star Dr Julie Smith
Buy now
Buy now
---