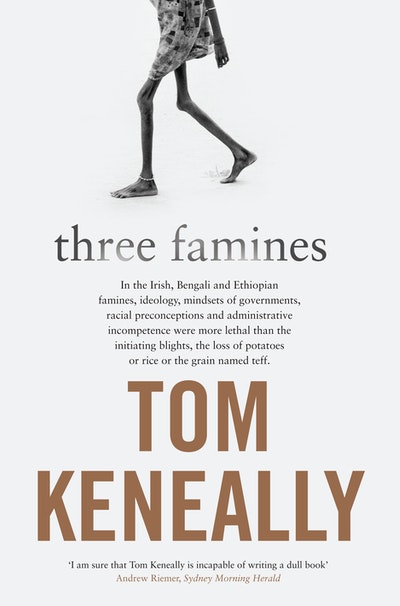 Published:

1 October 2010

ISBN:

9781742741345

Imprint:

Random House Australia

Format:

EBook

Pages:

336
Three Famines
---
---
---
A standout history told with Tom Keneally panache.
A standout history told with Tom Keneally panache.
This is the story of three great famines. The first is an Gorta Mór, the great hunger of Ireland, which began in 1846 and whose end-date is a matter of debate. The second is the less well-known but more deadly famine that struck Bengal in 1943. The third is the Ethiopian famine, which first sprung up in lethal form in the 1970s under Emperor Haile Selassie and then again under the brutal dictator Mengistu in the 1980s.
Keneally himself visited Eritrea in 1984 to see the effects of this grave event. In those who suffered these famines; in those who denied their suffering; in those who propounded theories to excuse it; in those who - against the wishes of each government - told the world what was happening; and in those who tried to relieve it, there is a remarkable continuity of impulse and experience and dilemma. Though these famines are diverse, they are in many ways as similar as if they were related by DNA, or a malignant force of fallibility.
Tom Keneally shares these three shocking histories with his customary penetrating wisdom, and he presents a controversial theory in his utterly compelling narrative: in all three famines, ideology, mindsets of governments, racial preconceptions and administrative incompetence were, ultimately, more lethal than the initiating blights, the loss of potatoes or rice or the grain named teff.
Published:

1 October 2010

ISBN:

9781742741345

Imprint:

Random House Australia

Format:

EBook

Pages:

336
Three Famines is a brave attempt at humanising a complex problem that can so easily drown in overwhelming numbers. Keneally warns of new challenges, not least AIDS and climate change. He rightly argues that more Western aid, while not always the panacea, remains essential. The colonial legacy in Africa has barely been acknowledged in the West and famine is its bastard child.

Antony Loewenstein, The Sydney Morning Herald
A powerful nonfiction work that reminds us that hunger has been - and remains - among the greatest of the world's injustices.

Stephen Romei, The Australian
Booker Prize-winning author Keneally examines causes of deadly famines over the past 150 years, terrible times of starvation when the victims became members of the nation of the famished, who have more in common with each other than with the cultures starvation steals from them. The author focuses on three examples-the great hunger that began in Ireland in 1845, the deadly famine in Bengal, India, during World War II and the decimation of Ethiopians in the 1970s and '80s-to argue that while famines may be triggered by natural disasters, in every case their cause is mainly political. They are neither acts of God nor the result of the improvident behavior of the hungry, but are the result of deliberate policies by those in power-made worse by the denial of the democratic right of the victims to voice their protest. Keneally takes particular aim at Malthusian explanations that couple famine with overpopulation. He documents that postponement of marriage limited the size of Irish families, and their heavy reliance on a potato diet had the positive effect of protecting them from vitamin-deficiency diseases such as pellagra and scurvy. Although the failure of the potato crop in Ireland was a precondition for the famine, writes the author, grain and livestock grown in Ireland could have fed people adequately had the British government permitted its domestic distribution instead of insisting that its export to England be continued. A similar situation existed in Bengal when the British diverted rice to the use of the army deployed against the Japanese. In Ethiopia, it was forced collectivization by Marxist leader Mengistu Haile Mariam that fatally disrupted agricultural production. Keneally concludes that the major cause of famine is human agency. The author provides ample documentation instead of just preaching, but his important message is clear-unless we deal with the real causes of famine, it "has not had its last ride."

Kirkus Reviews
With his customary compassion and skill, the author adds a human face to the accounts of these natural disasters, using first-person recollections, official files, suppressed reports and whistle-blower efforts to reveal the shocking possibility that, in all three cases, government actions, or lack of them, were more lethal than the food shortages themselves.

Max Oliver, Australian Bookseller & Publisher
Keneally's achievement consists in showing, carefully, depressingly, that people have a seemingly infinite capacity for repeating the same stupid, ruinous mistakes for the same sad reasons. Each famine had whistleblowers, people of courage and integrity, but in each case they were not enough.

Bill Perrett, The Age
In its human glimpses, we see why Keneally's book is so important.

The New York Times