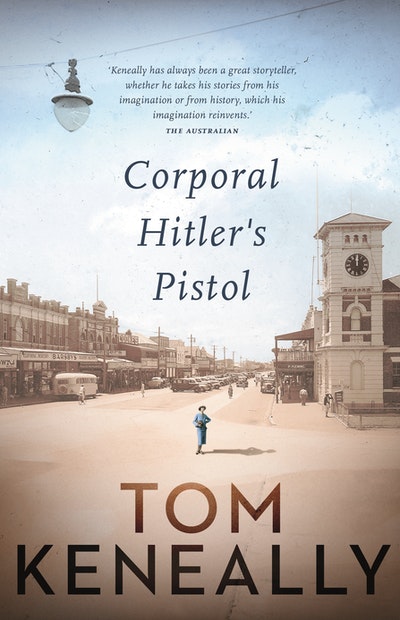 Published:

15 June 2022

ISBN:

9781760893231

Imprint:

Penguin

Format:

Paperback

Pages:

352

RRP:

$22.99
Corporal Hitler's Pistol
Winner of the 2022 ARA Historical Novel Prize
---
---
---
Winner of the 2022 ARA Historical Novel Prize.
How did Corporal Hitler's Luger from the First World War end up being the weapon that killed an IRA turncoat in Kempsey, New South Wales, in 1933?
When an affluent Kempsey matron spots a young Aboriginal boy who bears an uncanny resemblance to her husband, not only does she scream for divorce, attempt to take control of the child's future and upend her comfortable life, but the whole town seems drawn into chaos.
A hero of the First World War has a fit at the cinema and is taken to a psychiatric ward in Sydney, his Irish farmhand is murdered, and a gay piano-playing veteran, quietly a friend to many in town, is implicated.

Corporal Hitler's Pistol speaks to the never-ending war that began with 'the war to end all wars'. Rural communities have always been a melting pot and many are happy to accept a diverse bunch … as long as they don't overstep. Set in a town he knows very well, in this novel Tom Keneally tells a compelling story of the interactions and relationships between black and white Australians in early twentieth-century Australia.
Published:

15 June 2022

ISBN:

9781760893231

Imprint:

Penguin

Format:

Paperback

Pages:

352

RRP:

$22.99
Praise for Corporal Hitler's Pistol
Keneally brings [his] characters together beautifully. They are alive on the page and we care for all of them, even the sinners. There is a lot of humour, including with the character names, a bit of melodrama and a lilting nostalgia for the days when going to the pictures involved dressing up, watching newsreels and listening to a dandy in a boater hat and bow tie play Chopin. The author won the Booker Prize for his 1982 Holocaust novel Schindler's Ark. In his hands, Droopy [Hitler] is not the man we expect. The last words we hear him speak deny the weight of all that is to come. This novel is not so much an alternative history as an only-if history.

Stephen Romei, The Australian
His familiarity with the town makes Kempsey crackle with commerce, gossip and class divisions from the opening pages. Always a first-rate storyteller of a traditional kind, Keneally displays his mastery of narrative technique in a series of cinematic set pieces that propel the story forward while intimately developing the characters. Keneally deftly plaits together his disparate strands, far too canny to create predictable outcomes. Nothing goes as planned, even for those with noble intentions, keeping the plot taut right to the end. Corporal Hitler's Pistol manages to be a rollicking, optimistic entertainment while mourning the human tragedies that shaped the 20th century and beyond.

Susan Wyndham, The Guardian
Keneally's many novels can be understood collectively as a sweeping, richly populated, Balzacian "human comedy". ... a lively historical fiction grounded in the soapy intrigues and infidelities of small-town life, but reaching beyond its parochial setting to touch on global conflicts.

James Ley, The Age
Corporal Hitler's Pistol is a richly imagined and vivid novel that moves the reader skilfully from WWI to the Irish Civil War, from rural Kempsey to Sydney and County Kerry during the first half and more of the 20th century. It is a novel that shows the impacts of the larger history of the world on individual lives and local histories, that tells of brutal wars and their wounds—whether felt on the skin or beneath—as brought home.

Angelo Loukakis, Judges, Australasian Historical Novel Society
Article