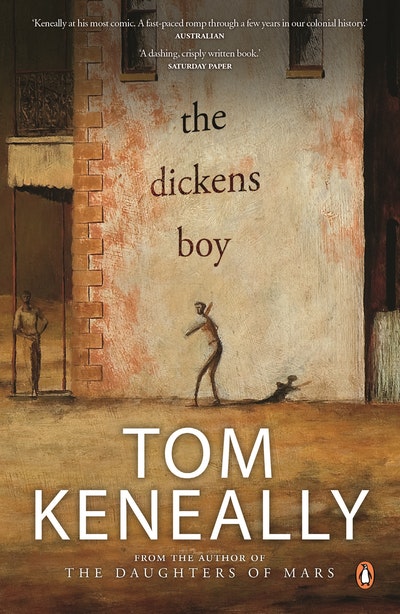 Published:

18 May 2021

ISBN:

9781760893200

Imprint:

Penguin

Format:

Paperback

Pages:

400

RRP:

$22.99
The Dickens Boy
---
---
---
In the late 1800s, rather than run the risk of your under-achieveing children tarnishing your reputation at home, you sent them to the colonies. At least that is what Charles Dickens did with two of his boys. (And Trollope did it too.)
In this joyful novel, our narrator is Charles Dickens's tenth child, Edward Bulwer Lytton Dickens, known as Plorn. Sent, as his brother Alfred had been before him, at sixteen years of age, to Australia to learn to 'apply himself'. We follow his early Australian adventures in outback NSW learning to become a man from the most diverse and toughest of men.
Part of Dickens' motivation was to separate these younger of his children from the Dickens family schism, where Charles had expelled his wife from the family home, keeping her sister Georgie there to run the household and taking up with the actress Ellen Tiernan.
Plorn arrived in Melbourne in late 1868 carrying a terrible secret. He has never read a word of his father's work. After a very brief stopover he is sent out to become a gentleman stockman on a 2000 square mile station in remotest, semi-arid parts of NSW. Here he inevitably gets enmeshed with Paakantji, colonists, colonial-born, ex-convicts, ex-soldiers, and very few women.
Plorn did not expect he would encounter the same veneration of his father and familiarity with his work in Australia that was rampant in England. Against this backdrop, and featuring cricket tournaments, horse-racing, bushrangers, sheep droving, shifty stock and station agents, frontier wars and first encounters with Australian women we follow Plorn, and sometimes his brother Alfred, through wonderful adventures as he works to apply himself.
This is Tom Keneally in his most familiar terrain. Taking historical figures and events and reimagining them with verve, compassion and humour. It is a romp.
Published:

18 May 2021

ISBN:

9781760893200

Imprint:

Penguin

Format:

Paperback

Pages:

400

RRP:

$22.99
Praise for The Dickens Boy
The Dickens Boy, does not feel like the work of an old man and certainly not of a writer who has no interest in learning more about his craft. It is energetic, even exuberant. It is in love with the abundance of life it negotiates. At the same time, Keneally is still working to find the right way to tell an intricate story, one that brings together colonial Australia and the Indigenous culture it pretended did not exist. It speaks of the way pain can move across hemispheres. It unpacks the problems of class and education. It ponders the burden of being the youngest son of the most famous man in the world and a mother that famous man used badly There are elements of the picaresque in the landscape of this book; it includes vivid tales that shimmer for short time and then are gone. Yet one of its attractions is the way Keneally shapes his material, never assuming that, so far into a career, he has mastered the form. Would that we could all reach the middle of our ninth decade with eyes as open in wonder.

Michael McGirr, The Sydney Morning Herald
This is an ingenious, hilarious novel. It is Keneally at his most comic. The Dickens Boy is a fast-paced romp through a few years in our colonial history. The new novel includes several outright inventions and other circumstances and developments that it's impossible to know the truth of. Did Plorn meet the bushranger Captain Starlight? He does in the novel and it is a wonderful extended scene. Did one of the brothers who ran the sheep station try to seduce Plorn? Did Plorn chase emus on horseback? Was Caroline Chisholm to blame for Charles Dickens's abiding interest in Australia, a place to which he was twice invited but never visited? Did the boys hear about their father's death the way they do in the novel? Almost certainly not. Keneally does what he does so well: he plucks people from the pages of history and gives them emotional lives.

Stephen Romei, The Australian
The Dickens Boy is a dashing, crisply written book. And Keneally still has a better feeling than most for ocker oddities. As an escape from the sombre demands of the present, it might be just the ticket.

Andrew Fuhrmann, The Saturday Paper
Keneally is a master at weaving historical figures and events into compelling works of fiction and so he does with his new book, a reimagining of the adventures of Charles Dickens' 10th child, Edward Bulwer Lytton Dickens, known as Plorn. At 16, and considered to be an under-achiever, Plorn is sent to Australia to apply himself and soon proves himself to be a plucky sort as he comes across a colourful cast of characters on his Antipodean adventure.

Brisbane Magazine
The Dickens Boy reimagines the extraordinary (and little-known) episode in the life of one (Plorn) of the two sons whom Dickens sent to an outback station in NSW, fearing he would 'waste' a life in London. Familiar and rewarding terrain for a much-loved novelist.

David Gaunt, The Gleaner
Take a step back in time – to a simpler time. Tom Keneally turns his attention to Charles Dickens's son, Plorn, an underachiever, who was sent to Australia in the late 1800s so that he wouldn't tarnish the reputation of the great writer. This is Tom Keneally in his most familiar terrain – taking historical figures and events, and reimagining them with verve, compassion and humour.

SA Weekend
Keneally's aim in attending to a youth so unprepossessing is both generous – he wants to recuperate Edward to some degree by telling his (imagined) side of the story – and a subtle rebuke to Charles Dickens, a charming autocrat whose endlessly fertile inventiveness is shown to have significant gaps. That personal critique shades into the political. Tender and wry as the novel is, The Dickens Boy has a tough-minded postcolonial core. By taking Edward's side against his famous parent, Keneally also makes the case for nineteenth-century Australia as more than a dumping ground for those who either couldn't hack it at the heart of empire or had rendered themselves morally unsuitable to remain within it – a patronising and diminishing idea of antipodean experience that Dickens, more than any author, helped entrench. Much of the pleasure of the novel arises from the shock of strangeness we encounter alongside Edward. He is a modest, earnest young man, but one gentle and attentive to the oddities around him. What he discovers is a world at once alien but weirdly familiar, in which flora and fauna have no correspondence with the world from which he has come and yet which remains filled with men (and it is mostly men) who know his father's works well enough to quote them adoringly and at length.

Geordie Williamson, Australian Book Review
The Dickens Boy is a touching, culturally pertinent novel. Keneally's project here is similar to Peter Carey's in his 1997 novel, Jack Maggs: to offer a critique of the limitations of the Victorian imagination and its relationship with the British colonies. Keneally has always been a great storyteller, whether he takes his stories from his imagination or from history, which his imagination reinvents. His other strength and perhaps passion is research, and we must doff our caps to his claim to having reread all of Dickens's novels as research for The Dickens Boy.

Don Anderson, The Australian
Article