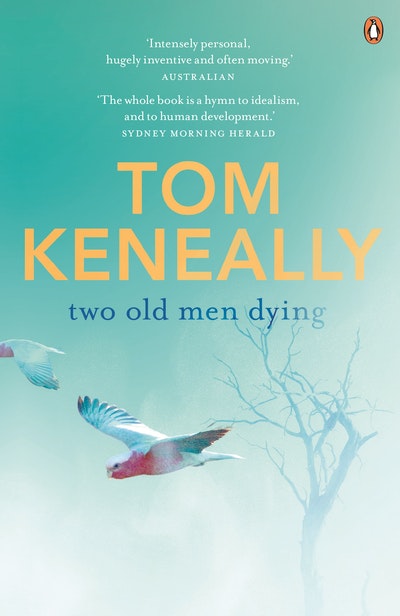 Published:

20 August 2019

ISBN:

9780143785422

Imprint:

Penguin

Format:

Paperback

Pages:

336

RRP:

$22.99
Two Old Men Dying
---
---
---
In perhaps his boldest and most personal novel, Tom Keneally explores the journeys of modern Australians alongside the imagined story of ancient Learned Man whose remains were discovered in Western NSW decades ago.
Learned Man is the child of humankind as we know it; of those who are thought to have travelled from the Rift Valley in Africa and to ancient Australia.

Shelby Apple is an acclaimed documentary-maker. After making films about Learned Man's discovery, in Vietnam and back home in the Northern Territory, Shelby turns his sights on Eritrea. He thinks this embattled society might represent a new cognitive leap, one that will reconcile our tenderness and our savagery, our reason and our emotions.
Shelby sees the world through the lens of his camera; Learned Man through the lens of his responsibility under law. Both men are well aware that their landscape comes to them from elders and ancestors. They are each willing to die and, in a sense, kill for their secret crafts.
Two Old Men Dying is an exquisite exploration of community and country, love and mortality.
Published:

20 August 2019

ISBN:

9780143785422

Imprint:

Penguin

Format:

Paperback

Pages:

336

RRP:

$22.99
Praise for Two Old Men Dying
Two Old Men Dying is the account of two exception­al men who have lived ordinary lives: ordinary in the sense that they may be viewed as universal, as experiences of what it is to be a man, with all the virtues and humiliations that attend that station, across time and space. What Keneally has done in this intensely personal, hugely inventive and often moving novel is to use his talents to undermine this tendency. He employs at some personal cost his own experience to highlight the ways in which we are brothers and sisters, for better and worse, under the skin. Such universalism is unfashionable just now. It may also be the only thing that will save us.

Geordie Williamson, The Australian
A dual narrative shared between Shelby Apples, an Oscar-winning documentary maker in the present day, and Learned Man, thought to be a link to early mankind when he emerged from Africa over 42,000 years ago. Fascinated with Learned Man's story, Apples makes several films about the discovery of Learned, and undertakes a campaign to have his remains returned to his native lands in the Australian outback. Learned's voice is a wonderful creation: modern, compassionate and filled with moral authority. Readers are shown the world from both characters' perspectives and both men are also aware of the voices of their elders and heroes. Both perspectives in Two Old Men Dying will fascinate Keneally's dedicated followers who have come to expect daring narratives dealing with themes of family, morality and moral responsibility. It will especially appeal to readers with an interest in prehistorical stories contrasted against modern Australian life.

Chris Harrington, Australian Bookseller + Publisher
It's a rather brave book. This impressive sketch of ghostly affinities between a man who makes images at once artistic and real out of the life he records and shapes, and another who conjures and kills and wills himself on the tightrope of justice and mercy in a time that Keneally is very adept at animating.

QSS, The Saturday Paper
This is, charmingly, a book by an old man about two other old men, all three acutely aware of mortality and each making the old man's declaration: "I will talk how I want to talk for as long as I choose about whatever I want to talk about." It's quite glorious really. The whole book is a hymn to idealism, and to human development.

Peter Keneally, The Sydney Morning Herald