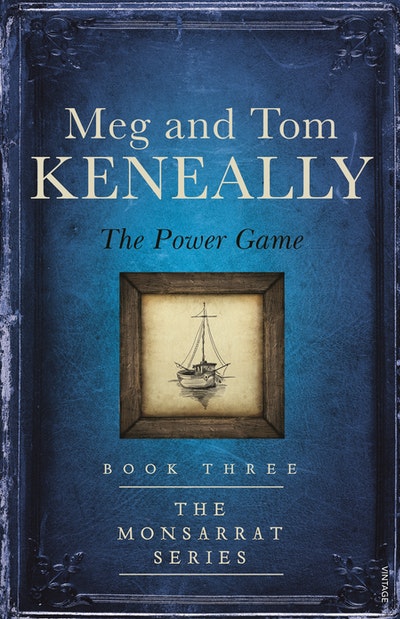 Published:

19 March 2019

ISBN:

9780857989444

Imprint:

Penguin

Format:

Paperback

Pages:

336

RRP:

$19.99
The Power Game
Book Three, The Monsarrat Series
---
---
---
Being the skipper of the cutter that carries all supplies and communications between Tasmania and Maria Island is a powerful position, and a deadly one.
When a boatman is murdered on a remote island off Van Dieman's Land, the authorities want to blame a famous, and very inconvenient, political prisoner. But the victim's history of blackmail prompts Monsarrat to look further afield – and not everyone is happy . . .
In this, the third in the Monsarrat series, Hugh Llewelyn Monsarrat and his trusty housekeeper, Mrs Mulrooney, are sent to remote Maria Island to solve the murder of Bart Harefield, the detested cutter skipper responsible for bringing supplies and correspondence to the island. Bart knows that knowledge is currency and he's not shy about reading the letters he brings across . . .
When Harefield is murdered with an axe, blame is laid at the feet of Thomas Power, the charismatic Irish revolutionary held in detention – with a lot of privileges – on Maria Island. Monsarrat and Mrs Mulrooney are told to solve the murder. They soon realise their real job is to tie Power neatly to the crime, so he can be hanged without inciting rebellion.
But were there others who also had reason to want to shut Harefield up?
Published:

19 March 2019

ISBN:

9780857989444

Imprint:

Penguin

Format:

Paperback

Pages:

336

RRP:

$19.99
Praise for The Power Game
With the Monsarrat series, co-written with his eldest daughter, Meg, [Tom] Keneally has joined Kerry Greenwood in combining two well-loved fiction genres. This is not just crime, but historical crime. Showing Keneally's extensive knowledge of the convict era, this series about an 1820s Sydney ticket-of-leave man turned amateur sleuth gleefully employs a number of crime's conventions. This character-based collaboration is an energetic tale and an engaging read.

Kerryn Goldsworthy, The Sydney Morning Herald
The plotting of The Power Game is skilled and confident; the energy of the series has not flagged; a fourth book is signalled. This time the murder of the editor of the Sydney Chronicle will require Monsarrat's skills. More adventures are in store, as well as further reckonings of the melancholy of exile and the hardness of things in this new world.

Peter Pierce, The Australian
A murder, an attempted escape by a charismatic prisoner, scapegoating and discrediting all test Monsarrat and Mrs Mulrooney's best detective skills and survival instincts. A thoroughly enjoyable addition to a very Australian detective series.

Stef Hoy
Gentleman ex-con Hugh Llewellyn Monsarrat and his treasured tea-making side-kick Hannah Mulrooney have been sent to a small prison island off Tasmania to investigate a murder, and thus the claustrophobia and powerlessness of incarceration in a colony at the end of the world is increased ten-fold. I really like the Monsarrats.

Viki Dun, Gleebooks Gleaner