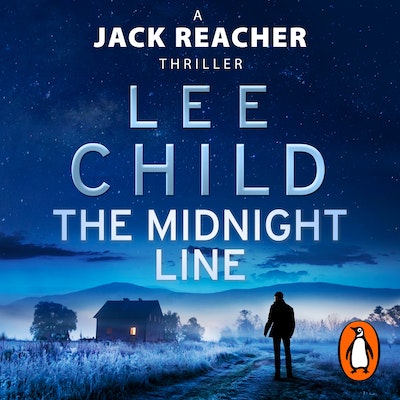 Published:

7 November 2017

ISBN:

9781473542570

Imprint:

Transworld Digital

Format:

Audio Download

Length:

11 hr 17 min

Narrator:

Jeff Harding

RRP:

$32.99
The Midnight Line
(Jack Reacher 22)
---
---
---
Can you wait for the return of Reacher in 2017? Jack Reacher is back, in a new chilling, deadly adventure.
Random House presents the audio edition of The Midnight Line: (Jack Reacher 22) by Lee Child, read by Jeff Harding.
Jack Reacher takes an aimless stroll past a pawn shop in a small Midwestern town. In the window he sees a West Point class ring from 2005. It's tiny. It's a woman cadet's graduation present to herself. Why would she give it up? Reacher's a West Pointer too, and he knows what she went through to get it.
Reacher tracks the ring back to its owner, step by step, down a criminal trail leading west. Like Big Foot come out of the forest, he arrives in the deserted wilds of Wyoming. All he wants is to find the woman. If she's OK, he'll walk away. If she's not ... he'll stop at nothing.
He's still shaken by the recent horrors of Make Me, and now The Midnight Line sees him set on a raw and elemental quest for simple justice. Best advice: don't get in his way.
'Each year Lee Child comes up with another Reacher. Each year I lap it up. Love it... Best one for a while... there is something subversive as well as page-turning... The sentences are short, but that doesn't mean the thinking is small... I don't know another author so skilled at making me turn the page, at putting me in the thick of it all.' - The Times
'I just read the new Jack Reacher novel by Lee Child... It is as good as they always are. I read every single one.' - Malcolm Gladwell
'Addictive... Child's trademark staccato-style delivers all-action excitement as well as a sombre message about the hypocrisy of the US war on drugs.' - Metro
_________
Although the Jack Reacher novels can be read in any order, The Midnight Line follows on directly from the end of Make Me.
And be sure not to miss Reacher's newest adventure, no.26, Better off Dead! ***COMING SOON and AVAILABLE FOR PRE-ORDER NOW***
Published:

7 November 2017

ISBN:

9781473542570

Imprint:

Transworld Digital

Format:

Audio Download

Length:

11 hr 17 min

Narrator:

Jeff Harding

RRP:

$32.99
Praise for The Midnight Line
Each year Lee Child comes up with another Reacher. Each year I lap it up. Love it...Best one for a while...there is something subversive as well as page-turning...The sentences are short, but that doesn't mean the thinking is small....I don't know another author so skilled at making me turn the page, at putting me in the thick of it all.

The Times
I just read the new Jack Reacher novel by Lee Child..It is as good as they always are. I read every single one.

Malcolm Gladwell
The one that breaks your heart...Reacher has a reputation to live up to: drifter, loner, knuckles the size of walnuts, etc...[ yet has] more emotional heft than anything Child has written before.

Janet Maslin, New York Times
A timely, affecting, suspenseful and morally complex thriller. In fact, it's one of the best thrillers I've read this year.

Washington Post
An eccentric but winning blend of the serious and the playful, this modern western resembles a collaboration between the Coen brothers and Karl Ove Knausgaard.

Sunday TImes
Marks a real departure for Lee Child, who homes in on two hot issues (US military veterans with mental or physical scars, and a related social plague currently in the news) ...Alongside this topicality is a poignancy that was lacking in earlier books.

John Dugdale, Sunday Times Thriller of the Year
Addictive...Child's trademark staccato-style delivers all-action excitement as well as a sombre message about the hypocrisy of the US war on drugs.

Metro
Lee Child is showing no sign of flagging with this latest outing....You'll read this one in a single evening.

Sunday Business Post
A contemporary version of the knight in shining armour: to Lee Child's many readers, Reacher is a mythic figure.

Literary Review
Lee Child is the master of plotting...full of action and adventure.. This is Child's most emotional book to date. There are issues concerning family loyalty,wounded veterans, disfigurement, the opioid explosion, and the habits of drug dealers...This is not just a good story; it is a story with a purpose and a message.

Huffington Post