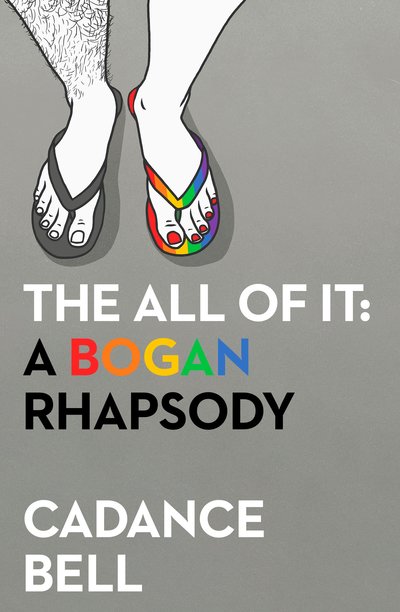 Published:

5 July 2022

ISBN:

9781761045028

Imprint:

Viking

Format:

Trade Paperback

Pages:

448

RRP:

$34.99
The All of It
A Bogan Rhapsody
Extract
THE BOY WHO LIVED
Mum pulled the white Holden Commodore over to the side of the road. Our last family car was a white Commodore, our next family car would be a white Commodore.
'You wanna go for a white car,' Dad would explain. 'Black cars trap heat in summer and people don't like other colours when you go to sell 'em; too fancy. Can't go wrong with a white car.'
'Though we're never buying a blue car,' Mum would add. 'And neither are any of you kids. I had a dream that one of you died in a blue car. No blue cars in this family!'
I was about six years old.
Mum and I had been to change the flowers on Adam's grave, which sat at the end of a row in the middle of the Mudgee Cemetery. She knelt down next to it, dusted it, plucked weeds from around the slab, then chucked the wilted flowers from the ceramic vase into a plastic shopping bag. She replaced them with fresh flowers from her garden.
She whispered something to herself, which I took to be a prayer.
'Is he with God, Mum?'
'Yes. And Jesus.'
'But Nan said he wasn't baptised, she doesn't know if he can go into heaven.'
'Rubbish,' Mum said. 'Your grandmother is a cranky old thing. He's looking over you now, don't you ever forget that.'
I looked up at the sky.
Adam was stillborn about two years before I arrived. Mum had three miscarriages, but she only really mourned for Adam, perhaps because she'd named him. I was her first child to survive. This was something Mum often reminded me of, describing me as a miracle. Though being a miracle came with an expectation; I should be grateful that I was alive.
'For months after you were born, I would sneak into your bedroom every night and sleep on the floor beside your crib,' she'd told me. 'Your father thought I was feckin' mad, but I was so afraid of losing you, kid.'
A blue car crept along the rough grey gravel between tombstone rows. It moved slowly, driven by an old man wearing a leather cap. Mum stepped between the road and Adam's grave, as if to defend it. One day she came out to find it had been damaged; someone had reversed into it, cracking the base and the headstone. They'd driven off without leaving a note and Mum fumed about the disrespect of it, while Dad fumed about the cost of the repair.
As the old man in the blue car passed by, Mum steeled her gaze.
'You will never buy a blue car, Benjamin,' she said.
When Mum called me Benjamin it meant she was serious. I was Ben day-to-day to everyone. When I was in a little trouble or when Mum was making a point, I was Benjamin. A little more trouble and it was my full name: Benjamin Lynch. And when she was ready to unleash the hounds and go nuclear, it was every name I possessed.
'Benjamin Michael Lynch!' she'd bellow.
These three nouns in sequence were like sparking a town emergency siren. They came with the air of a tornado warning. They meant: batten down the hatches! Shit was about to get real.
The cranky mother naming scale was used for my brother, too, with more names meaning more trouble. I was the eldest and Daniel was two years younger, almost to the day; my June 14 to his June 15, my 1984 to his 1986. Mum had once confided to me that we were 'intentional', which meant that she and Dad seemingly made routine plans to baby-bang in September.
I didn't like almost sharing a birth date with Daniel. When I complained that it was weird to share a party with my brother and his friends (because I was older and cooler), Mum would remind me:
'Lots of people would be happy to share a party with their brother. You're lucky to even be celebrating your birthday. Adam only ever got one!'
Dad, on the other hand, had a different philosophy:
'It's cheaper.'
Mum and I sat in the white Holden Commodore at the side of Ulan Road. The town of Mudgee didn't have a very inventive naming structure for many of its satellite roads. The road to Ulan was Ulan Road, to go to Lue you took Lue Road and the road to Sydney was – wait for it – Sydney Road.
A black hearse drove past us, heading towards the cemetery. Through its side windows I saw a coffin enshrouded by flowers. A long line of cars trailed the hearse in a funeral procession. Ahead of us, other cars on our side of the road had pulled over as well, all silently waiting.
'Why are we stopped, Mum?'
'Because it's a funeral, honey.'
'Do we know them?'
'No – well it's probably old Billy Rothstein, I saw his name in the papers. But we don't really know him.'
'So why is everyone stopping?'
'To pay their respects,' she said. 'When someone dies and you see their funeral cars, it means you should pull over and let them pass. It's the right thing to do.'
'Because he's on his way to be with Jesus?'
'Rothstein?' she said. 'Gosh, no. He was a prick of a man, Christ knows where he'll end up.'
This is the way it was. Nan didn't decide who got into heaven, Mum did, and maybe God. And even then, God was lucky he didn't have a full name for her to bellow, because if Mum called it, He'd have shat himself too.
---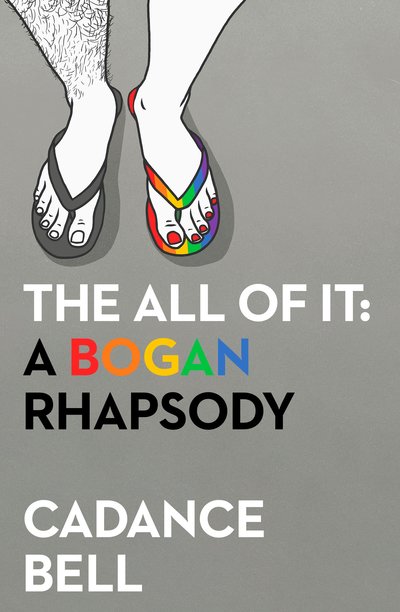 The unforgettable memoir that redefines 'she'll be right'.
Buy now
Buy now
---