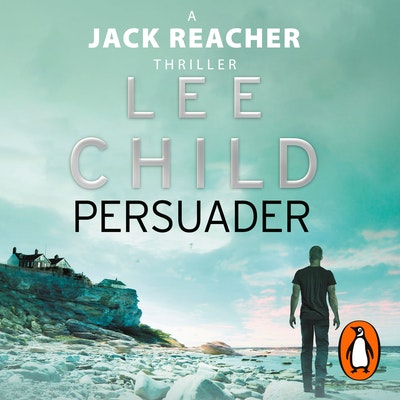 Published:

15 April 2010

ISBN:

9781409082828

Imprint:

Transworld Digital

Format:

Audio Download

Length:

5 hr 29 min

Narrator:

Kerry Shale

Pages:

360

RRP:

$12.99
Persuader
(Jack Reacher 7)
---
---
---
Jack's back - in his most explosive adventure yet.
Never forgive, never forget. That's Jack Reacher's operating principle.And Quinn was one of the worst guys he ever had the misfortune to meet. He had done unforgivable things. So Reacher was glad to know Quinn was dead. Until the day he saw someone who looked an awful lot like him, alive and well, riding in a limousine outside Boston's Symphony Hall.
Never apologize. Never explain. When Reacher witnesses a brutal attempt to kidnap a terrified young student on a New England campus, he takes the law into his own hands. That's his way, after all. Only this time, it leads to a fatal shooting. Has Reacher - shockingly - lost his sense of right and wrong? Just because this time, it's personal?
So begins Lee Child's seventh novel. Another heartstopping pageturner, it brings back Child's much-loved hero Jack Reacher, at his pragmatic and uncompromising best.
Published:

15 April 2010

ISBN:

9781409082828

Imprint:

Transworld Digital

Format:

Audio Download

Length:

5 hr 29 min

Narrator:

Kerry Shale

Pages:

360

RRP:

$12.99
'Not only a great addition to the Jack Reacher novels but a superb book in its own right ... dazzling ... will grip readers from the first page and will further cement Lee Child's reputation as a world-class thriller writer ... This is everything a thriller should be.'

Crimetime
'Jack Reacher is a seriously tough but unbendingly moral loner, a taciturn modern-day Galahad who attracts violence like a magnet ... violent and exciting.'

Irish Independent
'Jack Reacher, Lee Child's sublime, all action, sex on legs with a big gun, crime buster.'

Daily Record
'"Unputdownable" is a phrase too often used in book reviews, but Child's irrepressible characters, all-absorbing plots and attention to criminological detail ... make this a gripper from start to finish ... it's ass-kicking crime writing at its most thrilling, uncompromising best.'

Daily Record
'The question is not whether this is a book of any literary merit - it isn't, nor was intended to be - but why is it so effective? ... People who should know better are reading him, secreted behind the dust cover of the new Don DeLillo ... A timely antidote to the type of Hornby/ Lott man who has dominated recent fiction in all their stuttering, feckless, list-making self-doubt. Reacher knows how to strip a gun and how to strip a lady.'

Private Eye
'One of the best writers in this genre ... His hero, Jack Reacher, is in top form ... Reacher has no doubts about his objective: to rid the world of the bad guys. And nobody does it better.'

Sunday Telegraph
'Jack is Clint Eastwood, Mel Gibson and Bruce Willis all rolled into one, a superman for our time ... gallops along with the pace of a bullet from the muzzle of a Colt Magnum.'

Irish Times
'The seventh novel in the best-selling Jack Reacher series. Persuader is another gripping thriller.'

OK Magazine
'With a huge body count, Persuader is ballsy, dynamic and not for the faint-hearted.'

The Mirror
'Child has a razor-sharp style and crafted seven perfect thrillers ... Good thing Reacher is well versed in firearms and strategy - just the guy to fight his way out of a 342 page read. Think Die Hard without the smirk.' 

Playboy
'Child is a consummate thriller writer: his prose is trim but descriptive, his plots believable, fresh and positively airtight, and here he shows himself a master of misdirection.'

Time Out
'Very tense ... real urgency ... a scrupulously structured thriller ... a thrilling and reputable read.'
'Another rip-roaring instalment in ex-military policeman Jack Reacher's one-man war on corruption and crime ... Great fun and highly recommended.'

James Brown, Jack