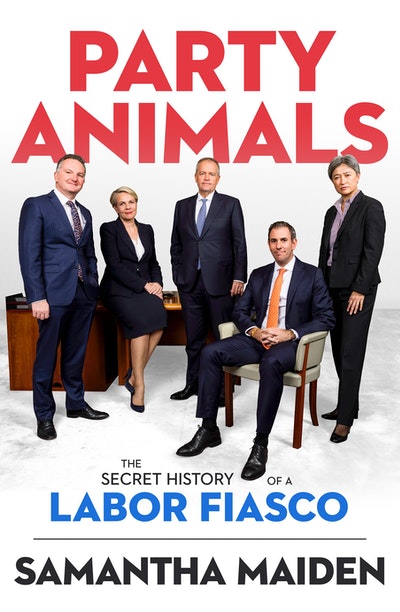 Published:

3 March 2020

ISBN:

9781760893156

Imprint:

Viking

Format:

Trade Paperback

Pages:

336

RRP:

$34.99
Party Animals
The secret history of a Labor fiasco
Extract
INTRODUCTION 
RISKY BUSINESS
Bill Shorten had grand ambitions to become Australia's next Bob Hawke. It must have come as a rude shock to discover that he was, instead, starring in the revival of the 1993 musical Fightback!, faithfully retracing the steps of John Hewson. A quarter of a century separates the defeats, but both men can claim the miserable honour of losing the unlosable election. Hewson campaigned for a GST from opposition but could not explain how the new tax would apply to a birthday cake. Shorten pledged action on climate change, but could not explain how much his policies would cost the economy. Too late, the Labor leader hit on a better answer: that doing nothing would cost Australians more. 
Like Hewson before him, Shorten faced a prime minister known for his arrogance, who had served as treasurer before contesting a leadership ballot, who was damaged by internal leadership wars and was written off and underestimated in the looming contest. Paul Keating and Scott Morrison were fighting elections nobody expected them to win and campaigned without the weight of great expectations beyond an honourable defeat. Instead, they ended up winning. Can these victories be explained solely by their campaign brilliance? Of course not.
Both leaders wanted to tell voters the truth about their big policy agenda. They believed voters would reward their honesty. It didn't go exactly to plan. Labor was heavily influenced by the lessons of Julia Gillard and her carbon tax 'lie', and the fate of Tony Abbott, who won the next election with promises of 'no cuts to hospitals, no cuts to schools', before he did just that in his first budget. If trust was broken between voters and politicians, Labor hoped to heal that scar on democracy with transparency. 
The Labor Party's own report into the 2019 election defeat, conducted by former SA Premier Jay Weatherill and Craig Emerson, nominates multiple reasons for the fiasco. First, Labor did not settle on a persuasive strategy for winning the election. Second, there was no formal campaign committee established, a claim rejected by those who point out there was a 'strategic review group' that included Labor's Campaign Director Noah Carroll and the leadership group. It's reasonable to suggest, however, that it was not terribly effective and did not meet after the election was called.
Also highlighted by the report was the fact that Labor didn't craft a simple narrative, and lacked a culture and structure that encouraged debate, which led to the dismissal of warnings from within the party about the campaign's direction. In addition, Labor targeted too many seats, ensuring resources were spread too thinly. Labor's election campaign did not adapt to the new Liberal leader and his reframing of the election as a choice between himself and Shorten.
The change in Liberal leadership was a fundamental shift that the review notes required careful analysis and consideration – 'but this did not occur'. The report also claimed there was 'no documented strategy that had been discussed, contested and agreed across the campaign organisation, the leadership and the wider Labor Party'. This is a finding disputed by Shorten's office, who note that the ALP reviewers Weatherill and Emerson never asked them to provide any strategy documents. But whatever the truth, few seemed to know what the strategy was.
Labor was on high alert for an early election. But Labor did not expect danger to arrive in the form of the Liberal Party dumping a sitting prime minister. This was a rupture that most believed signalled the end of the government.
Much has been written about the genius of Scott Morrison turning up in Queensland wearing a baseball cap, but surely there is more to his victory than a dress-­ups box. The prime minister was aided and abetted by an opposition that had dared to awaken the sleeping giant of Australia's democracy: voters' deep, primal fear of risk. 
Veteran Labor campaign strategist Peter Barron, an adviser to Hawke and Keating who travelled with Shorten during the election, hates giving interviews. He prides himself on keeping the confidences of the political and business leaders he has worked with over decades, including the late Kerry Packer. But he would agree to say this: risk was central to Labor's fate. 
'The search for a simple answer is a futile search,' he said. 'But the electorate hates risk. There was an accumulation of risk factors. Policy, personality. If you had to choose one word, you would say "risk". I don't think they liked Morrison any more at the end than they did at the start. But I think they thought he was less risky.' 
The report explicitly states that 'Bill Shorten's unpopularity contributed to the election loss'. The former Labor leader does not accept this characterisation. However, many of his colleagues do. The idea his popularity was a factor is supported by the Australian National University's trusted electoral study, which found Shorten was the most unpopular leader in 30 years.
The ALP's own post-mortem into the election also accepts this, but arguably overstates it as a contributor to the election loss. Shorten's supporters view the report as a transparent attempt to blame him personally for the defeat. But the intense focus on the popularity of a leader holds future risks for Anthony Albanese too. If the polls suggest he also struggles to excite voters, will the Labor Party be prepared to dump him before the next election?
Consider the evidence of federal elections in Australia's recent history – the winner is frequently the party that can paint its opponent as more risky and radical. Australian voters are risk averse, a tendency pronounced when the economy is in trouble.
In 1993, Barron's brutal advice to Keating was to run on the GST alone – not compassion, or the Asian century, or Aboriginal reconciliation. His anti-­GST manual included in the tool kit this memorable line: 'If you don't understand it, don't vote for it, and if you do understand it, you'd never vote for it.' Does that sound familiar? It should, because Morrison stole it to fight Labor's franking-­credit reforms at the 2019 election. The Liberal prime minister campaigned parroting the actual words Keating had used to defeat Hewson.
The fate of the referendum on an Australian republic in 1999 is another example. Again, voters demonstrated an aversion to perceived risks, rejecting an Australian head of state. The biggest backlash was in Queensland, Western Australia and Tasmania, the same states that turned on Shorten. As with the 2019 federal election, Victoria and the ACT were the ALP's greenest pastures in the republic referendum.
The winning argument was about risk. The 'No' campaigners called the direct-­election model 'the politicians' republic' and claimed you can't trust politicians. One of the most effective slogans was: 'If you want to elect the president, vote No to the politicians' republic.'
The 'No' campaign won the day, based on the argument that it was too risky to abandon the status quo. 
Shorten always knew this. In a speech to the Fabian Society in 2004, he said, 'In the 1999 republic referendum, [John] Howard understood that inner-­suburban voters, with both Liberal or Labor tendencies, would support a republic. The "No" vote would be found in the outer suburbs and regions where people were sceptical about the "risk" of change. These suburbs and towns have become Howard's political heartland – the PM plays directly to their aspirations, fears and prejudices.'
In 2007, Kevin Rudd and the ACTU's 'Your Rights at Work' campaign won by painting Prime Minister John Howard as the radical. They did that with the ammunition the Liberal Party gave them: WorkChoices. The industrial relations laws set off genuine concerns in the community, which Rudd surfed into government. In 2013, Tony Abbott framed former Prime Minister Julia Gillard as a liar and a radical for introducing a carbon tax. Playing 'spot the radical' at the next election, Labor argued the Turnbull Government were the radicals plotting to privatise Medicare. The history of Health Minister Peter Dutton's $7 co-­payment for GP visits under Abbott underlined the threat.
The man who taught Shorten how to be a union leader in the 1990s, former ACTU Assistant Secretary Chris Walton, argues elections are always won and lost on one question. 'Who is the radical? Generally you will find whoever is able to paint the opponent as the radical wins,' he says. 'How did Keating and Bill Kelty get away with some of their radical changes? Keating's argument is you always get away with more if you put it in a frame.'
The bigger reform story provides the architecture. But the frame Scott Morrison used against Labor was simple and devastating. Every reform was reduced to a new tax. Negative-gearing reforms designed to boost housing affordability are called a housing tax, franking-­credits reforms are a retiree tax. Vehicle-­emissions targets? That's a car tax. 
Morrison even managed to turn Labor's new target for 50  per cent electric cars by 2030 into a plot to 'end the weekend' in Australia. 'And in typical Labor fashion, they want to ram it down the necks of all Australians,' said the prime minister. 'So the cheapest car you can currently buy, as an electric vehicle, presently, my understanding is, including all on-road costs and the rest of it, is about $45,000 to $50,000 a year. That's the cheapest car Bill Shorten wants to make available to you to buy in the future, and I'll tell you what – it's not going to tow your trailer. It's not going to tow your boat. It's not going to get you out to your favourite camping spot with your family. Bill Shorten wants to end the weekend when it comes to his policy on electric vehicles where you've got Australians who love being out there in their four-­wheel drives. He wants to say see you later to the SUV when it comes to the choices of Australians.'
Politicians have taken risks and won elections, but it's easier to do from government than opposition. John Howard took the GST to the 1998 election, for example – a big risk – and still won, although barely.
But instead of calming a nervous electorate on the risk question, Shorten's campaign championed change. Returning to the Blacktown hall where Whitlam had launched his 'It's Time' campaign, Shorten said, 'Never has the case for change been more clear or more urgent. Do we have the capacity to push through it?' he asked. The answer arrived a few days later on election night. 'No.'
It was galling for Labor to lose to a prime minister they regarded as a policy-free zone. As ALP frontbencher Mark Butler observed, it was a government that Morrison himself had compared with The Muppet Show during the leadership ballot, and when you get your 'backside handed to you by Fozzie Bear and Kermit the Frog – it's time for some serious reflection'.
The lesson is not simply that you cannot have risky policies, but that you must also paint your opponent as riskier. In 2004, Howard was expected to lose to Mark Latham but framed him as dangerous, flaky, an 'L-­plate leader'. After he was filmed delivering a bone-­crushing handshake to Howard during the election, it seemed he could not be trusted to shake your hand, let alone run the economy. Could a man who went AWOL during a tsunami and then shaved off his own hair, which he did, shortly before he quit as party leader in January 2005, be trusted to keep the nation relaxed and comfortable?
Latham's resignation was preceded by a meeting of the ALP national executive in Anthony Albanese's office in November 2004 that included a who's who of the Labor Party: Campaign Director Tim Gartrell, who is now Albanese's chief of staff; union leader Bill Ludwig from Queensland and a unionist called Mark Butler from South Australia, who went on to federal politics (and calling Scott Morrison a muppet); Labor pollster John Utting, and the Australian Workers' Union's national secretary, Bill Shorten. 
Shorten warned at the time that the lessons of Latham's defeat were self-­evident. 'The principal lesson from four federal election losses is clear,' he wrote. 'Labor has failed to establish its economic management credentials to voters in the provincial centres and outer suburbs of metropolitan Australia. Economic credibility is a gateway through which Labor must pass before it can bring its policy strengths in health and education to bear. 
'In 2004, Labor failed to dent the Coalition's commanding lead as economic managers. Instead, Labor relied on its traditional strengths in health care and education, together with a dramatic appeal in environment policy. Labor underestimated the impact of the daily media cycle, looking for new issues within a day of the release of key announcements.' 
Fifteen years before he lost the election, Shorten had written his own political obituary.
Before he entered parliament, Shorten had argued Labor should reject the theory that people want services rather than tax cuts. Many voters, he argued, wanted both. 'The Hawke and Keating Governments introduced seven different income tax cuts over thirteen years,' he wrote. 'Labor should support personal income tax cuts and fewer, simpler business taxes. This will send a powerful message of understanding about managing productivity in a competitive economy. The time for short-­term fixes is over. Labor's supporters want us to talk dollars as well as sense.'
But it was a lesson Labor had forgotten by the time Treasurer Josh Frydenberg handed down his first budget on 2 April, in which the Liberals announced a projected surplus and tax cuts. Labor's leadership group, gathered together in a budget lock-­up to run through the numbers, decided against offering greater relief to more workers beyond low-­income families. In the days that followed, Tanya Plibersek, Chris Bowen and Jim Chalmers all argued against going beyond that. 'When they matched the tax cuts, people came to me and said, "Well, we can't do [bigger] tax cuts,"' Shorten said in an interview for this book. 
This is not the way Labor's Treasury spokesman Chris Bowen remembers it. 'Nobody was arguing for tax cuts,' he said. Even if they had, Labor's big spending in health and education would have precluded additional tax cuts. Shorten's pet project, Labor's Medicare Plan for Cancer, didn't leave a lot of extra room. 'They matched us on tax cuts,' said Bowen. 'We just didn't have room [for more tax cuts] with health and education spending.' 
Ultimately, Shorten announced on the eve of the election that Labor would offer a better deal for workers earning under $40,000 but it would not support tax cuts for high-income earners in the later years. 'We will not be signing up to the Liberals' radical, right-­wing, flat-­tax experiment, way off in the future, a scheme that would see a nurse on $50,000 paying the same tax rate as a surgeon on $200,000,' he said. 
It is one of his biggest regrets of his time as ALP leader. 'Yes, the bracket that we targeted should be first, but for the ten million Australians who earn less than $125,000 a year, in hindsight now we needed to be offering them tax relief,' he said. 'The government was defending tax breaks for the very well off, but they were using these people as human shields and we should have taken them off the table and given them greater return and response, which is another way of stimulating expenditure as well. And if I had my time again, I should have argued the case for more.' 
Delivering bigger tax cuts would not have solved all of his problems. Shorten underplays his own failure in controlling the spenders in his cabinet. In fact, he was one of them. This new spending demanded his economic team search for new policies, including franking credits, that were weaponised during the campaign. It was an election that Labor should not have lost, but the lessons go deeper than one campaign or the failure of one leader.
Shorten always believed he had been underestimated. 'The reason why is this. Everyone told me I couldn't beat Abbott. Everyone told me to vote for the 2014 budget. Everyone told me Malcolm Turnbull was unbeatable. I am constantly told we are going to fail. There were a lot of times when people have told me it's not going to happen.'
This time, Shorten was convinced it was going to happen. Not because he was arrogant or triumphant, but because, he believed, the data told him so.
In an interview for this book, Shorten later compared the 2019 election to piloting a plane without navigation instruments. 'Any pilot training to fly a plane, if you're told there's not a mountain in front of you [and] all of a sudden there is a mountain in front of you. You will take different action based on the information and data you are getting.'
Flying after the instrument panel has failed is known as 'partial panel flying'. Pilots train for it, preparing for a potential emergency. To survive, they need to first recognise that there is a failure. They need to rely on instinct. Bill Shorten had good political instincts. But when it was critical, his instincts failed him.