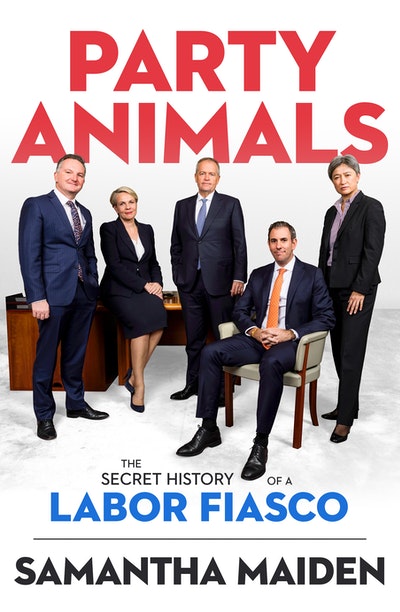 Published:

3 March 2020

ISBN:

9781760893163

Imprint:

Penguin eBooks

Format:

EBook

Pages:

336
Party Animals
The secret history of a Labor fiasco
---
---
---
How did Labor lose the unlosable election?
Secrets, lies, lawyers and covert recordings. If you thought the 2019 election was just about a death tax that didn't exist, you're in for a surprise.
From the dark arts of the dirt units to the role of billionaire Clive Palmer, this is the untold story of an election debacle.
The Labor Party was the unbeatable favourite to win the 2019 election right up until the polls closed and voters delivered the surprise verdict.
If the results staggered pundits, they also shocked Bill Shorten and his frontbench, who had spent the final weeks of the campaign carefully planning for their first days in office.
Party Animals uncovers the secret history of a Labor fiasco, the untold story behind Scott Morrison's miracle
Published:

3 March 2020

ISBN:

9781760893163

Imprint:

Penguin eBooks

Format:

EBook

Pages:

336
Samantha Maiden's Party Animals is a brisk and highly readable account of the lead up to Labor's legendary achievement of losing 2019's unloseable election. It's a great look behind the curtain at the dark arts of an election campaign.

Charlie Lewis, Crikey
All recounted in gory detail by seasoned political journalist Samantha Maiden in this gripping new book. Party Animals dissects how an overly ambitious and complacent Labor Party let victory slip through its fingers. Senior party figures, from Shorten down, open up to Maiden with candid, and often brutal, reflections on the fiasco. There is a lot of finger pointing between Shorten supporters and ALP head office about who should wear the blame. An uncompromising account of Labor's disastrous 2019 election loss.

Michael Rowland, Domain Review
A must-read insight into what really went on behind the scenes and how Labor managed to screw it all up in the end.

David Speers
This is an absorbing post-mortem, from an experienced reporter who doesn't miss a major organ. Revelatory.

Annabel Crabb
Maiden provides well-argued, multi-layered answers to a fundamental question: "How did Shorten-led Labor lose the unlosable 2019 election?" Party Animals usefully explains that the responsibility for Morrison's "miracle" victory in 2019 and the fiasco of Labor's defeat rests not only on Shorten's unpopularity but on the collective weakness of his leadership group ... Some blame is apportioned to the ALP's federal campaign team ... as well as to Clive Palmer's $60 million election spend.

Ross Fitzgerald, The Australian
Maiden is a good journalist and she's nobody's fool, in Party Animals her eye for human detail and her finely honed bullshit detector serve the reader well. Instead of a host of competing narratives briefed from different angles, or a great whack of hindsight retrofitted to a preconceived theory, we get an unvarnished, unsparing look at what went wrong for Labor last May. This book isn't a ponderous, self-important lecture on ''whither Labor'' but a fresh, tightly plotted look at a suddenly distant pre-pandemic era. While some events will be familiar to political observers, there's plenty in here that will be news to most (and more than I care to admit that was news to me). For me, what puts this book a class above an ordinary campaign diary is the way Maiden makes the effort to put Labor's policy decisions in the full context of six years and two elections.

James Newton, The Sydney Morning Herald
How did Labor lose the "un-losable" election? Nearly one year on and many in the ALP are still wondering why so many signals were misread, and so many miscalculations overlooked. In what former Bill Shorten speechwriter James Newton describes as "the definitive account of Labor's 2019 election defeat", journalist Samantha Maiden has mined her contact book to build a compelling narrative of what happened and who said what. On both sides of politics there is still a lot to be investigated about the 2019 election result. No doubt, Party Animals will find its rightful place as an important overview of an ALP disaster.

Corrie Perkin, The New Daily
Samantha Maiden's PARTY ANIMALS is an important book that reveals the dire need for limitations to be placed on campaign spending by parties and individuals during elections, and for a royal commission into media ownership.

Bernard Whimpress, Newtown Review of Books