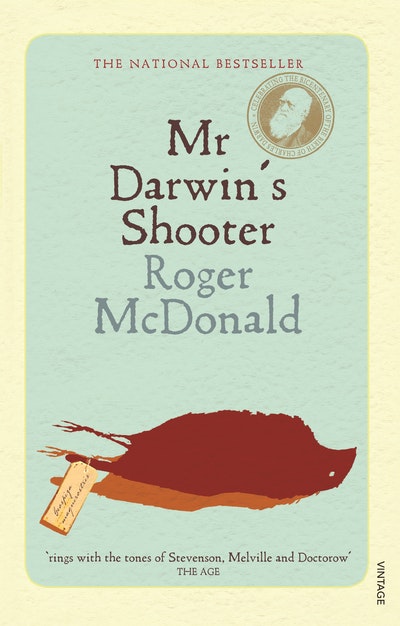 Published:

31 August 2011

ISBN:

9781742754697

Imprint:

Random House Australia

Format:

EBook

Pages:

386
Mr Darwin's Shooter
---
---
---
From the winner of the Miles Franklin Award.
The story of Syms Covington, Darwin's manservant on the Beagle and afterwards.
the story of Syms Covington, Darwin's manservant on the Beagle and afterwards.
Last century Charles Darwin set out on a voyage in the Beagle that would change forever the way human history was viewed. It was on this voyage that Darwin collected the information that gave birth to his controversial Theory of Evolution.
This is a novel of scientific discovery, of religious faith, of masters and servants, and of the endless wonder of the natural world. But its greatest triumph is Covington himself, the boy who looked up at the beckoning figure of a yellow-haired Christian in the stained glass window in his boyhood church of Bedford, and sought to follow.
He leaves Bedford as a lad of 13 and goes to sea with the evangelical sailor John Phipps and becomes one of Phipps' 'lads'. But Phipps' catechising can't repress Covington's passage into manhood, nor prevent him chasing the exotic native maidens of Tierra del Fuego. When next he returns to sea it is to serve on the Beagle.
Mr Darwin's Shooter re-creates the voyage of the Beagle, where Covington spends time exploring -- and collecting specimens -- inland. And we travel on to the Galapagos Islands, with their huge turtles and armadillos and remarkable finches. Years later, in Sydney's Watson's Bay in beset middle age, Covington awaits the arrival of the first copy of Darwin's The Origin of Species, which contains the scandalous theory of evolution. What part of his life might be in it? What truths may it contain? How can one man absorb the meaning of Creation?
Published:

31 August 2011

ISBN:

9781742754697

Imprint:

Random House Australia

Format:

EBook

Pages:

386
Praise for Mr Darwin's Shooter
Many readers have met the "Australian" Darwin before, through the person of Syms Covington, his servant and assistant, fictionalised in Roger McDonald's stunning novel, Mr Darwin's Shooter.

Alison Bashford, The Sydney Morning Herald
A sustained piece of imagining ... The scenes of discomfort on both [Darwin's and Covington's] sides are beautifully observed ... This is a lavish, rich novel in an idiosyncratic countryman's voice, thickened with metaphor.

Francis Spufforth, The Independent
The adventures on board the Beagle are vividly described, generating a sense of the excitement that must have greeted each new find ... McDonald's research into nineteenth-century natural history has resulted in a richly detailed narrative ... Covington ... is wholly engaging, as are his later philosophical torments in the face of Darwin's theory. That his part in the most momentous theory of the Victorian age should have been so overlooked seems a shame. With Mr Darwin's Shooter, Roger McDonald has done both him and us a valuable service ...

Nicola Walker, Literary Review
An innovative, powerfully poetic imagination ... an unerring touch and a witty, ebullient prose effortlessly carry a great density of idea and implication.

Brian Matthews, The Australian
It is through a poet's eye ... that his characters and environments evolve, detail by detail; brought to life skilfully as if by nature itself.

Who Weekly
'In sinewy, poetic prose, McDonald follows his protagonist from pious boyhood in Bedfordshire, through formative years at sea, to prosperous maturity in Australia. Places are vivid, and even marginal figures are strikingly well drawn, so that Darwin's research into the natural order is set within a richly detailed social order. Covington himself is a vital, convincing creation: coarse, proud, fierce, yet always more astute than others think. Mr Darwin's Shooter is a persuasive argument for history with a (fictional) human face. The challenge posed by Darwin's theory of evolution to the spiritual values of his day could hardly be more tellingly evoked than it is in its impact on the far from cerebral Covington. McDonald's novel .. is a stirring reminder that the Beagle sailed on a voyage into the unknown, and that beliefs now central to the way we see the world were once almost beyond imagination.

Ian Brunskill, The Times
... a story too good to give away, beautifully written and meticulously researched, with intertwining sub-plots of love, friendship and betrayal. As for the voyages, I lent it to an old Merchant Navy mate and asked if it rang true. "I could smell the sea in it," he said.

Brian Davis, Time Out
an odd but ultimately gripping story, told in an archaic prose that is at first awkward but grows into something unworldly and rather beautiful ... There is something of Conrad in Roger McDonald ...

Jeremy Gavron, Times Literary Supplement
Craggy, vivid prose that excels at evoking physical sensation.

David Grylls, The Sunday Times
The adventures on board the Beagle are vividly described, generating a sense of the excitement that must have greeted each new find ... McDonald's research into nineteenth-century natural history has resulted in a richly detailed narrative ... Covington ... is wholly engaging, as are his later philosophical torments in the face of Darwin's theory. That his part in the most momentous theory of the Victorian age should have been so overlooked seems a shame. With Mr Darwin's Shooter, Roger McDonald has done both him and us a valuable service ...

Nicola Walker, Literary Review
[McDonald's] powerful novel ... [the] scenes in Bedford where the presence of Bunyan still shapes earthy family life in the early 19th century are extraordinarily successful. It is rare in fiction to meet a boy realised as sweet and physical and wholesome -- and to find him believable too. ... the young Covington is evoked with forthright grace ... Apparently rough, nonchalant, and yet close-honed, McDonald's language pitches us into Covington's sensations. We experience the judder of the boat, the sift of owl's feathers, England sinking 'like a plate in the suds'. The reader is grappled close to a man who outgoes [sic] the role of servant assigned him by historical records and by the custom of the time in which he lived. In this fierce and fascinating novel Darwin is obscured, Covington revealed. McDonald thus pays tribute to unknown makers of modern Australia and, through fiction, seeks to contribute to its history.

Gillian Beer, The Guardian