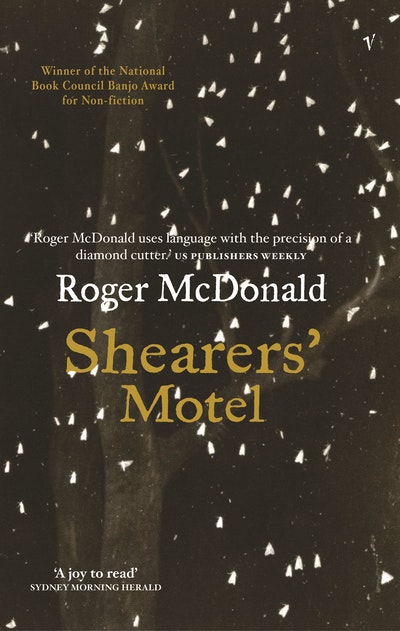 Published:

31 August 2011

ISBN:

9781742754673

Imprint:

Random House Australia

Format:

EBook

Pages:

320
Shearers' Motel
---
---
---
'Roger McDonald uses language with the precision of a diamond cutter.' Publishers Weekly
'Roger McDonald uses language with the precision of a diamond cutter.' Publishers Weekly
Another shed coming up on the horizon...a low, wide roof of galvanised iron the only landmark in a million square miles of flatness and glare... The sun blazed overhead like a nuclear pile. His hat smelt like a dirty sock. His body was sticky, itchy, tired. The tyres of his old yellow truck, sunk into the sand, gave out a hot, desolate, perished rubber odour, heatwaves ballooning from the bodywork. The impression he had, glancing back towards the vehicle, was of disintegrating material only just holding together. A split in his hat admitted a hot bar of sunlight onto his scalp. His eyeballs felt like pinpoint charred coals and he wanted to slide down into what shade there was...
Yesterday morning he had left a tin-roofed farmhouse far to the south of here - Sharon, his wife, and his three daughters hardly stirring in their sleep as they said goodbye. Then while he was out at the truck tying down the last of his load they woke up more, stumbled from bed and huddled in jumpers, stamping their feet in the chill, hugging themselves in the greyness of first light. Sharon brought him a mug of tea and they stood looking at each other over the steaming rims. Well, there was more to this going away than met the eye. The talk of money. The talk of returning to the country of his childhood. It wasn't the full story...
He took the cool, pre-autumnal, misty dawn track away - across sheep paddocks dotted with poplars. In a ground mist a flock of starlings formed a perfect heart collapsing into the tatters of a pine windbreak. It was a reversed image of emotion. He was leaving a house, making a break, following a pattern he barely understood. He only knew it was happening; that he was making it happen, and was going, and if he didn't there was a kind of death he would face, he couldn't name what it was.
Into the hard-living world of travelling shearers in the Australian outback comes internationally acclaimed writer Roger McDonald, driving an old truck rattling with cooking gear. He has abandoned writing for a time and found work as a cook for a team of New Zealand shearers working through New South Wales, South Australia and Victoria. He is determined to find a sense of belonging: somehow to join his life with the landscape, the places and the people he meets along the way; somehow to fill the inexpressible yearning he feels.
Shearers' Motel is the story of that quest, of its triumphs and its failures - a story told with a heartfelt sense of of the profundity of ordinary lives. Written with an insider's affection and familiarity sharpened by an outsider's perception, this moving account of working life in a classic Australian industry gives a new twist to a long tradition of outback travel writing. It confirms Roger McDonald as one of our finest and most lyrical chroniclers of the land - and of the human heart.
Published:

31 August 2011

ISBN:

9781742754673

Imprint:

Random House Australia

Format:

EBook

Pages:

320