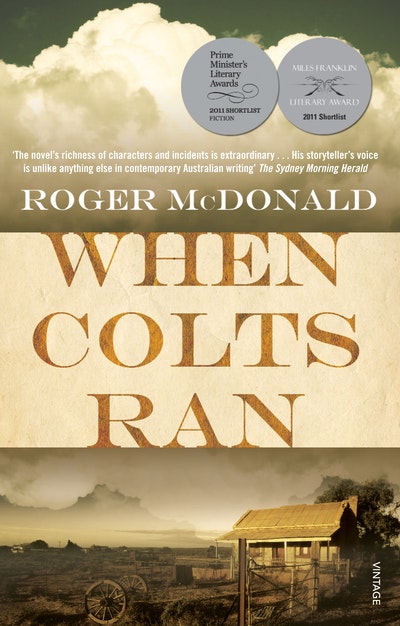 Published:

1 November 2010

ISBN:

9781742741505

Imprint:

Random House Australia

Format:

EBook

Pages:

352
When Colts Ran
---
---
---
Shortlisted for the Miles Franklin Award and the Prime Minister's Prize for Literature
Shortlisted for the Miles Franklin Award and the Prime Minister's Prize for Literature
In this sweeping epic of friendship, toil, hope and failed promise, multi-award-winning author Roger McDonald follows the story of Kingsley Colts as he chases the ghost of himself through the decades, and in and out of the lives and affections of the citizens of 'The Isabel', a slice of Australia scattered with prospectors, artists, no-hopers and visionaries. Against this spacious backdrop of sheep stations, timeless landscapes and the Five Alls pub, men play out their fates, conduct their rivalries and hope for the best.
Major Dunc Buckler, 'misplaced genius and authentic ratbag', scours the country for machinery in a World War that will never find him. Wayne Hovell, slave to 'moral duty', carries the physical and emotional scars of Colts's early rebellion, but also finds himself the keeper of his redemption. Normie Powell, son of a rugby-playing minister, finds his own mysticism as a naturalist, while warm-hearted stock dealer Alan Hooke longs for understanding in a house full of women. They are men shaped by the obligations and expectations of a previous generation, all striving to define themselves in their own language, on their own terms.
When Colts Ran, written in Roger McDonald's rich and piercingly observant style, in turns humorous and hard-bitten, charts the ebb and flow of human fortune, and our fraught desire to leave an indelible mark on society and those closest to us. It shows how loyalties shape us in the most unexpected ways. It is the story of how men 'strike at beauty' as they fall to the earth.
Published:

1 November 2010

ISBN:

9781742741505

Imprint:

Random House Australia

Format:

EBook

Pages:

352
Praise for When Colts Ran
ON DESMOND KALE
'Roger McDonald is a riot… He combines a love of intrigue and high adventure with a defiant, lyrical, vigorous way of telling. Here are art and excitement, mixed to magnificent strength… a full-blooded, pulsing tale… A SMH critic wrote of [McDonald] that he had a ''subtle understanding of human motives and a clear eye on human savagery", and it's still going, this gripping insight, in this latest novel.' - Stella Clarke, The Australian
'…[an] exhilarating fable… a rollicking extravaganza that tells a ripping yarn… But it is the language – witty, colourful and evocative, extravagant at times, lyrical at others, a style that makes sentences rear up and gaze at themselves by means of cunning adverbs, adjectives and often unusual syntax – that sustains the novel and reminded me of the virtuosity those old authors sought to cultivate.' - Andrew Riemer, The Sydney Morning Herald
'…pitched to almost visionary intensity… written to be read at a breakneck pace, a looping, half-wild portrait of a world where wonder and squalor lie hard against each other… cascading energy and radical fervour… underpinned by a poet's understanding of the natural world. It is a world where meaning infers in every detail, and an intimate understanding of the land and its textures is revealed again and again, deepening the resonances of the novel's broader aspirations.' - James Bradley, The Bulletin
'This is a rollicking good read. The writing is beautiful, too; funny and energetic, grand and intimate.' - Australian Book Review
Prime Minister's Literary Awards
Shortlisted • 2011 • Prime Minister's Literary Awards