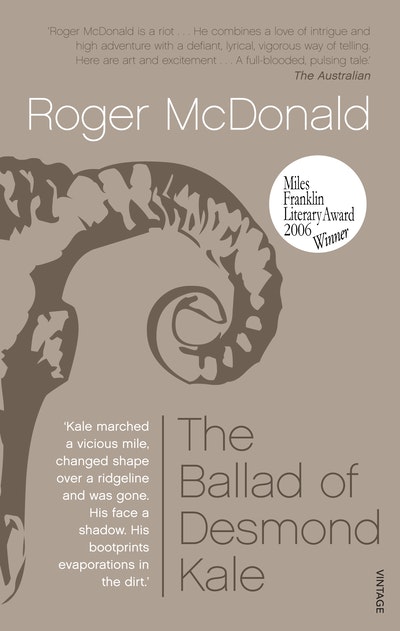 Published:

2 July 2007

ISBN:

9781741661392

Imprint:

Vintage Australia

Format:

Paperback

Pages:

656

RRP:

$22.99
The Ballad of Desmond Kale
---
---
---
Winner of the Miles Franklin Award.
Winner of the Miles Franklin Award.
In the early 1800s, out of the prison society of governors, redcoats, English gaolers, Irish convicts, and the few free settlers of Botany Bay, no one had ventured much farther inland than a few dozen miles from Sydney. Or so it was believed until the escape of Desmond Kale and the vengeance of his rival, the wildly eccentric parson magistrate Matthew Stanton.
The Ballad of Desmond Kale is a broad-sweeping novel of the first days of British settlement in Australia. At the centre is Stanton's pursuit of Kale - an Irish political prisoner and a rebelliously brilliant breeder of sheep. The alchemy of wool fascinates, threatens, and transforms when it is discovered that fine wool thrives in New South Wales as nowhere else in in the world, producing veritable gold on sheep's backs.
The Ballad of Desmond Kale is both a love story of unusual interest and an epic novel of greed, ambition, conceit, and redemption. The novel is rich in its characterisations and the rawness of its settings, vigour of language, and vividness of personality. The action moves from the early Australian bush to the halls of Westminster, the mills of Yorkshire, the sierras of Spain, the wilds of the Southern Ocean, and returns at last into the far outback for its finale.
Once the ballad is sung, ordinary experience is heightened, the world can never be the same again. A brilliant and inspired recreation of the early days of white Australian settlement by one of Australia's finest writers working at the height of his powers.
Published:

2 July 2007

ISBN:

9781741661392

Imprint:

Vintage Australia

Format:

Paperback

Pages:

656

RRP:

$22.99
Praise for The Ballad of Desmond Kale
'…[an] exhilarating fable… a rollicking extravaganza that tells a ripping yarn… But it is the language – witty, colourful and evocative, extravagant at times, lyrical at others, a style that makes sentences rear up and gaze at themselves by means of cunning adverbs, adjectives and often unusual syntax – that sustains the novel and reminded me of the virtuosity those old authors sought to cultivate.' - Andrew Riemer, The Sydney Morning Herald
'Roger McDonald is a riot… He combines a love of intrigue and high adventure with a defiant, lyrical, vigorous way of telling. Here are art and excitement, mixed to magnificent strength… a full-blooded, pulsing tale… A SMH critic wrote of [McDonald] that he had a ''subtle understanding of human motives and a clear eye on human savagery", and it's still going, this gripping insight, in this latest novel.' - Stella Clarke, The Australian
'…pitched to almost visionary intensity… written to be read at a breakneck pace, a looping, half-wild portrait of a world where wonder and squalor lie hard against each other… cascading energy and radical fervour… underpinned by a poet's understanding of the natural world. It is a world where meaning infers in every detail, and an intimate understanding of the land and its textures is revealed again and again, deepening the resonances of the novel's broader aspirations.' - James Bradley, The Bulletin
'This is a rollicking good read. The writing is beautiful, too; funny and energetic, grand and intimate.' - Australian Book Review