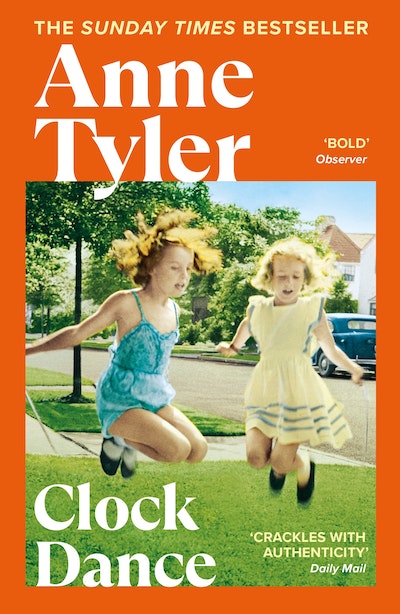 Published:

16 July 2019

ISBN:

9781784708597

Imprint:

Vintage

Format:

Paperback

Pages:

368

RRP:

$19.99
Clock Dance
---
---
---
A bittersweet novel of family and self-discovery from the Sunday Times bestselling, award-winning author of A Spool of Blue Thread
A bittersweet novel of family and self-discovery from the bestselling, award-winning author of A Spool of Blue Thread
Willa Drake can count on one hand the defining moments of her life: her mother's disappearance when she was just a child, being proposed to at an airport at the age of twenty-one, the accident that would leave her a widow in her forties. Each time, Willa ended up on a path laid out for her by others.
So when she receives a phone call from a stranger informing her that her son's ex-girlfriend has been shot, she drops everything and flies across the country. The spur-of-the moment decision to look after this woman and her nine-year-old daughter leads Willa into uncharted territory and the eventual realisation that it's never too late to choose your own path.
'She is and always will be my favourite author' Liane Moriarty
Published:

16 July 2019

ISBN:

9781784708597

Imprint:

Vintage

Format:

Paperback

Pages:

368

RRP:

$19.99
Tyler's bedazzling yet fathoms-deep feel-good novel is wrought with nimble humour, intricate understanding of emotions and family, place and community - and bounteous pleasure in quirkiness, discovery, and renewal

Booklist
A stellar addition to Tyler's prodigious catalogue

Publishers Weekly
How does she do it? Her style is deceptively simple. Even though she performs narrative cartwheels that would lead other novelists to be praised as experimental... she does it with such ease that it seems closer to life than to art. it is almost as though we are there to witness time passing, and people changing

Craig Brown, Mail on Sunday
Brims with the qualities that have brought her legions of fans and high critical acclaim. Characters pulse with lifelikeness. The tone flickers between humorous relish and sardonic shrewdness. Dialogue crackles with authenticity. Beneath it all is an insistence that it's never too soon to recognise how quickly life can speed by and never too late to make vitalising changes

Peter Kemp, Sunday Times
Classic Tyler; she captures the defining moments of love and loss in one middle-aged woman's life and combines it with the ultimate upbeat ending, proving it's never too late to live the life you want

YOU Magazine
Clock Dance, rife with the hurts and joys of living, is far more than merely very good... For readers Anne Tyler is a life force; for writers she is simply the best

Eileen Battersby, Irish Times
In Anne Tyler's skilled hands the everyday becomes significant. With beautifully observed characters and infused with quiet humour, this is another triumph

Fanny Blake, Woman & Home
Funny and interesting. Tyler's novel presents a moving portrait of a woman, late in life, discovering an environment in which she can flourish

Pamela Norris, Literary Review
If Anne Tyler isn't the best writer in the world, who is?

Jane Garvey, BBC Radio 4 Woman's Hour
A beautifully crafted, bitter-sweet story about regret, empty nest syndrome, loneliness within a relationship and seeking purpose and fulfilment in life. Kick back and lose yourself in this gem of a novel

Sinead Moriarty & Rick O'Shea, Irish Times
A smart, touching exploration of altruism and the nature of a meaningful life

Anthony Cummings, Daily Mail
The book we'll all be reading this summer

Louise France, The Times
The most dependably rewarding novelist now at work in our country... Ms. Tyler's career reveals a surpassing steadiness - of ambition, theme, output

Wall Street Journal
One of this country's great artists...a powerful, stirring work. Tyler has lost none of the inspired grace of her prose, nor her sad, frank humor, nor her limitless sympathy for women who ask for little and get less

USA Today
Her stirring story celebrates the joys of self-discovery and the essential truth that family is ours to define

People
Clock Dance is moving, funny acute. This is a beautifully structured work of fiction, full of narrative tension, which moves towards a fine diminuendo, followed by a crisis of possibility

Linsay Duguid, The Tablet
I never look at a family, or a couple in a car, or a funeral cortege without thinking: "I wonder what's going on there." That's what Anne Tyler teaches you: never judge a cover until you've read its book

Ann Treneman, The Times
A writer sharp-eyed as a butcher-bird, skewering complacency... an immensely funny writer... a quiet writer, in that much of her skill goes toward the excision of anything that reminds the reader they are reading

Patrick Gale, Sunday Telegraph
One of our greatest living fiction writers and if I was in charge, she'd have a Nobel by now

Julie Myerson, Observer
Full of small delights... She has a keen eye and an alert ear, sympathy for her characters, an awareness of both life's comedy and its tragedy

Alan Massie, Scotsman
Tyler's tenderness with her protagonists shouldn't be undervalued; this, along with her attention to detail when it comes to the minutiae of quotidian life, is what makes one keep reading

Independent
A beautifully observed portrait of one woman's quiet quest for identity and purpose

Hannah Beckerman, Sunday Express
Rigorously intelligent, quietly funny and very precise about words

Mark Lawson, Radio Times
Tyler captures the quiet turmoil of family life with the utmost discretion, knowing that to understand it is not the same as being able to subordinate it

Alex Clark, Times Literary Supplement
A lovely novel following the author's usual theme of hope and regret, renewal and contentment

Hello!
Tyler has the ability to bring character to life in just a few sentences

Claire Allfree, Metro
Tyler has a keen eye and an alert ear, sympathy for her characters, an awareness of both life's comedy and its tragedy

Allan Massie
Tyler remains my most trusted literary companion. Freedom, flight, oxygen, breath, space: these themes whistle through Clock Dance's pages

Rebecca Swirsky, New Statesman
The loneliness and confusion of childhood are wonderfully rendered...reminiscent of Tyler's best work, such as Dinner at the Homesick Restaurant

Molly McCloskey, Guardian
I adore her and find her books immensely comforting. I loved her latest [Clock Dance]. It's such a bold book... a novel that encourages you to play the shrink

Patrick Gale, Observer
Anne Tyler's astute new novel Clock Dance is fuelled by kindness, kindness that begins tentatively with false starts and blind spots and grows into the extravagant all-encompassing sort

Susan Boyt, Financial Times
I loved Clock Dance

Cressida Connolly, Spectator
Warmly appealing and sharply observant...combines comic relish with psychological and social shrewdness. Characters pulse with lifelikeness. Dialogue crackles with authenticity. Changes brought about by time are fascinatedly and fascinatingly observed

Sunday Times
My favourite author. She writes such absorbing, wise, tender books, devastatingly acute about human nature. She never fails

Jacqueline Wilson
A moving, often spiky study of relationships and the far-reaching effects of trauma

Daily Telegraph
A thought-provoking story that resonates with emotional depth

Neil Armstrong and Hephzibah Anderson, Mail on Sunday, *Summer reads of 2019*