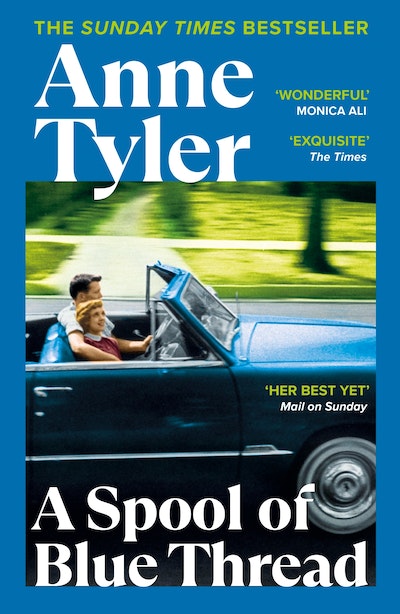 Published:

1 September 2015

ISBN:

9780099598480

Imprint:

Vintage

Format:

Paperback

Pages:

480

RRP:

$22.99
A Spool of Blue Thread
---
---
---
'A new novel from Tyler is always a treat and this is her best in years' Mail on Sunday
**THE NUMBER ONE BESTSELLER**
**SHORTLISTED FOR THE MAN BOOKER PRIZE 2015**
'It was a beautiful, breezy, yellow-and-green afternoon...'
This is the way Abby Whitshank always begins the story of how she and Red fell in love that summer's day in 1959. The whole family on the porch, half-listening as their mother tells the same tale they have heard so many times before.
From that porch we spool back through the generations, witnessing the events, secrets and unguarded moments that have come to define the family. From Red's father and mother, newly arrived in Baltimore in the 1920s, to Abby and Red's grandchildren carrying the family legacy boisterously into the twenty-first century - four generations of Whitshanks, their lives unfolding in and around the sprawling, lovingly worn Baltimore house that has always been their home...
**ANNE TYLER HAS SOLD OVER 1 MILLION BOOKS WORLDWIDE**
'One of my favourite authors ' Liane Moriarty
'She spins gold' Elizabeth Buchan
'Anne Tyler has no peer' Anita Shreve
'A masterly author' Sebastian Faulks
Published:

1 September 2015

ISBN:

9780099598480

Imprint:

Vintage

Format:

Paperback

Pages:

480

RRP:

$22.99
Praise for A Spool of Blue Thread
A stunning novel about family life which just rings so true - it depicts the bonds and the tensions, the love and the exasperation beautifully

Bookseller
A quiet sense of emotional tragedy, sharp observational humour and writing so economically precise you long to read every sentence twice

Huffington Post
One of the most accomplished writers working today... A must-read

Good Housekeeping
A new novel from Tyler is always a treat and this is her best in years

Amy E Williams, Mail on Sunday (You)
This is [Anne Tyler's] best in years

Kate Figes, Mail on Sunday
The combination of direct appeal, subtle perception and unshowy artistry in Tyler's fiction has been admired by authors ranging from Joyce Carol Oates and Carol Shields to Jonathan Franzen and Sebastian Faulks... Her extraordinary gift for producing what seems less like fiction than actuality works wonders again... magnificent

Peter Kemp, Sunday Times
Anne Tyler's twentieth novel has all the hallmarks of the well-loved author's best work - wonderful observation, intricate detail, nuanced humour and, of course, a family whose shared stories and secrets define them

Antonia Charlesworth, Big Issue
A warm, wise and funny book

Candis
Her terrain is the family, and the micro-interactions between both its members and interlopers from without; her tone is superficially uncomplicated, her insights culmulative, her mode of realist fiction essentially conventional... its power derives from the restless depths beneath its unfractured surface

Alex Clark, Guardian
One of America's literary giants

Graeme Thomson, Daily Mail
So subtle, so amusing and real, it's like watching their lives happen in front of you

Sainsbury's Magazine
One of her very best

Sunday Times
Perfects the intimate, easy style that makes reading her such a pleasure

Claire Allfree, Metro
Tyler tenderly unwinds the skein of three generations... deeply beguiling

Oprah Magazine
The texture of everyday experience transmuted into art

Kirkus Review
A glorious, unsentimental treat

Janette Currie, Independent
Every sentence is perfect in this witty story of family life

Sun
The story is so absorbing, and characters so real that while you race to finish it, you also really don't want it to end

Deirdre O'Brien, Sunday Mirror
A new Anne Tyler novel is always a cause for celebration... effortlessly enthralling

Charlotte Heathcote, Sunday Express
Anne Tyler is the most natural of novelist... I know no other novelist who draws so directly from real life, and whose work remains so uncontaminated by the shortcuts and cliches of television and Hollywood... A Spool of Blue Thread may be her best yet

Craig Brown, Daily Mail
Anne Tyler writes so gracefully, you almost don't realise she is writing at all

Claire Allfree, Metro
A master of conversation [Anne Tyler] depicts the intimacies and irritations of family life, the exchanged, complicit lances and misunderstandings. Read this

Vanessa Berridge, 4 stars, Daily Express
Love may be many splendoured but, in this novel, we also see its smothering, suffocating side, as well as its tyrannous sway - and only a writer of Tyler's skill could transform that into such an undiluted delight

Stephanie Cross, Daily Mail
A believable and wise read

Joanne Finney, Good Housekeeping
[A] wonderful book

Elspeth Barker, Literary Review
With A Spool of Blue Thread, the Pulitzer Prize winning novelist is on typically fine form

Jennifer Lipman, Optima Magazine
'[Tyler's] latest book.is as effortlessly enthralling on the familial front as her previous 19

Eithne Farry, 4 stars, Scottish Daily Express
Sincerely and carefully told

Angus Sutherland, 5 stars, Skinny
This is a book that explores moral and psychological ambiguities with extraordinary subtlety

Caroline Moore, Oldie
Deftly written with skilful characterisation... A master of conversation

Vanessa Berridge, Daily Express
The real triumph here is [Tyler's] portrayal of old age - droll, and desperately sad.

Maggie Fergusson, Intelligent Life
The worlds she creates are so absorbing and believable; she taps into our innate curiosity about people just like ourselves

Sophie White, Sunday Independent
This novel.has lavish strengths

James Walton, 4 stars, Sunday Telegraph
There is no limit to the superlatives that Tyler inspires

Eileen Battersby, Irish Times
Love.is relayed with extraordinary skill by Tyler

Sarah Gilmartin, Irish Times
I'm sure I won't be the only one torn between savouring it and racing to the end

Amy Adams, 4 stars, Stylist
Tyler takes the minute details of everyday life.and makes them remarkable

Spectator
This is a novel to cherish

MediaCity
Wonderful new novel

5 stars, Western Mail
I loved this book and knew I would as soon as I saw the author's name. I shall read this book many times

Tina Foster, Mature Times
Tyler.writes movingly of the early stages of dementia and its fierce denial

Catherine Taylor, i (The paper for today)
A Spool of Blue Thread does an exquisite job

Leo Robson, New Statesman
A truly delightful read

Rachael Roberts, Big Issue
What she does, in the course of this novel, is show that the simplest family stories often have complex roots and unlikely outcomes. This is a book full of surprises, and Tyler is adept at the great revelation that both startles and throws what has come before into a whole new light

Erica Wagner, Financial Times
[Anne Tyler's] usual pithy observations on life and strong storytelling combine beautifully

Bella
You close the book feeling you've been privy to a family that is quite extraordinary

Emma Herdman, 5 stars, UK Press Syndication
Ms. Tyler has a knack for turning sitcom situations into something far deeper and more moving

Rebecca Pepper Sinkler, International New York Times
It's Tyler at her witty, truthful best

Kate Saunders, Saga Magazine
It takes organized wit to write about human muddle as Tyler does, without once losing our attention or the narrative's spool of blue thread

Kate Kellaway, Observer
A moving, well-crafted reflection on life and death and the relationships that sustain us through both

Sarah Gilmartin, Sunday Business Post
One of the finest novelists of modern times

Bella
When it comes to painting a loving, funny and yet never simplistic portrait of American family life, Anne Tyler is, and always has been, the great mistress

Erica Wagner, Financial Times
Exquisite

Janice Turner, The Times
The extraordinary thing about her writing is the extent to which she makes one believe every word, deed and breath

Kate Kellaway, Guardian
How can it be so wonderful!... Tyler remains among the best chroniclers of family life

Washington Post
The writing is beautiful, unshowy, spare yet bountiful, the distilled style of a long lifetime of creating great novels

Susan Hill, Spectator
Astonishingly adept

Leo Robson, New Statesman
Tyler describes so accurately the frailties, turmoil and love of family life

Big Issue
May be her best yet, though, to be honest, this is what I always tend to say after reading the latest Anne Tyler. I've now read it twice, and I may well read it again

Craig Brown, Mail on Sunday
A must-read

Good Housekeeping
Exquisite

The Times
Glorious

Independent
No one does family sagas quite like Anne Tyler

Matilda Bathurst, Country Life
Mundane yet magical, thus pure Tyler

Markie Robson-Scott, Tablet
I love Tyler's writing... She writes so beautifully and with such insight. Read her books and she can actually change your view, change how you see the world

Judy Finnigan, Mail on Sunday
Anne Tyler is one of my favourite writers and this is a delicious book. It is like being with a dear old friend. It is very special

Rachel Joyce
Anne Tyler paints a large-scale portrait on a small-scale canvas and does it beautifully

Good Book Guide
A beautiful book

Adele Parks
Tyler writes with an apparent effortlessness which conceals great art. The Whitshank family is tragic, comic, absurd, absorbing -- and lives on its illusions, as every family must. You'll shiver with recognition

Helen Dunmore, Stylist
What a wonderful, natural writer she is... she knows all the secrets of the human heart

Monica Ali
It was a joy to read such an amazing book - so simply written

Victoria Hislop
In many ways this novel is a culmination of all those that have gone before it; it combines a multitude of themes and never fails to exact humour alongside the more sombre task of delving into topical issues such as sexuality, relationships and ageing

Francesa Wilson, Gryphon
Absolutely wonderful, a work of genius

Gill Hornby, Lady
It's so rich in detail and reality, so simple, but so compelling. I wept

Victoria Hislop, Waitrose Weekend
Engaging, compassionate, insightful. Tyler's strengths here are on the detail and the mundane. She gently weaves a rich tapestry of family life with a generosity of spirit that never a spills into sentimentality'

Hayley Atwell, Female First
Tyler's skill lies in making the utterly everyday something special

Emma Herdman, 4 stars, Northern Echo
This novel was an absolute joy as a personal read and whilst there are surely many spools of thread (sorry!) to unpick in reading group discussion, I can't help but feel that readers will find the greatest enjoyment with this book in the quiet, personal introspection of their own experience of it

Jade Craddock, Nudge
Is as good as anything she has ever written

Razia Iqbal, Independent
Another insightful study of family life. It may be familiar territory for the writer, but she commands it absolutely

Neville Hawcock, Financial Times
One to read on a family holiday

Fiona Wilson, The Times
Tyler at her best. Like all Tyler's work, this book is hard to put down, often laugh out loud funny and every word rings true: reading it requires no effort at all and yet the rewards are endless

A Little Bird (Blog)
Tyler's ability to combine carefully chosen characters, an open writing style and universally relatable themes makes her work so popular and.timeless. No wonder everyone is celebrating her 50-year career, to which I can only add my wholehearted recommendation of this novel with a full five stars out of five

Davida Chazan, Nudge
She gives us a better sense than anyone else of what it's like to be part of a family

James Walton, Sunday Telegraph
Her gift for producing what seems less like fiction than actuality works wonders

Peter Kemp, Sunday Times Ireland
Heartwarming

Four stars, Love it!
beautifully written. a really good family saga

William Leith, Evening Standard
Anne Tyler has the power to make the most ordinary observations enthralling ·

My Weekly
Highly reccommended

Fiona Atley, Nudge
Her extraordinary gift for producing what seems less like fiction than actuality works wonders again. magnificent.

Peter Kemp, Sunday Times
May be her best yet, though, to be honest, this is what I always tend to say after reading the latest Anne Tyler.

Craig Brown, Mail on Sunday
Superbly accomplished, perceptive and funny, tugged forward by suspended revelations to its hurricane climax

Robert McCrum, Observer
Tyler has captured the characters of an "ordinary" family brilliantly

Kathryn Copnell, Methodist Recorder
[Tyler] writes so sparingly and yet her books are dense with the complexities of human emotions

Natasha Harding, Jessica Fellowes, The Sun
Pure pleasure

Mark Amory, Spectator
[Tyler] has the rapier wit of a true satirist

Molly Guiness, Spectator
Tyler's twentieth novel finds fresh fictional riches in imaginative territory she has been exploring for half a century... Atmospherically rendered, the passage of time has both entertaining and heart-rending results. She has never written with more finesse, vitality and acuteness

Sunday Times, book of the year
Anne Tyler takes the ordinary, the small, and makes them sing

Rachel Joyce, Observer, Books That Made Our Year 2015
Tyler's gift for producing what seems less like fiction than absorbing actuality is everywhere in evidence as characters all but elbow their way off the page with lifelikeness. Beneath the surface darker depths are discernible, and awareness of human transience generates comedy and melancholy. Atmospherically rendered, the passage of time has both entertaining and heart-rendering results. She has never written with more finesse, vitality and acuteness

Peter Kemp, Sunday Times
Somehow what's familiar seems transcended in this wonderful novel, infused with freshness and surprise

Ron Charles, Washington Post Sunday
Anyone after a good novel will find themselves endlessly delighted by Anne Tyler's miraculously deft and touching family saga

Craig Brown, Daily Mail
Tyler's sentences are wholly hers, instantly recognisable and impossible to duplicate

Hanya Yanigihara, Observer, Books That Made Our Year 2015
Reminded us that Anne Tyler. can write a barbed family saga that puts younger imitators to shame

Tim Martin, Daily Telegraph
Funny and brutally frank in its portrayal in an averagely messy family and the degree to which accident contributed to the formation of its history.Tyler.Is a master technician

Patrick Gale, Irish Times
Anne Tyler is a magician: what she does seems so simple and et it weaves a compelling spell

D O'D, RTE Guide
Utterly absorbing, heartbreaking and endearing

Best
Tyler explores the simmering resentment that often underpins familial relationships, as well as the elusive nature of the American Dream

Paul Nolan, Hot Press
The characters in Anne Tyler's A Spool of Blue Thread are s fully formed I felt I was reading a family album. There is poetry in the way Tyler writes about mundane family life. When the book ended, I felt alone

Kimberly Shields, Guardian
A book that is shot through with random misfortune, but which takes infinite pleasure in the detail of everyday family life.

Daisy Goodwin, Daily Mail
Rivalries flare between siblings and secrets unravel, as Tyler shines a brilliant light on our fundamental relationships and the span of life.

Sainsbury's Magazine
Since the characters are actual, flawed human beings, it makes the story unbelievably relatable.

Emmy Griffiths, So Feminine
One of the greatest storytellers alive, whose characters arrive on the page like human beings, things happen to them, they react to these things, and then life continues

John Boyne, Irish Times
A Spool of Blue Thread.adroitly shines a light on sibling rivalry, family secrets and the wounding power of grief. [and] demonstrates again her gift for comic detail

Martin Chilton, Olivia Petter and Ceri Radford, Independent, *Books of the Decade*
A stunning novel about three generations of a family that perfectly captures the fights, petty irritations and deep connections between them

Good Housekeeping