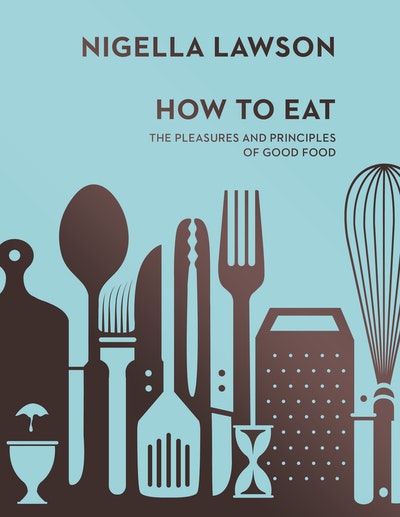 Published:

1 August 2014

ISBN:

9780701189181

Imprint:

Chatto & Windus

Format:

Hardback

Pages:

544

RRP:

$49.99
How To Eat
The Pleasures and Principles of Good Food
---
---
---
The classic cookbook that will help you rediscover the joys of eating well.
Nigella Collection: a vibrant new look for Nigella's classic cookery books.
'Cooking is not just about joining the dots, following one recipe slavishly and then moving on to the next. In cooking, as in writing, you must please yourself to please others.'
Hailed by chefs, reviewers, cookery writers and millions of home cooks worldwide as one of the best cookery books ever written, How To Eat is more than just an imaginative collection of over 350 delicious, simple recipes. Combining Nigella's down-to-earth, practical cookery advice with a passion for food and a friendly, chatty style, you will need two copies of this glorious classic: one for the kitchen, one for the bedside table.
This is Nigel Slater's all-time favourite cookbook: "If I could only keep one cookbook, this would be it. How To Eat suits the way I cook. It is as if Nigella is sitting on a stool next to me in the kitchen as I'm cooking ... With every page you know she loves this stuff, and she wants you to love it too. It's a very, very special book for me. My own copy is falling apart."
With gloriously witty food writing, easy recipes, basic cooking tips and a beautiful hardback design, this is a book you will treasure for many years as well as a delicious gift for friends and family.
Basics - from easy bread recipes and basic roast chicken to sauce ingredients and seasonal foods
Cooking in advance - slow cooking, marinadesand stress-free, easy recipes
One and two - cooking for one and meals for two people, from the practical to the romantic
Fast food - easy recipes and quick meal ideas
Weekend lunch - Saturday and Sunday lunch menus, for entertaining friends and family meals
Dinner - complete dinner menus for any occasion, from an elegant dinner party to a simple supper
Low Fat - healthy recipes and low-fat meals that still burst with flavour
Feeding babies and small children - weaning recipes, easy family meals and dishes to tempt that fussy eater
Published:

1 August 2014

ISBN:

9780701189181

Imprint:

Chatto & Windus

Format:

Hardback

Pages:

544

RRP:

$49.99
The one book you have to buy this year

Daily Mail
My book of the decade... I love this book: its prose, its intelligence and, above all, its workable, soul-warming recipes

Nigel Slater
A love letter to all things culinary

Tatler
The domestic bible for the millennium generation

Spectator
If you could have just one food book this year, make it How To Eat

Time Out
A gloriously sensual wander through the possibilities of food. The recipes read more like seduction than instruction

Independent
The most valuable culinary guide published this decade

Sunday Telegraph
A chatty, sometimes cheeky celebration of home-cooked meals

USA Today
[Nigella] brings you into her life and tells you how she thinks about food, how meals come together in her head...and how she cooks for family and friends... A breakthrough...with hundreds of appealing and accessible recipes

Amanda Hesser, New York Times
Nigella Lawson serves up irony and sensuality with her comforting recipes...the Queen of Come-On Cooking

Los Angeles Times
Nigella Lawson is, whisks down, Britain's funniest and sexiest food writer, a raconteur who is delicious whether detailing every step on the way towards a heavenly roast chicken and root vegetable couscous or explaining why 'cooking is not just about joining the dots'

Richard Story, Vogue
Nigella Lawson is one of the best and most influential of British food writers ... The staple cookbook for a whole generation

Ruth Rogers, co-author of The River Café Cookbook
How to Eat may just be the best cookery book ever

Daily Telegraph
A big book in every sense of the word: passionate, informative, detailed, bossy and admirably practical.

Evening Standard
This book, with its evocative writing style and empowering approach (it's all about experimentation, and broadening skills and knowledge) was the one that most inspired my cooking when it was first published back in 1998. The joy is, it's now available in hardback, which will please the legions of cooks who, like me, have a falling-apart paperback copy on their shelf

Delicious
A masterclass in food writing - one glance shows how good she really is

Yotam Ottolenghi, Metro
A classic of the genre: a book that easily gathers both experiences and novice cooks under its wing, with something to teach them all, and a witty confiding manner as it does so. Frankly, no kitchen is complete without.

The Irish Independent
My kitchen bible to this day... You made me realise that every meal is a celebration. You didn't teach me how to cook. You taught me how to eat.

Nigel Slater, Observer
How to eat, how to cook, how to write: I want two copies of this book, one to reference in the kitchen and one to read in bed.

Yotam Ottolenghi
A brilliant book. If you haven't discovered Nigella's very first cookbook yet, there is something missing from your bookshelf. I'm so evangelical about this book that if I find any of my friends don't own it, I generally buy them a copy at the next available opportunity.

April Harris
It's the first cookbook I ever properly read, and I loved it on three levels: for the quality of the writing, for the way it encourages you not to follow a recipe slavishly but to be bold, experiment and explore variations as you cook - and for the way Nigella captures the magic that happens when people sit down and eat together

Karen Barnes, Delicious
I'm inspired by Nigella Lawson's How to Eat. It's about a lifestyle and an attitude

Kathryn Parsons, Harper's Bazaar
This is a book I constantly return to, as reference in the kitchen or just to read for the sheer pleasure of Nigella's writing. There are so many people telling us how to eat these days that this book, ironically, feels like a non-dictatorial return to common sense

Yotam Ottolenghi, Waitrose Weekend