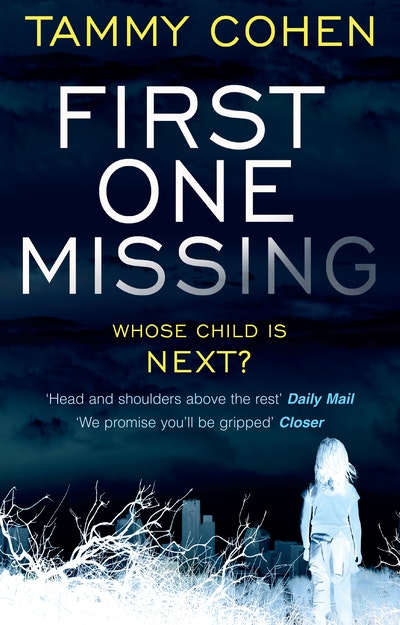 Published:

2 July 2015

ISBN:

9781473509580

Imprint:

Transworld Digital

Format:

EBook

Pages:

384
First One Missing
---
---
---
A page-turning pyschological thriller about the parents of missing children - combines the gripping plot of GIRL ON A TRAIN and the chilling suspense of THE ICE TWINS ...
'A taut, psychologically gripping, gut-wrenching thriller from one of my favourite writers.' - LISA JEWELL
'Astonishingly good' C L TAYLOR
'We guarantee you'll be gripped' Closer
________

There are three things no-one can prepare you for when your daughter goes missing:
- You are haunted by her memory day and night
- Even close friends can't understand what you are going through.
- Only in a group with mothers of other lost children can you find real comfort.
But as the parents gather to offer each other support in the wake of another disappearance, a crack appears in the group that threatens to rock their lives all over again.
Welcome to the club no one wants to join.
________
'FIRST ONE MISSING gripped me from the beginning and didn't let go. It'll keep you guessing until the last chapter' JANE FALLON)
'Head and shoulders above the rest. Gripping' DAILY MAIL
***OUT NOW Tammy Cohen's latest suspenseful and gripping thriller: STOP AT NOTHING***
Published:

2 July 2015

ISBN:

9781473509580

Imprint:

Transworld Digital

Format:

EBook

Pages:

384
Praise for First One Missing
I couldn't read First One Missing fast enough.An astonishingly good psychological thriller that you won't want to miss

C L TAYLOR
I couldn't read First One Missing fast enough.An astonishingly good psychological thriller that you won't want to miss

C L TAYLOR
Head and shoulders above the rest. Funny, psychologically astute and wholly engaging -Tammy Cohen could write about vacuuming carpets and it would still be gripping.

DAILY MAIL
A taut, psychologically gripping, gut-wrenching thriller from one of my favourite writers.

LISA JEWELL
A compulsive thriller with a big heart. It kept me guessing till the end, too.

SASKIA SARGINSON, Author of THE TWINS
It is SOOO good!!! I totally did not see the ending coming. Everyone read it!

EMMA KAVANAGH
Absorbing, disturbing and compassionate, First One Missing is a nail-biting thriller with a stunning twist. A must-read for fans of Mark Billingham and Val McDermid

MARK EDWARDS
Disturbing, unsettling, seriously unputdowable ...Tammy Cohen always knows how to write a jaw-dropping twist. This is another brilliant book by Tammy Cohen and she sure knows how to break a character down and bring out such raw emotion in each one. The twists were great ... i did not want the book to end at all.

ReviewedtheBook.co.uk
Disturbing, unsettling, seriously unputdowable ...Tammy Cohen always knows how to write a jaw-dropping twist. This is another brilliant book by Tammy Cohen and she sure knows how to break a character down and bring out such raw emotion in each one. The twists were great ... i did not want the book to end at all.

ReviewedtheBook.co.uk
Sharp, realistic, disturbing yet sympathetic and tender. If you haven't read anything by Tammy Cohen yet, FIRST ONE MISSING is sure to convince you to try her other books. Those who are already fans will not be disappointed!

RandomThingsThroughMyLetterbox.blogspot.co.uk
I loved it. Kept forgetting to breathe in the last 40 pages. Absolutely brilliant.

MIRANDA DICKINSON
A character-led slow burning psychological thriller .. i had no idea who the killer was, which came as a welcome surprise (as i often manage to guess).

Off-the-Shelf Reviews
Full of twists and turns!

PRIMA
One of our favourite authors ... we promise FIRST ONE MISSING will keep you gripped.

CLOSER
This book is rivetting. Tammy Cohen's FIRST ONE MISSING is a book that, for me, is high in the category for Book of the Year.

Tracyshephard.wordpress.com
FIRST ONE MISSING gripped me from the beginning and didn't let go. It'll keep you guessing until the last chapter.

JANE FALLON
Personally, this thriller stood out for me as being unsolvable, always ready to surprise you when you least expect it, even when there's only a handful of pages to go. I am fast becoming a Tammy Cohen fan, and can't wait to see what she does next

BookChickCity.com