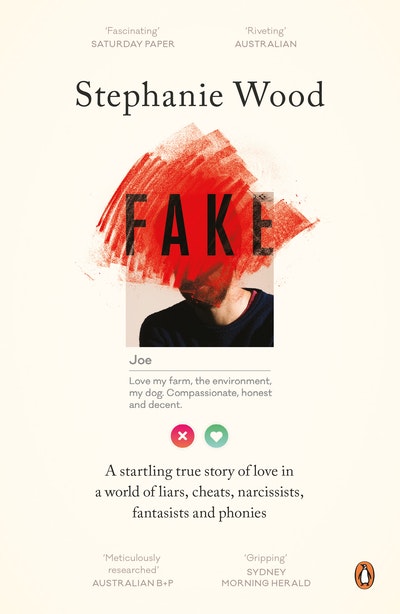 Published:

5 January 2021

ISBN:

9781760899110

Imprint:

Penguin

Format:

Paperback

Pages:

352

RRP:

$24.99
Fake
A startling true story of love in a world of liars, cheats, narcissists, fantasists and phonies
---
---
---
Aren't we all just a little bit afraid that we, or someone we care about, will be duped in love or friendship?
A powerful, richly layered investigative story for our times, drawing on the personal stories of the author and other women who have been drawn into relationships based on duplicity and false hope.
When Stephanie Wood meets a former architect turned farmer she embarks on an exhilarating romance with him. He seems compassionate, loving, truthful. They talk about the future. She falls in love. She also becomes increasingly beset by anxiety at his frequent cancellations, no-shows and bizarre excuses. She starts to wonder, who is this man?
When she ends the relationship Stephanie reboots her journalism skills and embarks on a romantic investigation. She discovers a story of mind-boggling duplicity and manipulation. She learns that the man she thought she was in love with doesn't exist. She also finds she is not alone; that the world is full of smart people who have suffered at the hands of liars, cheats, narcissists, fantasists and phonies, people enormously skilled in the art of deception.
In this brilliantly acute and broad-ranging book, Wood, an award-winning writer and journalist, has written a riveting, important account of contemporary love, and the resilience of those who have witnessed its darkest sides.
Published:

5 January 2021

ISBN:

9781760899110

Imprint:

Penguin

Format:

Paperback

Pages:

352

RRP:

$24.99
Wood brings lyrical talent and solid insight into what drives some women (and some men) into the arms of ''liars, cheats, narcissists, fantasists and phonies'' and keeps them there. The story and the style are gripping and, thankfully, the resolution is deeply satisfying.

Wendy Tuohy, The Sydney Morning Herald
Fake takes a fascinating look at how desire, dependency and loneliness have manifested themselves in just some of the many people who have been fools for love.

Catie McLeod, The Saturday Paper
In the riveting Fake, Wood unsnarls her ex-boyfriend's dark knot of lies, and examines how she was primed to become a "handmaiden" to his dangerously hollow ego. Months after it's all over, Joe's grandiose lie remains lodged in Wood's psyche like an undetonated ordnance. The page-crackling tension of Fake comes from watching her defuse it, one fragile untruth at a time; her journalistic nous colliding with her romantic gullibility. What emerges is a book that's part psychological thriller, part public service alert. What elevates Fake from Dirty John-style voyeurism to socio-cultural sucker-punch is Wood's candid investigation of how and why she proved so vulnerable to her lover's rickety fantasies. Was it the "foolish mythology" she absorbed by "romantic osmosis"? Her bone-deep longing for connection, or shaky self-worth? The reckless neural chemistry of new love? Perhaps, it was just "the whole relentless, overwhelming narrative about what a woman's life should look like". At its red-raw heart, Fake is a recovery narrative: a story of sinking and surfacing.

Beejay Silcox, The Australian
Because at the heart of this book is love. It is not just a story about being duped for the love of a man, but a story about finding love for oneself. One senses the sheer force of the personal reckoning Wood must have had in order to write it. The self-flagellation, the tremendous shame – these are feelings of the past. She has built herself a suit of armour with which to face adversity, yes, but more importantly, has found the brilliant core within herself, and the final passages of the book blaze with it.

Stephanie Convery, The Guardian
Fake is a breathtakingly honest and beautifully written account of the emotional wreckage caused by fraudsters of the heart. I found myself cheering for Stephanie as she majestically wields her literary scalpel to dissect and expose a manipulative, narcissistic conman. This is an exquisitely written piece of work in which the author bravely bares her soul.

Kate McClymont
This book absolutely deserves a place along side Johan Hari's Chasing the Scream, Chloe Hooper's Arsonist, Jon Ronson's Psychopath Test and Sarah Krasnostien's Trauma Cleaner. It's one of THOSE books and I'll be pushing into every hot little hand I can when it arrives in my shop.

Neal Drinnan, Cow Lick Bookshop, Colac
An absorbing and deeply personal story which I think will resonate with many readers. Wood was in a relationship with a man who was largely not the man he purported to be, but there was enough truth to his stories that, on the whole, he checked out. She doubted herself. She spiralled into anxiety and depression. And then she slowly, painfully, discovered the truth behind the façade. Here she shares her story, as well as the stories of other women and men who have been similarly duped, because this shit happens. And it happens more than we may think. I particularly enjoyed the sections where Wood interviewed experts – anthropologists, psychotherapists – seeking information about why some people behave in this way and how people become victim to it. I'm still mulling over the description of how one can be addicted to hope, and the implications this can have on someone's decisions.

Better Read Than Dead
A meticulously researched blend of memoir and investigative journalism that reads like a gripping thriller. Her exploration of the complexities of emotional abuse is at once harrowing and revealing, especially when she draws on psychological theory to wade into the murky waters of narcissistic personality disorder. Wood's prose is languid yet vivid and she establishes trust with the reader as she divulges her own moments of vulnerability and shame. Wood has woven together a deeply immersive, incredibly human narrative that reveals truths both personal and universal.

Giselle Au-Nhien Nguyen, Australian Bookseller + Publisher
As soon as I heard about this book, I was intensely curious about it. It's based on an article that went viral in 2017 about Stephanie Wood's experience being catfished by a manipulative narcissist. The lies he told to keep her on the hook were bizarre and, in some cases, totally unnecessary. But they kept coming until she was able to figure out what the real story was. The man she thought was a multi-millionaire with a harbourside apartment was more than likely of no fixed address. This book extends the original story with some in-depth reporting about the lengths this man goes to keep women (and there were multiple women!) going for years. It's also much bigger than that, as it explores the world of online romance, how romance makes us crazy, and how predators use online dating as a way to manipulate and control people. It's a fascinating story, and well worth a read.

Joel Naoum, Booktopia
Read this through in two gulps - has the forward momentum of a thriller, but beautifully-written and so insightful.

Margot Saville
This is a cautionary tale, but it's also the story of a woman who came out stronger – and wiser – in the end. If you're single, read it. And if you're in a relationship, you'd better read it too (because as Stephanie Wood found out, being coupled up is not necessarily insurance against lying cheats).

Gabrielle Williams, Readings
Stephanie Wood's Fake is a deeply disturbing and very candid account of her romantic relationship with Joe, a retired architect who now leads the 'simple life' alongside his loyal kelpie – or so she initially thinks. At a glance, Wood's recount of her catfishing experience reads like a love story gone wrong, and follows a well-traversed path on the dangers of online dating. In actuality, it explores so much more. Wood has crafted a richly layered story speaking of culturally ingrained fears surrounding one's search for true love, and how these deep-seated anxieties welcome narcissists, fantasists and cheats with open arms.

Tiffany Ko, Singapore Review of Books
Stephanie Wood, the former features journalist at The Good Weekend has written an incredible debut book. It's a rich, detailed and thrilling look at a relationship she had with a narcissist and professional love-rat. Wood handles the complexities of human relationships with a deft hand, and ultimately leaves us with something that stays with us long after that final page.

Natalie, Australian Review
Mark & Evette Moran Nib Literary Award
Longlisted • 2020 • Mark & Evette Moran Nib Literary Award
Article
Stephanie Wood Q&A
The award-winning long-form features writer reveals the confronting and cathartic aspects of writing Fake.
Article
Heartfaker
Stephanie Wood explores the pitfalls of love in an age of fakery.
Article
Fake book club notes
Pick a fascinating non-fiction book for book club this month. Fake is a startling true story of love in a world of liars, cheats, narcissists, fantasists and phonies.