Pick a fascinating non-fiction book for book club this month. Fake is a startling true story of love in a world of liars, cheats, narcissists, fantasists and phonies.
Stephanie Wood, an award-winning writer and journalist, has written a riveting, important account of contemporary love and the resilience of those who have witnessed its darkest sides. Gather your best book club buddies for a lively conversation.
Discussion points and questions:
In this powerful fourth wave of feminism, does the princess dream maintain its power, or are girls being offered more options?
Stephanie Wood excoriates herself, an experienced modern woman, for not discerning and even excusing the erratic behaviour of 'Joe'. We all make mistakes when in love, don't we? Is Stephanie too hard on herself?
Fake is both a cri de coeur and an intense piece of investigative journalism. Were you equally engaged with each aspect of the book?
It seems that there are more and more private and public stories (Who The Hell is Hamish?, Dirty John) of duplicitous people exploiting the finances and emotions of others. Are people more vulnerable, or available, than they used to be? Why is that do you think?
What do we learn from reading descriptions of the pain of others? Or, is it the behaviour of the perpetrators of the disappointment we are more interested in?
From the experts she consults, and delving into the behaviour of 'Joe', Stephanie discovers the audacious behaviours and risks narcissists will display. Narcissus was a beautiful young hunter in Greek mythology, so we know these personality traits are not new. But do we live in a time that allows them more space, or encourages them more freely than previously?
---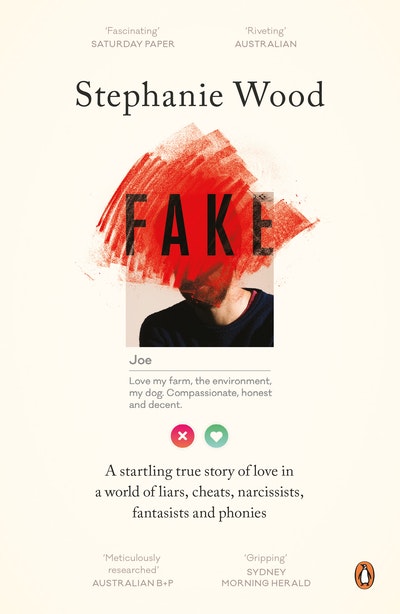 Fake
Stephanie Wood
Aren't we all just a little bit afraid that we, or someone we care about, will be duped in love or friendship? A powerful, richly layered investigative story for our times, drawing on the personal stories of the author and other women who have been drawn into relationships based on duplicity and false hope.
Buy now
Buy now
---