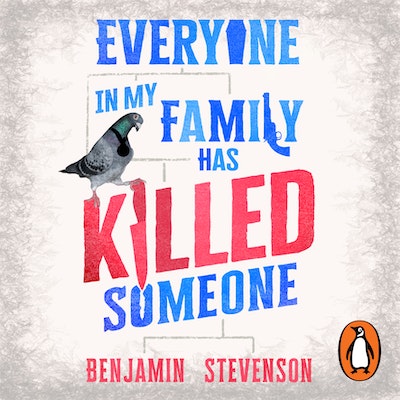 Published:

29 March 2022

ISBN:

9780143777250

Imprint:

Penguin Random House Australia Audio

Format:

Audio Download

Length:

9 hr 31 min

Narrator:

Barton Welch

RRP:

$32.99
Everyone In My Family Has Killed Someone
2023's most original murder mystery
---
---
---
Agatha Christie and Arthur Conan Doyle meet Knives Out and The Thursday Murder Club in this fiendishly clever blend of classic and modern murder mystery.
I was dreading the Cunningham family reunion even before the first murder.
Before the storm stranded us at the mountain resort, snow and bodies piling up.
The thing is, us Cunninghams don't really get along. We've only got one thing in common: we've all killed someone.

My brother.
My step-sister
My wife
My father
My mother
My sister-in-law
My uncle
My stepfather
My aunt
Me
'An exceptional new talent.' Jane Harper
'Stevenson has officially made my auto-buy-author list.' Christian White
'If you're a classic murder mystery fan looking for something fresh and original, you will absolutely love this. I did.' Anna Downes
'A mystery for anyone who thinks they know all too well how mysteries are supposed to work, this is Stevenson's best book yet.' Gabriel Bergmoser
Published:

29 March 2022

ISBN:

9780143777250

Imprint:

Penguin Random House Australia Audio

Format:

Audio Download

Length:

9 hr 31 min

Narrator:

Barton Welch

RRP:

$32.99
Praise for Everyone In My Family Has Killed Someone
I absolutely loved it. Utterly original, hugely entertaining, and a must-read for every fan of the mystery genre. What an exceptionally fresh, smart, funny book - I've never read anything like this before.

Jane Harper
I absolutely loved it. Utterly original, hugely entertaining, and a must-read for every fan of the mystery genre. What an exceptionally fresh, smart, funny book - I've never read anything like this before.

Jane Harper
An engrossing whodunnit, with an ingenious twist on the classic crime genre. The type of book you finish and want to immediately read again

Kyle Perry
An engrossing whodunnit, with an ingenious twist on the classic crime genre. The type of book you finish and want to immediately read again

Kyle Perry
If you're a classic murder mystery fan looking for something fresh and original, you will absolutely love this

Anna Downes
If you're a classic murder mystery fan looking for something fresh and original, you will absolutely love this

Anna Downes
A mystery for anyone who thinks they know all too well how mysteries are supposed to work

Gabriel Bergmoser
A mystery for anyone who thinks they know all too well how mysteries are supposed to work

Gabriel Bergmoser
Clever, unexpected, and not to be missed

Karin Slaughter
Clever, unexpected, and not to be missed

Karin Slaughter
I absolutely loved it. It's so engaging, entertaining and charming. I don't think I've ever read anything like it, and it's such a fun read

Marian Keyes
I absolutely loved it. It's so engaging, entertaining and charming. I don't think I've ever read anything like it, and it's such a fun read

Marian Keyes
This was such a clever, compelling read. It's a must for anyone who loves the rules of crime fiction, but it still packs plenty of twists. It had me laughing and turning the pages in equal measure. Bravo Mr Stevenson!

S.J. Bennett
This was such a clever, compelling read. It's a must for anyone who loves the rules of crime fiction, but it still packs plenty of twists. It had me laughing and turning the pages in equal measure. Bravo Mr Stevenson!

S.J. Bennett
The best thing I've read in ages. I absolutely loved it. Whip-smart, twisted, funny, and constructed with the pinpoint precision of a bloodthirsty watchmaker.

Stuart MacBride
The best thing I've read in ages. I absolutely loved it. Whip-smart, twisted, funny, and constructed with the pinpoint precision of a bloodthirsty watchmaker.

Stuart MacBride
This book had me hooked from the first chapter. Deliciously funny, dark and intriguing

Alex Pavesi
This book had me hooked from the first chapter. Deliciously funny, dark and intriguing

Alex Pavesi
Surprising, darkly funny, clever and charming - you won't want to put this one down

Living Edge
Surprising, darkly funny, clever and charming - you won't want to put this one down

Living Edge
A homage to a golden age whodunnit, with a page-turner plot . . . Smart and funny

Business Post
A homage to a golden age whodunnit, with a page-turner plot . . . Smart and funny

Business Post
An exceptionally clever and amusing mystery. Stevenson carries off this tour de force with all the aplomb of a master magician who conducts his tricks in plain view

Publishers Weekly
An exceptionally clever and amusing mystery. Stevenson carries off this tour de force with all the aplomb of a master magician who conducts his tricks in plain view

Publishers Weekly
An ingenious and hilarious meta-murder mystery . . . strangely moving

Sunday Times 'Best Crime Books of 2022'
An ingenious and hilarious meta-murder mystery . . . strangely moving

Sunday Times 'Best Crime Books of 2022'
My go-to recommendation this year. It has everything I love about great twisty mystery, presented in a hugely original package

Jane Harper, Daily Express
My go-to recommendation this year. It has everything I love about great twisty mystery, presented in a hugely original package

Jane Harper, Daily Express
As fresh and zingy as a salted lime. It's Knives Out meets Richard Osman. Or Dexter by way of Agatha Christie. Or Schitt's Creek with a body count. It's also the most luxuriantly enjoyable novel I've read in years. And years. I began toting my copy around town so that strangers would ask me about it - who could resist that title? I only wish there were more members of the Cunningham clan, so that this raucous, matchlessly entertaining mystery could go on longer. Benjamin Stevenson, I've got a lot to learn from you

A.J. Finn
As fresh and zingy as a salted lime. It's Knives Out meets Richard Osman. Or Dexter by way of Agatha Christie. Or Schitt's Creek with a body count. It's also the most luxuriantly enjoyable novel I've read in years. And years. I began toting my copy around town so that strangers would ask me about it - who could resist that title? I only wish there were more members of the Cunningham clan, so that this raucous, matchlessly entertaining mystery could go on longer. Benjamin Stevenson, I've got a lot to learn from you

A.J. Finn
A really fresh take on classic crime

Jane Harper, Good Housekeeping
A really fresh take on classic crime

Jane Harper, Good Housekeeping
Australian Book Design Awards
Longlisted • 2022 • Best Designed Commercial Fiction Cover
Australian Book Industry Awards
Shortlisted • 2023 • General Fiction Book of the Year
BookPeople Book of the Year Awards
Shortlisted • 2023 • Adult Fiction Book of the Year