Benjamin Stevenson's new book Everyone in My Family Has Killed Someone is set to become a limited series.
Everyone in My Family Has Killed Someone, a new murder mystery from award-winning comedian and author Benjamin Stevenson, has been optioned for screen adaptation by HBO partnered with Made Up Stories and Endeavour Content. 
The story will be developed as a limited series with Emmy award-winner Bruna Papandrea as executive producer.
Everyone in My Family Has Killed Someone follows crime fiction aficionado Ernie Cunningham as a reluctant guest at a family reunion held in a snowbound mountain retreat. When the first body turns up (somehow burned to death in the middle of an unmelted snowfield), everyone in his family becomes a suspect and Ernie must discover who committed the grisly crime before they all end up dead.
It's Agatha Christie meets Knives Out meets Richard Osman in a thoroughly modern take on the classic crime genre. This project is a re-teaming of HBO and Papandrea after the success of Big Little Lies (eight Emmy Awards) and The Undoing, HBO's most-watched series of 2020.
North American rights for Everyone in My Family Has Killed Someone have also been licensed to HarperCollins US (Mariner Books) in a highly competitive auction and to Penguin Random House UK (Michael Joseph) also at auction. Rights have sold in six other territories, including Germany (pre-empt), Portugal (pre-empt) Greece, Russia, China and Estonia to date; with deals in other territories to be closed in the coming days and weeks.
'The last few weeks have been an absolute blur, the most phone calls I've ever got (second only to that time I was late for an international flight), and the highlight of my writing career,' said Stevenson.
'I am so thrilled that this wild, crazy, fun mystery book has found its champions with Beverley Cousins at PRH Australia, Grace Long at Michael Joseph UK, and Kate Nintzel at Mariner US, as well as so many foreign language publishers across the world! And to be working with the visionaries at HBO, Made Up Stories and Endeavor Content is a dream come true. I'm so glad that this book, which was really a "swing for the fences" kind of writing experience for me, is connecting with so many people worldwide.'
PRH Australia and New Zealand publisher Beverley Cousins said she knew instantly Stevenson's book would be a success.
'From the moment Benjamin told me its title, I knew this novel was going to be off-the-wall and extra special! You don't have to be a crime fiction fan to fall in love with it – and I guarantee you won't have read anything like it,' she said. 
Everyone in My Family Has Killed Someone will be published by Penguin Random House Australia and New Zealand on the 29th of March, 2022.
---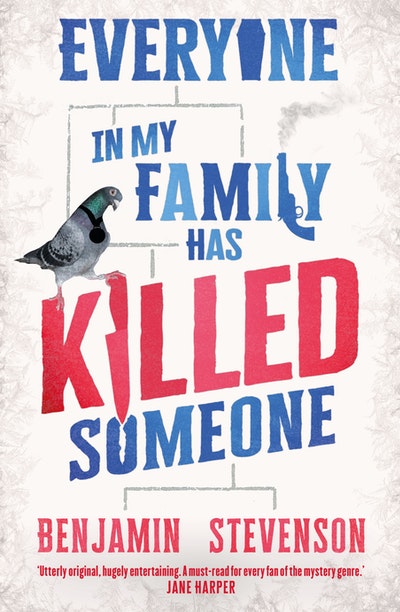 Agatha Christie and Arthur Conan Doyle meet Knives Out and The Thursday Murder Club in this fiendishly clever blend of classic and modern murder mystery.
Buy now
Buy now
---