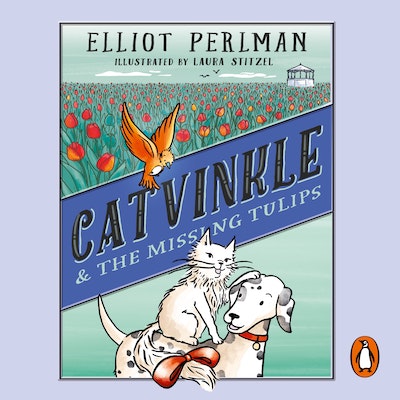 Published:

29 September 2020

ISBN:

9781761040870

Imprint:

Penguin Random House Australia Audio

Format:

Audio Download

Length:

5 hr 0 min

Narrator:

Susan Bamford Caleo

RRP:

$15.99
Catvinkle and the Missing Tulips
---
---
---
Award-winning novelist Elliot Perlman's second book of Catvinkle's adventures is another wise, wonderful and warm-hearted tale.
When best friends Catvinkle and Ula are asked to defend two sheep accused of eating Amsterdam's tulips, they're not sure what to believe. The sheep say they're innocent, but they do look very sheepish.
To win this case, Catvinkle will need the help of a wolfhound, a llama, two travelling koalas, a pair of Russian bears . . . and a very special bird.
'An instant children's classic' Sunday Age
'A gorgeous book guaranteed to give great joy' Better Reading
'Engaging and fun' Children's Books Daily
Published:

29 September 2020

ISBN:

9781761040870

Imprint:

Penguin Random House Australia Audio

Format:

Audio Download

Length:

5 hr 0 min

Narrator:

Susan Bamford Caleo

RRP:

$15.99
Praise for Catvinkle and the Missing Tulips
If you, like me, loved the first Catvinkle book and couldn't wait to share it with your kiddos, you will also love this new hilarious episode with all the crazy animal characters of the first plus some equally quirky new ones! . . . Aside from the humour there is a lot to think about around fairness and justice, compassion and loyalty and the critical endangered status of riverine rabbits (gotta love a story with bunnies in it!).

Sue Warren, Teacher Librarian, losangzopa.wordpress.com
[T]his second adventure in this series with its subtle message about inclusivity and acceptance is as delightful as the first, even to a non-cat person like me . . . As well as being an entertaining read for those who like something a bit different that is engaging, this also has an underlying theme of justice, fairness and those other qualities that are so important at this time to that age group that hasn't quite discovered shades of grey and compromise yet. Even though Perlman has received many awards for his adult novels, he certainly knows how to spin a tale for children and these two together would make an excellent gift for newly independent readers who enjoy animal stories that are just good, clean fun.

Barbara Braxton, thebottomshelf.edublogs.org
Recommended . . . Throughout the story there are explicit lessons about empathy, fairness, inclusion, looking after the environment, telling the truth and doing whatever you can to stand up and speak up for others who are less fortunate. There is a timely reminder, too, about stopping to think whether information can be trusted, especially if you hear something bad about someone . . . This is an excellent message for students to absorb before they reach the age where they really start engaging with social media.

Kylie Gran, ReadPlus
I love the gentle and subtle humour of this book with many puns, irony, confusion over idioms and amusing dialogue and banter between the characters. The animals' perspectives on cultural references, such as classical tales and Rembrandt's Night Watch painting, are fun too. Laura Stitzel's lovely black and white pencil drawings add charm to the book and provide added context to the characters and settings. Perlman's enormous competence as a novelist is evident in the way he weaves thoughtful themes and witty humour into the story and develops characters with distinctive personalities.

Barbara Swartz, Reading Time
Article
Article
Teachers' notes