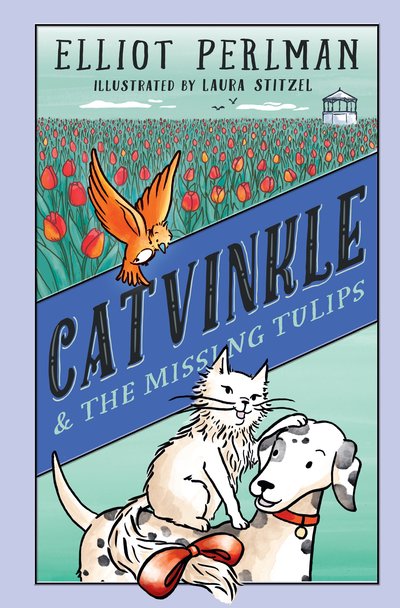 Published:

29 September 2020

ISBN:

9781760894382

Imprint:

Puffin

Format:

Hardback

Pages:

304

RRP:

$19.99
Catvinkle and the Missing Tulips
Extract
Chapter 1
Most people don't expect cats and dogs to get along. This is also something most cats and dogs have in common with each other. They don't expect to get along very well with each other either. If you find a group of cats and dogs arguing loudly like, well, cats and dogs, you might want to try to find something they can agree on as fast as you can so that the noise of their arguing doesn't give you a headache.
Try asking them if cats and dogs get along. Nearly all of them will say, 'No way! Cats and dogs do not get along.' Then tell them that they're all agreeing with each other. This will likely shock them into silence, at least for a moment.
But there was once a cat named Catvinkle and a dog named Ula who knew that cats and dogs can get along. In fact, they knew that sometimes a cat and a dog can be best friends. Catvinkle and Ula knew this because they, a cat and a dog, were best friends, living together and even sharing the same room. They even shared the same human, a charming and quite loving barber named Mr Sabatini. The three of them lived together in a charming house by a canal on a street that cats and dogs knew as Herring Street (even though humans got it wrong and called it Herengracht).
Herring Street was in a beautiful city called Amsterdam. Here, lovely old houses all of different colours nestled together as though cuddling each other along cobbled streets. Many of these streets had canals running down the centre of them. Boats would carry people and sometimes animals along the canals to cafes, restaurants, and to the many wonderful museums and art galleries. Some of the most famous paintings in the whole world could be found in Amsterdam's art museums. The paintings, museums and even the old narrow houses of Amsterdam all had their own stories dating back many hundreds of years. The people were friendly, many of them choosing to get around the city on foot or on their bicycles, and the food was very tasty, with the smell of coffee and freshly baked bread and cookies wafting in the air. It was no wonder people from all over the world came to visit.
This was Mr Sabatini's Amsterdam, where he lived and where he would give people haircuts. Girls, boys, women, men and even babies without much hair at all would come to Mr Sabatini's hair salon and would enjoy not only the skill, warmth and kindness of Mr Sabatini, but also the very pleasant and furry company of his two friends, Catvinkle and Ula.
Catvinkle was a snowy white fluffy cat with long, strong, quite substantial whiskers that were almost as thick as wings. In fact, there were some in Amsterdam who thought they'd seen Catvinkle fly. But more about that later. Tied to the end of her thick white fluffy tail she wore a large red bow. It had been a present from Mr Sabatini some time earlier, earlier even than the time Ula came into their lives.
Ula was a beautiful white dog with black spots, a Dalmatian, who had big, black, very kind eyes. There were some humans who described her as having a 'wet dog' smell, even when she was completely dry, but Catvinkle couldn't smell it and she lived closer to Ula than anyone. No, where some humans smelled a wet dog smell on Ula, Catvinkle could smell only an incredible musky scent, a smell that relaxed her and made her feel completely calm inside and out. How Catvinkle loved the smell of Ula's musk! It was Ula's musk that first brought them together as friends after Mr Sabatini had decided to give the homeless Dalmatian a home with him and Catvinkle.
Their room was slightly sunken below the ground so that when Catvinkle and Ula sat in front of their window they could see people's shoes and socks walk by as well as the paws of passing animals. They would often comment to each other that a certain dog was up earlier than usual or that a particular cat seemed to be in quite a hurry. There were pleated curtains of cream and royal blue that hung from the top of the window to the red car­peted floor. In the evenings they would watch, as Mr Sabatini closed the curtains, how the curtains swept across the floor like a ballgown flowing across the dance floor of a ballroom. It was a relaxing way to finish the day before final nap-down. As well as the two baskets that served as their beds, their room had a desk and a matching chair, both of shiny dark wood, as well as a comfy armchair of the same creamy colour as the curtains. Catvinkle and Ula thought that their room looked a bit like a palace.
Among their favourite things in the room were all the books that lined the walls, because they knew Mr Sabatini loved reading so much. Catvinkle and Ula loved it when he would come into their room in the evening and read beside them. It helped them to fall asleep each night, knowing he was there with them quietly reading. They also loved the fireplace, which gave warmth as well as beauty and was always kept burning in the colder months by dear Mr Sabatini.
Of course, he kept their water bowls fresh too. When Ula had first moved in she had shared a water bowl with Catvinkle, but very soon Mr Sabatini got her one for herself. Their water bowls were always side by side and they often invited each other out of their wicker baskets to meet at the water bowls for a drink.
'Ulee, would you like to meet me for a drink?' Catvinkle might say, after which they would both walk the two steps to their water bowls and have a drink at the same time. This 'going out for a drink' was just one of the things they enjoyed doing together, and they did pretty much everything together.
It was in this room, their 'palace', that Ula woke up one morning to find Catvinkle lying on top of her. (Catvinkle often fell asleep on top of Ula.)
'Catvinkle, are you awake?' Ula asked while beating her tail against the mat in her wicker basket. When she didn't hear any reply she asked again, keeping her tail beating a steady beat of excite­ment. 'Catvinkle! Do you want to wake up? Today's a special day.'
'Oh no, it's not, Ulee. I know how much you look forward to my birthday but we still have so many more sleeps before it's my birthday. Really, the best thing for it is to try to keep calm and have as many of those sleeps as soon as possible. A really good napper can go on napping past midday. I'm very happy to guide you through this. It's just one example of what friends are for.'
'No, I know it's not your birthday but –'
'Ulee, didn't you say it was a special day?'
'It is special but not because of that. Today's the day the children are coming.'
'The children? Are we getting some children? I don't remember ordering any children.'
'Catvinkle, the children, Anja and Ferdi! They're staying with their aunt and she's booked all three of them in for a haircut with Mr Sabatini.'
'Oh, Anja and Ferdi! I love Anja and Ferdi! This is a special day, Ulee. Why didn't you tell me they were coming? I know you told me just now but I mean why didn't you tell me before you told me just now?'
'Well, I mentioned it last night before we went to sleep and every day before that for the last week,' said Ula.
'Hmm,' said Catvinkle, thinking. 'There are seven days in a week, plus any extra bits left over from pre­vious lives of which cats have nine, so that equals . . . Why didn't I remember?'
'I don't know, Catvinkle.
'Well, Ulee, it was probably the way you told me. It was probably a completely forgettable way, but don't feel bad about this. You're a dog and I know you do the best you can with what you've got.'
'Thank you, Catvinkle.'
'You're welcome, Ulee. Anyway, no harm done. I remembered just in time. Oh, the children are coming, Anja and Ferdi, Anja and Ferdi! Is my ribbon on straight?'
Catvinkle hopped off Ula's back and placed her rump close to Ula's face to have Ula check the posi­tion of the big red ribbon given to her by Mr Sabatini.
'Is it near the end of my tail? You know I like to have it near the end of my tail for festive occasions.'
'Yes, quite near,' Ula said. Just then there was a knock at the door. 'Who could that be?' Ula asked.
'It wouldn't be Mr Sabatini. He doesn't feel the need to knock very often. Probably because we let him share the room with us in the evenings. I think it's sweet that he still thinks of this as his room too. We should let him continue to think that.'
'Should we let the knocking person or animal in?' Ula asked.
'Just wait until I've checked my ribbon one more time,' Catvinkle said.
But by the time Catvinkle had finished saying this Ula had already opened the door with one of her front paws. There on the other side of the door were the children, Anja and Ferdi.
---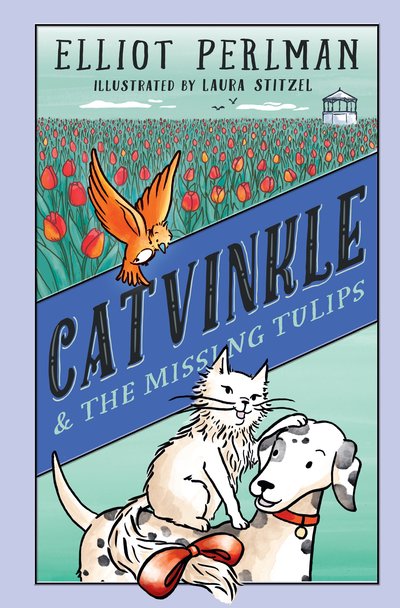 Award-winning novelist Elliot Perlman's second book of Catvinkle's adventures is another wise, wonderful and warm-hearted tale.
Buy now
Buy now
---