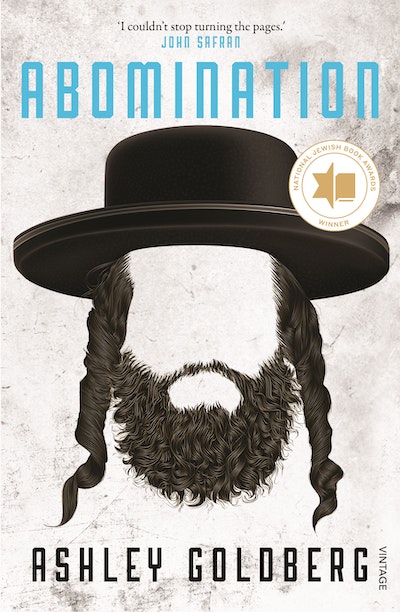 Published:

3 May 2022

ISBN:

9781761041778

Imprint:

Vintage Australia

Format:

Trade Paperback

Pages:

288

RRP:

$32.99
Abomination
---
---
---
A compelling and compassionate debut about friendship, faith, family and identity.
Winner of the Debut Fiction Prize, 72nd National Jewish Book Awards (US)
'We recognize and appreciate Penguin Random House Australia's decision to publish a book of such high quality – one that enlarges the whole enterprise of Jewish scholarship and contributes to informed living, understanding, and entertainment for the entire English-reading world.' – Executive Director, National Jewish Book Awards (US)

'A uniquely accomplished debut.' Sydney Morning Herald
'Make this your next read.' Readings Monthly
'deftly plotted and thoughfully realised' Books+Publishing
'Brilliant, inspired, original and deeply disturbing. A truly fabulous debut.' ABC Radio
'A brave, challenging and important debut.' Newtown Review of Books
He who turns his ear away from hearing the Torah – even his prayer is an abomination. Proverbs 28:9
Melbourne 1999: Ezra and Yonatan are best friends whose lives are forever changed when their school, the ultra-Orthodox Jewish Yahel Academy, is rocked by a scandal and they are thrown onto divergent paths. Twenty years later, the lives of the two men are very different: Ezra identifies as secular and atheist, while Yonatan has been ordained as a rabbi and teaches at the academy. By chance they are reunited, and the events of their past and present collide with devastating consequences.
Abomination lays bare the clash between religious and secular worlds in contemporary Australia and provides a revealing glimpse into a closed community. With great tenderness and insight debut author Ashley Goldberg tells the story of an enduring and evolving friendship as Yonatan and Ezra struggle to come to terms with the choices they have made, search for meaning, and forge their own identities. This is a beautifully observed, moving story from an exciting young writer.

Published:

3 May 2022

ISBN:

9781761041778

Imprint:

Vintage Australia

Format:

Trade Paperback

Pages:

288

RRP:

$32.99
I couldn't stop turning the pages even though I needed to do other things. No idea whether or not Ashley has lived in the tight-knit Jewish community his characters occupy but it sure as hell vividly matches up with what I've seen and lived through.

John Safran
A searching, deeply intelligent exploration of faith and memory that crackles with the taut energy and electric intensity of a thriller, Abomination is one of those rare debuts where a writer arrives fully-formed and in complete control of their craft.

James Bradley
This is a tale about self-realisation and self-actualisation, and the journey these young men make through the story is both moving and profound.

Rebecca Starford
Abomination operates with a headlong narrative momentum, toggling focus with a steady, and quietly propulsive, force... it's a uniquely accomplished debut.

Sydney Morning Herald
This novel speaks deeply to the search for identity and is a reminder of the importance of compassion. It is heartbreaking to read at times, and the dynamic between the characters moves you to truly care about their journeys. Goldberg is a wonderfully talented writer with sharp insight into the confronting themes he explores, and I found myself needing to know how this story would come to a close. Make this your next read.

Readings Monthly
It's a rare novel that can operate in such a grounded realist mode while also possessing a thriller-like tension.

The Age
Admirers of Chaim Potok's The Chosen and Lisa Emanuel's more recent The Covered Wife will welcome this deftly plotted and thoughtfully realised novel of friendship, trauma, faith and identity. Abomination will certainly secure debut novelist Goldberg's place on the Australian literary scene.

Books+Publishing
Brilliant, inspired, original and deeply disturbing, Abomination is also a fascinating insight into life in a closed community. A truly fabulous debut.

ABC Radio Brisbane
A brave, challenging and important debut.

The Newtown Review of Books
A great novel of friendship... I really recommend it.

ABC Weekend Mornings
Yonatan and Ezra's renewed friendship highlights the clash of cultures that can exist within the small but diverse Australian Jewish community, as well as broader multicultural Australia. It also, conversely, illustrates the universality of each man's experience. Both yearn to live in a way that is true to themselves and those closest to them. That Goldberg is able to traverse such themes in a tightly plotted, engaging novel that doesn't feel overwrought or pretentious is testament to his skill and sensitivity as a writer.

Kill Your Darlings
Abomination brilliantly examines sexual abuse, the conflict between secular and religious worlds, and the private battles of faith plaguing so many raised in the latter.

Booktopia
It is a wonderment to me that this is Goldberg's debut novel as this is as accomplished a book as I have read in awhile. It's different, it's gentle yet filled with pathos. I love it. More, I love that it is local, written and based in Melbourne, and yet reveals a world previously unknown to me.

Mary Martin Bookshop
This is the best debut novel by an Australian author I've read since Boy Swallows Universe.

Bookish Ian
A brilliant portrayal of male friendship, loyalty and faith, of two men coming to terms with their own frailities, memories and values while trying to figure out what makes a meaningful life. The novel's glimpse into a rarely seen world — that of the ultra-Orthodox Jews of Melbourne — is riveting, while the careful pacing and intertwined storylines that switch between past and present gives the book a compelling, page-turning quality. I ate it up in the space of a weekend and highly recommend it.

Reading Matters
Abomination hooks you in from the start, and takes you on a compelling, heartfelt ride that winds its way around questions of friendship, faith, family and identity with nuanced insight.

Aniko Press
A compassionate and engaging novel.

Canberra Weekly
National Jewish Book Awards (US): Goldberg Prize for Debut Fiction
Winner • 2022 • National Jewish Book Awards (US): Goldberg Prize for Debut Fiction
Article
Article
Article