Treat your reading group with Leah Kaminsky's poignant and cautionary tale.
In The Hollow Bones, author and physician Leah Kaminski asks readers to contemplate the horrors of our not-too-distant history in order to take lessons away to help us today. Here are some talking points to kick off what's sure to be a memorable book club discussion.
Discussion points and questions
Leah Kaminsky has utilised some literary tricks in The Hollow Bones such as the cliff-hanger of Herta and the Panda in the Academy of Natural Sciences in Philadelphia. How did you find this effective?
The ambition and urges of The Collector have been explored in many wonderful works of fiction, from Nicholson Baker to John Fowles, and now Leah Kaminsky. What makes characters with these drives so fascinating?
The Hollow Bones explores some urgent and contemporary issues including how scientific findings can be manipulated to suit different masters. What happens when the line between science and politics is blurred too far?
History repeating itself. Have we really learnt from the past? These are statements we hear often. How do you think fiction advances our understanding of the past?
Why do you think so many novels explore the First and Second World Wars?
Women are often not the protagonists in fiction or non-fiction stories of the Second World War. How much responsibility do you believe women bore for the machinations of war at the fronts and at home?
Ernst joined the Reich ostensibly to feed his ambition and achieve great scientific breakthroughs. Do you believe any part of Ernst was pursuing good things for mankind? Would you be prepared to compromise some parts of your belief system to achieve something you believed valuable?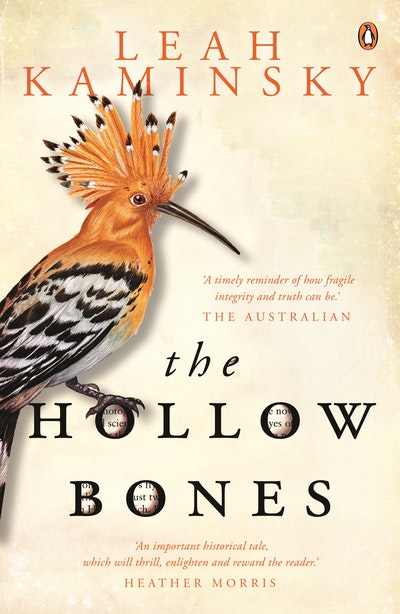 The Hollow Bones
The Hollow Bones implores us to pay careful attention to the crucial lessons we might learn from our not-too-distant history.
Read more