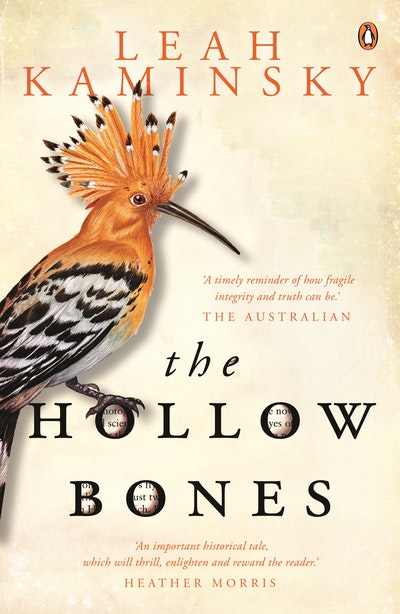 Published:

21 April 2020

ISBN:

9781760899868

Imprint:

Penguin

Format:

Paperback

Pages:

336

RRP:

$22.99
The Hollow Bones
---
---
---
The Hollow Bones implores us to pay careful attention to the crucial lessons we might learn from our not-too-distant history.
'I remember you once told me about mockingbirds and their special talents for mimicry. They steal the songs from others, you said. I want to ask you this: how were our own songs stolen from us, the notes dispersed, while our faces were turned away?'
Berlin, 1936. Ernst Schäfer, a young, ambitious zoologist and keen hunter and collector, has come to the attention of Heinrich Himmler, who invites him to lead a group of SS scientists to the frozen mountains of Tibet. Their secret mission: to search for the origins of the Aryan race. Ernst has doubts initially, but soon seizes the opportunity to rise through the ranks of the Third Reich.
While Ernst prepares for the trip, he marries Herta, his childhood sweetheart. But Herta, a flautist who refuses to play from the songbook of womanhood and marriage under the Reich, grows increasingly suspicious of Ernst and his expedition.
When Ernst and his colleagues finally leave Germany in 1938, they realise the world has its eyes fixed on the horror they have left behind in their homeland.
A lyrical and poignant cautionary tale, The Hollow Bones brings to life one of the Nazi regime's little-known villains through the eyes of the animals he destroyed and the wife he undermined in the name of science and cold ambition.
Published:

21 April 2020

ISBN:

9781760899868

Imprint:

Penguin

Format:

Paperback

Pages:

336

RRP:

$22.99
Praise for The Hollow Bones
I've just read, with great pleasure, The Hollow Bones. What a triumph! It's a truly wonderful evocation of a hard to comprehend time.

Tim Flannery
A beautiful and harrowing book...I'm in heaven. Science, politics and fiction blended into one, and it's absolutely beautifully written. It's an incredible look at today's society...we hear the voice of a Panda which is an incredible look at the way we treat animals.

Alicia Sometimes, ABC 774
From the embers of history, Kaminsky weaves a cracking tale of adventure, competing loyalties and the folly of sacrificing reason on the ideological altar.

Bram Presser
In this prescient and thoughtful novel, a long-dead animal displayed in the Academy of Natural Sciences in Philadelphia murmurs about the wild places of its lost life, while the story of the scientist who destroyed it exposes the collaboration between totalitarianism, corrupted science and the slaughter of people and animals.

Brenda Walker
Played out against the backdrop of impending war, The Hollow Bones is a Faustian tale of love, ambition and treachery. An ominous and beautiful novel that examines the dark appeal of power, and the lengths some men will go to achieve it.

Emma Viskic
An evocative, harrowing story of one man's obsession to preserve nature in a glass jar, The Hollow Bones reminds us creatures of the wild belong there and we destroy their habitat at our peril. Kaminsky has magically woven the dual narratives of past and present through a unique telling of such an important historical tale, which will thrill, enlighten and reward the reader.

Heather Morris
From the horrors and dark truths of the Reich, Leah Kaminsky fashions a poignant romance within a chilling, mesmerising narrative. This is an account of the 'scientific' attempt to locate the origin of the Aryan race in the distant past of Tibet. The storytelling is fresh and astonishing, gently echoing with birdsong. It takes readers deep into madness and doom, while transporting them into the grace of human love, the redemptive beauty of the natural world.

Carmel Bird
There were so many Germans like Ernst Schäfer, who blew with the wind for the sake of their passions, whether scientific, artistic or musical. This bold novel reveals the perilously thin moral ice they trod, and the human cost for those closest to them.

Rachel Seiffert
In this vibrant, inventive novel, Leah Kaminsky poses knotty questions about the grey zone of collaboration, ambition and political expediency under Nazism. With a bold use of little-known historical materials, Kaminsky presents zoologist and Nazi Party member Ernst Schäfer in all his complexity. As Schäfer moves between high-ranking SS in Berlin to the mountains of Tibet, we are asked to consider what happens when science is co-opted to justify racist ideology. This vivid novel shows us a Germany deformed by pseudoscience and the pursuit of racial purity. As Schäfer is corrupted by his drive to collect and to classify, Kaminsky reveals how 'it's the animals who make us human'.

Mireille Juchau
A dazzling exploration of evil, love, and madness that had me turning the pages late into the night. Kaminsky's second novel blends historical facts and magical realism with a deft hand, the result of which is a thoroughly provoking work of fiction.

Andrea Rothman
It is wonderful to see Kaminsky return with such a startlingly interesting novel. The Hollow Bones confounds expectations in the most delightful wayThis is a significant and enjoyable read, telling of love and nature, power and evil. It is a call to pay attention, to be truly 'sentient'. Leah Kaminsky has achieved a work of stunning originality and heart, reimagining a forgotten slice of bizarre history into a gripping tale of love and evil. It will leave you incredibly moved, breathless with heartache and pondering the fragility of human and beast.

Robert O'Hearn, Booktopia
Based on a true story, Leah Kaminsky's The Hollow Bones describes one of the most inexplicable and intriguing occurrences of the Nazi regime. For me, this heartbreaking story was reminiscent of tales from the Grimm brothers. The central characters fulfil classical archetypes: charming evil leaders, foolish victims and innocent lost souls. Like all fairy tales, there is a message of caution in this humane novel as it considers the consequences of greed, of broken hearts and imprudent zealousness.

Chris Gordon, Readings
The writing is immediately captivating, its themes layered deftly by Kaminsky, and the story flows beautifully as a result. Leah Kaminsky has achieved a wonderful thing with The Hollow Bones, and I recommend this book to readers and book clubs everywhere. It's a thought-provoking and entertaining read that leaves you reflecting on life, love, nature, and the limits of ambition.

Angus & Robertson Bookworld
In The Hollow Bones, Leah Kaminsky takes up Schafer's story, using it to scrutinise the political appropriation of science and the devastation that ensues when ambition submits to corruption. It's a novel that exposes one of the more bizarre goals of Nazi foreign policy, while also offering a timely reminder of how fragile integrity and truth can be.

Diane Stubbings, The Australian
Childhood friends Ernst and Herta are reunited as adults in Berlin, 1936, just as Nazism is taking hold in Germany. Eager to impress his patron Heinrich Himmler, who is a leading member of the Nazi party, Ernst quickly marries Herta and agrees to lead an expedition of SS scientists to Tibet and India to unlock the secrets of the Aryan race while hunting and preserving exotic native animals. The Hollow bones comments on man's relationship with nature while also exploring the Nazis little known fascination with pseudoscience. Award winning author and physician Leah Kaminsky writes with a poetic, lyrical voice and her second novel is imagery-rich, with birds both wild and captured featuring in an unusual and captivating fairytale of sorts.

Anna Carew-Reid, Sunday Times, Perth
The true hero, the one that is lingered over and mourned, is nature: rendered beautifully in the birds, forests, and flowers near Ernst and Herta's childhood homes. Here, the author sets out an irretrievable idyll we can all relate to - one which, in this story, Nazism rmoves access to for good.

Jacinta Mulders, Australian Book Review
Beautifully written, it's a deft mix of adventure and a kind of surreal horror.

Corrina Hente, Daily Mercury
While The Hollow Bones works as a well-told account of how one scientist made his peace with the Nazi regime, there are other layers that speak directly to our own time. One of these is the denigration and dismissal of science in favour of political expediency. The Hollow Bones reminds us of the devastating consequences of prosaic decisions made in ordinary days at work.

Tracy Sorenson, The Newtown Review of Books
Article
Article