What you need to know about My Policeman – the movie and the book – before watching the new film, coming in November.
We're quickly approaching the release date for the My Policeman film, which will be released in Australia on 4 November 2022. Based on Bethan Roberts' novel of the same name, the movie tells the tale of Tom and the complex, painful love in his life.
The basics
What is it about? 
When Tom returns from National Service to become a policeman, he quickly catches Marion's attention. He teaches her to swim in the shadow of the pier, and Marion determines to do whatever it takes to make Tom hers. Though she can tell that something is amiss, she rushes into marriage with Tom, under the conviction that her love will be enough for both of them.
But Marion's heart isn't the only one Tom has stolen. Patrick, a museum curator is equally besotted by Tom, but it's the 1950s, and those of 'minority status' are condemned by society and the law. Despite how Tom really feels, it is safer for him to marry Marion, so the two lovers must share him – until one of them breaks and three lives are destroyed.
The cast
Tom Burgess: Harry Styles
Patrick Hazelwood: David Dawson
Marion Taylor: Emma Corrin
What is the movie rated?
According to IMDb, the My Policeman film will be rated R in the US, the equivalent of MA15+ in Australia.
When does the movie come out? 
My Policeman will be released on 21 October 2022. However, Australian audiences will have to wait slightly longer for the Australian release date, which is two weeks later: 4 November 2022.
Where can I watch it? 
The movie won't be in theatres, but will instead be streamed exclusively through Amazon Prime Video, making it one of several recent book-to-screen adaptations from the streaming service. Other notable adaptations from Amazon this year include The Summer I Turned Pretty, Reacher, and The Man Who Fell to Earth.  
Where was it filmed?
According to Condé Nast Traveller, My Policeman was filmed in three key locations, London, Brighton and Venice. Throughout filming, fans allegedly kept close tabs on Harry Styles and his co-stars, sharing information on social media regarding the whereabouts of the movie's cast and film crew.
Watch the trailer:
About the book
General
Published in 2012, My Policeman is author Bethan Roberts' third book. Roughly inspired by writer EM Forster's relationship with a married policeman, the book tells a fictional story of a messy love triangle between a museum curator, a policeman and the policeman's wife. When it was first released, My Policeman was welcomed with general acclaim. The Guardian called the novel 'a humane and evocative portrait of a time when lives were destroyed by intolerance' and Vogue named it 'a sensitive, sweeping novel.' With the film on the horizon, the book's popularity has skyrocketed in 2022.
How many pages is it? 
My Policeman is 352 pages, making it an average-length novel.
Is it based on a true story?
Author Bethan Roberts has shared that the book was roughly inspired by the life of writer EM Forster. 'I'd just written a book which had used a fictionalised version of Peggy Guggenheim as one of the main characters, and had enjoyed and found fruitful the spark created by the friction between real lives and fiction,' the author shared on her website. 'I think I found the research comforting, too: it gave me a long period in which to come up with my story and get to know my characters.'
Much like the fictional character Patrick, Forster was in a love triangle with a policeman, Bob Buckingham, and his wife, May. When May became sick with tuberculosis and was sent to a sanitorium, Forster offered to care for Buckingham and the couple's son – changing the dynamic of the love triangle. Upon her return, May was more accommodating of Forster and the three established an arrangement in which they could all be happy.
While My Policeman differs from the author's life in many ways, there are traces of Forster that echo throughout Roberts' writing.
Want to read the book first? Check it out here.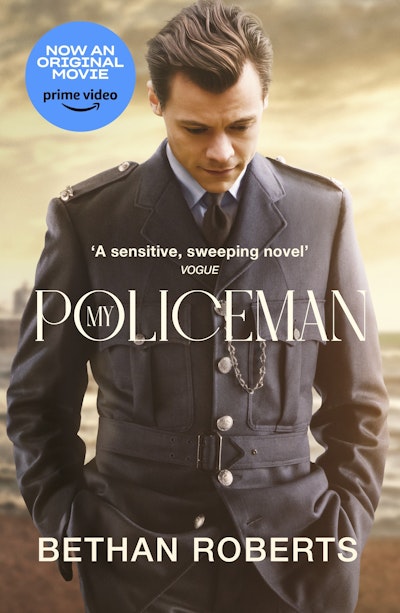 My Policeman
The stunning tie-in edition of My Policeman showcasing artwork from the highly anticipated film adaptation starring Harry Styles, Emma Corrin and David Dawson
Read more