Learn how to analyse and describe the taste of cheese with expert advice from Emma Young, cheese specialist and accredited trainer for the Academy of Cheese.
In her new book, The Cheese Wheel, cheese expert Emma Young not only highlights several delicious cheeses, she also teaches you how to taste cheese.
If you've ever wished to refine you palate or simply want to appreciate cheese to its fullest, then mastering the art of cheese-tasting is a must. Read on for an excerpt from The Cheese Wheel, outlining the best way to taste cheese – for maximum flavour appreciation.
The Cheese Wheel by Emma Young
When tasting a cheese there are several criteria you can analyse. There are qualifications you can seek out and tasting models you can follow, such as the Academy of Cheese (which I currently teach), or Certified Cheese Professional, but I will show you the basics of these below. When tasting cheese professionally, we are looking at five different aspects, which you can also do at home with any cheese you eat. These are:
Appearance
Aroma
Texture
Mouthfeel
Taste
(AATMT is not the most intuitive of acronyms, unfortunately.) If you have some cheese to hand, cut yourself a piece and go through the following steps with me. But first things first – eat a piece of that cheese. As a teacher and trainer, I always feel like I am setting my students up for failure of a very simple test when telling them to wait to taste the piece of delicious cheese in their hands. A percentage of my students will ALWAYS eat their cheese sample before we have started, like a guilty puppy. We are only human, and cheese is fabulous – so taste a bit of cheese first, enjoy it, don't think about it, and now that is out of the way we can begin.
Appearance
How does the cheese look? What colour is it? Is there a rind? Can you see anything inside the cheese which may influence the flavour (e.g. truffles or fruit)? Does the cheese look OK? Our human instinct is a great thing, and you do not have to be a food expert to realise that sometimes a foodstuff may not be at its best. If it is slimy and green, then maybe it is one to discard. Is it a bit mouldy? Good! Mould is flavour and we will learn a little more about moulds that are good to eat within the following chapters.
Aroma
Does it smell much? Does it smell good? Does it smell like your teenage brother's socks? I hope not. Is there no smell whatsoever? The latter can be an indicator that the aromas are muted and could mean that the cheese is too cold. Does it smell like you are on a farm? Aromas can be very misleading. Washed-rind cheeses have a bark much worse than their bite. We will look at aroma more and see how it is linked to flavour, especially in the Washed Rind chapter.
Texture
Here, we mean the texture of cheese to the touch. It should still not be in your mouth just yet. If it is, swallow, and grab another piece. Does it feel sticky, chalky, flaky or wet? When you squash it between your fingers, what happens? Does it crumble or fall apart, or does it form a cheesy putty? Manipulating a piece of cheese like putty releases aroma and flavour. It isn't the best look at a formal dinner party, however, so choose your audience.
Mouthfeel
OK, you have been very patient. Well done. NOW you can put it in your mouth. How does it feel? Is it bitty? Is it smooth and glossy? Does it have a nice bite to it? Mouthfeel is not a flavour or aroma, but it does add to the overall sensation and experience of eating a piece of cheese. Some detest the squeak of Halloumi, and some will enjoy a gooey cheese because of the texture, even if it doesn't have much flavour at all.
Taste
All of the above stages have a huge influence on the flavour and enjoyment of the cheese. It is difficult to judge enjoyment by simply isolating the flavour. The above stages have such a big influence on the overall experience. Think about what you are tasting by starting with simple flavours and senses. Is it salty or acidic? Perhaps you know it is fruity but cannot quite pin down which fruit you are tasting. Does it taste like herbs? Has the flavour changed since you first put it into your mouth or is it still evolving?
Do not worry if you struggle to find descriptors when you begin your tasting journey. This is completely normal, and like with anything, the more you practise, the easier it will come to you.
Feeling hungry? Check out plenty of delicious recipes here.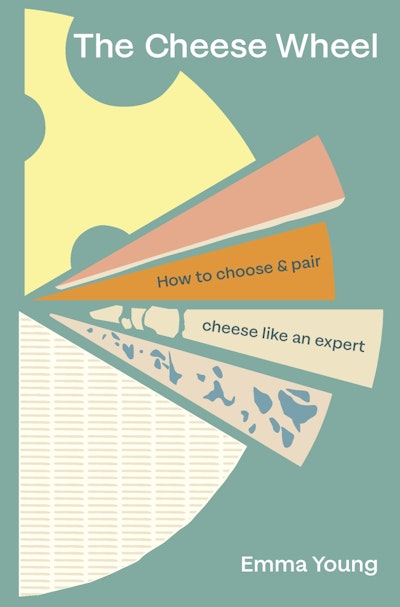 The Cheese Wheel
A completely new way to discover and delve into the world of cheese - the perfect gift for cheese lovers
Read more