Lessons in Chemistry is getting TV treatment with a new Apple TV+ series based on the book. Learn more about it here.
Since Lessons in Chemistry  was first published in 2022, fans have been begging for a Lessons in Chemistry movie or television show – and it's easy to see why.
The book's intriguing plot, feminist bent and glittering protagonist, Elizabeth Zott, are easy to imagine on screen – and now it's finally happening!
On 13 October 2023, Apple TV+ will drop the first two episodes of the series. From there, fans can expect a new episode every Friday until 24 November.
Read on to watch a trailer and learn more about the TV adaptation.
Lessons in Chemistry trailer
Cast of Lessons in Chemistry
Some of the main things that people love about the book Lessons in Chemistry are the realistic, relatable and lovable characters. A star-studded cast will appear in the TV show, including Brie Larson, who is known for her acting in Captain Marvel, Scott Pilgrim vs. the World and The Spectacular Now (to name just a few). Alongside Larsen, fellow stars Lewis Pullman, Stephanie Koenig and Kevin Sussman bring the book to life.
Main characters will be played by:
Elizabeth Zott: Brie Larson
Calvin Evans: Lewis Pullman
Walter: Kevin Sussman
Fran Frask: Stephanie Koenig
Harriet Sloane: Aja Naomi King
Madeline Evans Zott: Alice Halsey
How to watch Lessons in Chemistry on Apple TV+
To watch the show, you will first need to subscribe to Apple TV+. Once subscribed, you can stream the show online at tv.apple.com/au or on your iPhone, iPad, Mac, Apple TV or compatible smart TVs.
Revisit the book
Want to read (or re-read) it before watching the show? Start reading the book and explore more fun content related to Lessons in Chemistry:
FAQs
How many pages is lessons in chemistry?

Lessons in Chemistry is 400 pages long, or 11 hours and 56 minutes on audiobook.

What to read after Lessons in Chemistry?
Who wrote Lessons in Chemistry?

Bonnie Garmus is the author of Lessons in Chemistry. Learn more about her in this Q&A , which covers the inspiration behind the book.
Learn more about the book here.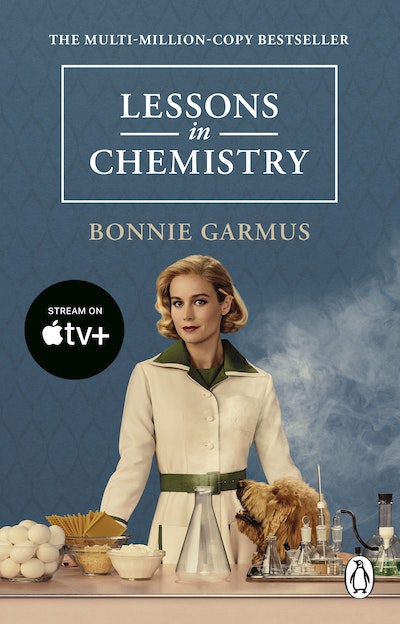 Lessons in Chemistry
Apple TV + tie-in of the multi-million-copy No. 1 Sunday Times, No. 1 New York Times and No. 1 international bestseller and prizewinner
Read more