Whip up a Zott-style pavlova to celebrate the new paperback edition of Lessons in Chemistry.
Even though she's from the United States, we have a feeling Elizabeth Zott would love an Australian pavlova. Famously delicate, the pavlova is truly a feat of chemistry.
Luckily for us all, however, perfecting this delicious dessert isn't as hard as it seems. Once you know a little science behind how pavlova bakes and what makes it work, you'll be able to master this classic dessert, Zott-style.
Elizabeth Zott's perfect pavlova
Prep time 10 minutes
Cooking time 1 hour 30 minutes
Serves 12
4 egg whites
1 cup caster sugar
1 tsp lemon juice
2 tsp cornflour
1/2 to 1 cup blueberries and strawberries
1-2 Tbsp raw almonds
Preheat your oven to 130° Celsius.
Crack the eggs, and separate the whites from the yolks. Place egg whites into a medium glass or stainless-steel bowl. Alternatively, you can use the bowl of an electric mixer. 
Now, you're looking at pure egg whites which are 90% water and 10% protein. The proteins are made up of amino acid strings, and in this state, they're all curled up – allowing the hydrophobic acids in the egg whites to avoid the water.
Using a hand mixer or electric mixer, beat the egg whites until soft peaks start to form. This process forces air into the egg whites which makes the amino acid strings unfurl, and creates bubbles around the water in the egg whites.
To bind the proteins, add sugar, the acid in the form of lemon juice, and cornflour. Beat for about 10 minutes until the mixture is stiff and glossy. Binding the proteins in this way ensures that your pavlova will stand tall and not collapse.
On a paper-lined baking tray, pile the meringue mixture in a circular shape, leaving a slight crater in the centre.
Bake at 130° Celsius for about 1.5 hours or until the edges are crisp.
To gradually bring the pavlova to room temperature, turn the oven off and allow the pavlova to cool completely inside the oven with the door ajar.
Once cooled, top the pavlova with whipped cream, whole blueberries and sliced strawberries. For a Zott-esque touch, sprinkle a few almonds on top. Almonds are the most popular nut in California and one of the four official state nuts – giving a nod to the beloved chemist's home state.
Recipe adapted from Australia's Best Recipes.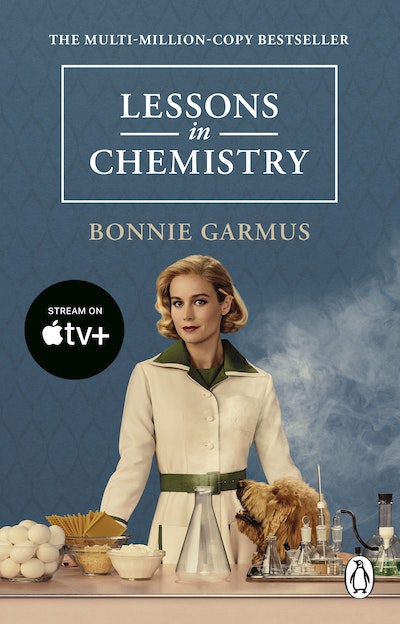 Lessons in Chemistry
Apple TV + tie-in of the multi-million-copy No. 1 Sunday Times, No. 1 New York Times and No. 1 international bestseller and prizewinner
Read more