Lessons in Chemistry by Bonnie Garmus is packed full of wisdom. Check out five of the many inspirational quotes from the book.
Bonnie Garmus' hit book, Lessons in Chemistry, is chock-full of inspiring quotes that will stick with you long after you read it.  
The book has become a fast favourite earning a number-one spot on the Sunday Times bestseller list, being chosen as a BBC 'Between the Covers' book club pick, and securing plans for an Apple TV serial in the near future.
Telling the story of a reluctant cooking-show star, the book follows Elizabeth Zott as she uses her platform to inspire women to challenge the status quo. With her quick-witted ways and sharp humour, this unlikely hero will have you tearing through the pages. And once you're done, you'll be coming back for more.
Lessons in Chemistry is written with rich personality and so much fun that you'll want to read it all over again as soon as you close the book. If nothing else, we guarantee that you'll want to revisit the inspirational quotes scattered throughout time and time again.
Scroll on for a few of our favourite snippets that perfectly capture Elizabeth Zott and the message she imbues throughout the book.
Inspirational quotes from Lessons in Chemistry
'Whenever you feel afraid, just remember. Courage is the root of change – and change is what we're chemically designed to do. So when you wake up tomorrow, make this pledge. No more holding yourself back. No more subscribing to others' opinions of what you can and cannot achieve. And no more allowing anyone to pigeonhole you into useless categories of sex, race, economic status, and religion. Do not allow your talents to lie dormant, ladies. Design your own future. When you go home today, ask yourself what YOU will change. And then get started.'
'As humans, we're by-products of our upbringings, victims of our lackluster educational systems, and choosers of our behaviors. In short, the reduction of women to something less than men, and the elevation of men to something more than women, is not biological: it's cultural. And it starts with two words: pink and blue. Everything skyrockets out of control from there.'
'Your days are numbered. Use them to throw open the windows of your soul to the sun.'
'Imagine if all men took women seriously. Education would change. The workforce would revolutionize. Marriage counsellors would go out of business. Do you see my point?'
'Chemistry is change and change is the core of your belief system. Which is good because that's what we need more of – people who refuse to accept the status quo, who aren't afraid to take on the unacceptable.'
Ready to read it? Check out the book club questions to go alongside.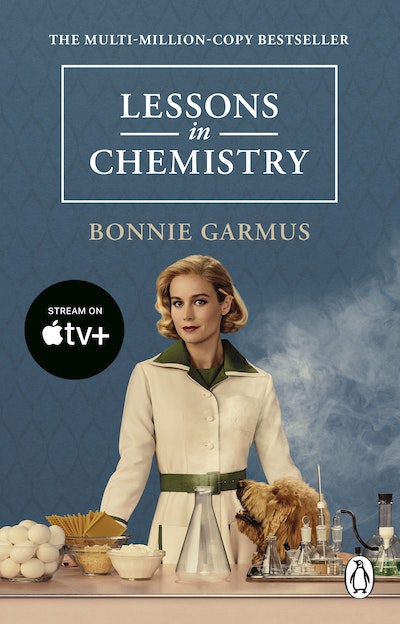 Lessons in Chemistry
Apple TV + tie-in of the multi-million-copy No. 1 Sunday Times, No. 1 New York Times and No. 1 international bestseller and prizewinner
Read more